New public artwork brings local landscape into Wollongong mall
New York-based artist Mike Hewson has installed a 17-metre tall 'palm pole', palm tree seats, 'forklift rocks' and a playground incorporating three sandstone rock formations in the Wollongong Crown St Mall.
The work, titled 'Illawarra Placed Landscape', was commissioned by Wollongong City Council on the recommendation of public art curator Barbara Flynn and is intended to be a permanent addition to the city landscape. Flynn selected Hewson from four international artists who were invited to submit proposals for the mall artwork which forms part of a wider revitalisation strategy for the Wollongong city centre.
"[The artwork] creates connections to the local backdrop of Wollongong, the sandstone escarpment, which forms part of the Western border to the city," said Lord Mayor Councillor Gordon Bradbery AM.
Four living cabbage palm trees – a species native to the Illawarra area – and around 200 tonnes of rock have gone into the installation which aims to draw elements of the local landscape into the urban environment. In addition to the centrepiece – an uprooted palm tree suspended on a pole high above the street – the design includes a playground of irregular sandstone boulders with 'truck straps' that appear to hold the rocks in place, a swing and seats formed from the horizontal trunks of two of the palms.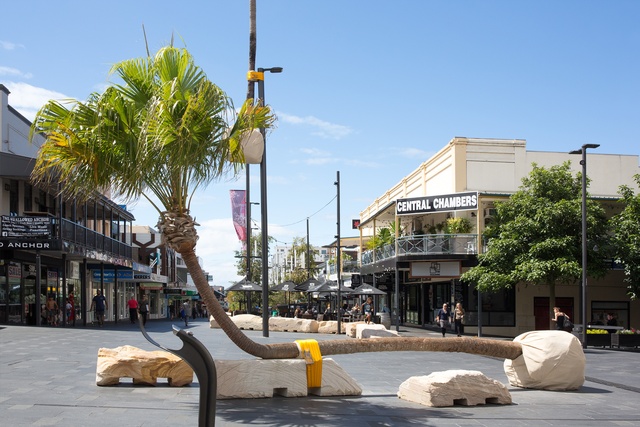 "The landscape and the unique geographic feature of the escarpment is a significant part of the local area," said artist Hewson. "The idea was to bring the ocean and landscape physically into the mall."
The "rent-a-palm" aesthetic of the work, which is designed to look "permanently temporary" brings a humorous element to the Wollongong street. "It's bringing the landscape into the mall into a fun way," said Hewson in a media statement. "I think it will provide identity-forming icons for the city."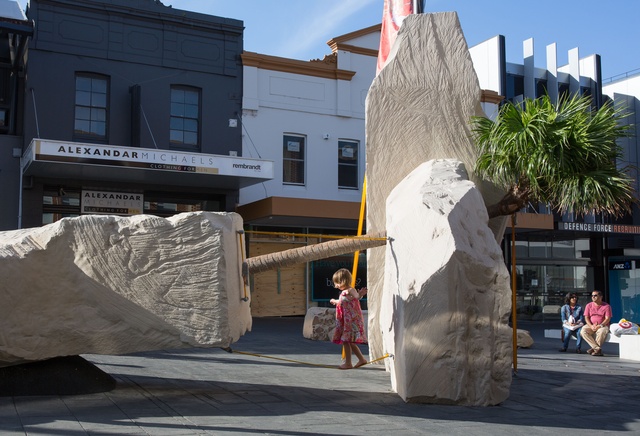 "[Hewson's piece] provides a talking point, while introducing a contrast in colour and texture to the mall," Lord Mayor Bradbery said in a press release. "We have already seen the 'palm pole' generating significant discussion in the community, and while we understand that everyone has different tastes, we encourage the discussion this significant new artwork generates."
Installation of the public artwork – which cost around $500,000 from concept to completion – was completed in November last year. The work is Hewson's first commission for a permanent public landscape.
Mike Hewson will be speaking at the 2018 Landscape Australia Conference on 5 May in Sydney. Book tickets to the conference here.