As urban forms go, it's hard to say which is more lamentable within the twenty-first century city – suburban sprawl, red light districts or dockland redevelopments. By and large each represents its own triumph of commercial interests over social good, however, it is arguably the global phenomena of the "revitalized" dockland that is the most insatiable. From Cork to Cape Town to Sydney, such redevelopments are little more than real estate business models extruded into a sequence of net lettable areas, calculated to deliver the highest possible rate of annual return. The London Docklands Development Corporation set the gold standard back in 1981, when it commenced the transformation of twenty-two square kilometres of dilapidated docks, warehousing and industrial sheds into a brand new business district, entirely without a strategic urban vision or even a masterplan. According to its founding CEO Reg Ward, it was "a happy coincidence of opportunity and accident." And what an opportunity.
While Melbourne's dockland redevelopment may pride itself in being less accidental (thanks to the efforts of no less than three successive public authorities), there is no doubt which side of the public/private opportunity won the day. Each new apartment development has sold like hotcakes to young professionals and empty nesters, as well as to an alarmingly large percentage of overseas investors looking to park their capital. The latest arrival, a development of 617 apartments called The Quays, was sold-out off the plan. Yet after all this time, almost a generation into the redevelopment, there is a dearth of community infrastructure, no schools, little by way of health care, and good luck with the groceries. As for public space, up until now it has been comprehensively second rate.
Yet the Melbourne docklands can pride itself in at least one instance of philanthropic "giving back" – in theory. Its "one percent for art" scheme was to be one of the greatest investments in contemporary art the nation had ever seen – one percent of what was once estimated as a $6 billion urban regeneration project. Yet, as each new tower sprouted from the ground, so too have appeared a variety of vapid, consensually approved and popularly ignored contemporary public art: jaunty facades that brighten the streetscape (while also ventilating above-ground car parking); kitsch, vaguely anthropomorphic forms that kids clamber over; remnant memories of Indigenous inhabitation resurrected by well-meaning non-Indigenous artists; words writ large or illuminated in the night's sky, borrowing the form of advertising while promising to "subvert" its intentions, in an inoffensive, poetic kind of way.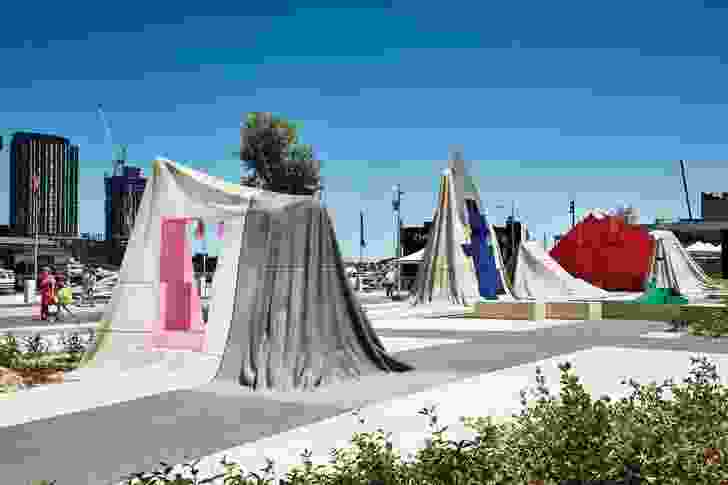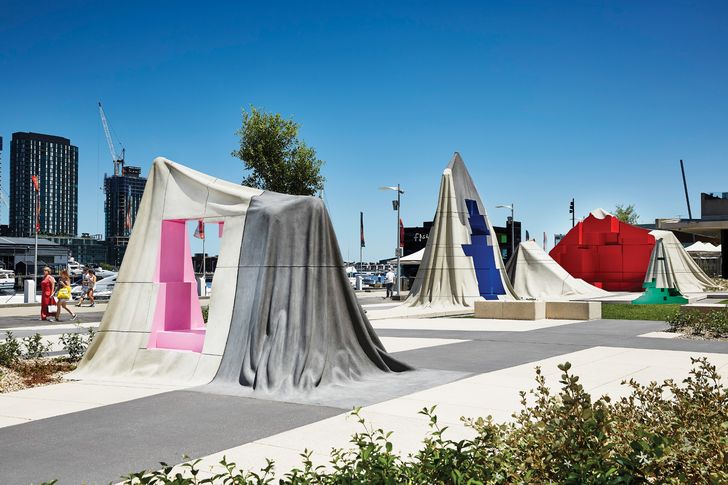 Here in this would-be lifestyle citadel the age of comfort has found its counterpart in a public art program that has, up until now, excelled in the art of polite interventions in the urban fabric. No longer challenging its audience, today's public art supplicates it with good intentions and happy thoughts.
Into this bleak context comes an artwork that resists the near ubiquitous "banalization" of public space. Created by artist Callum Morton, who now delivers large-scale projects from within a unit at Monash University called Monash Art Projects (MAP), Monument Park is cut from a different cloth to that which surrounds it. There are several factors that contribute to the success of Monument Park, each worth noting.
Firstly, the developer MAB Corporation made the wise decision to take the "one percent for art" budget from several projects and pool it into one commission, giving the project sufficient resources to become more like a modest landscape than simply an object or series of objects. As Morton says, "the proposal began life as an attempt to make a topography." This ambition was key to avoiding a repeat of art as spectacle. Monument Park is a real city park, with plants and shade and places to sit.
Secondly, the project was not commissioned by a panel of more-or-less cultured management professionals; rather, it was driven by one person – who also happened to be an intelligent curator – Charlotte Day.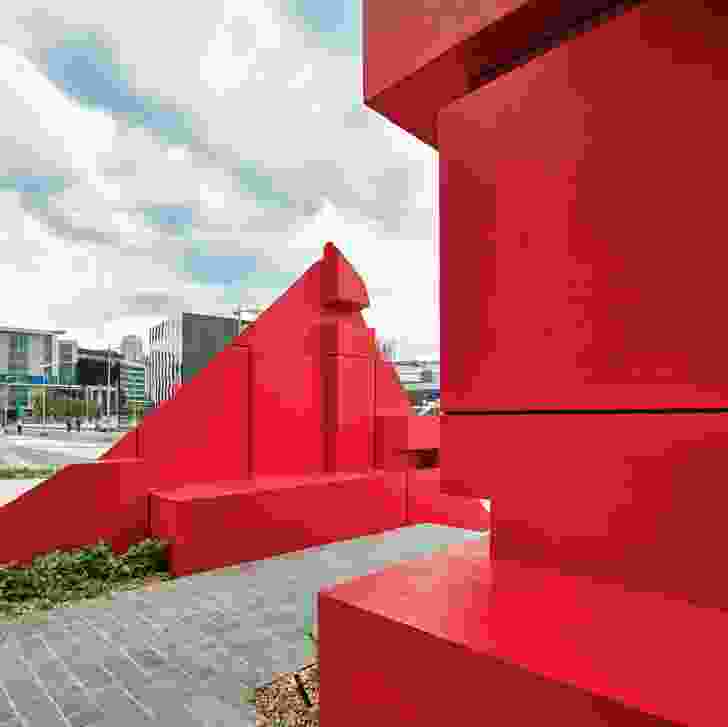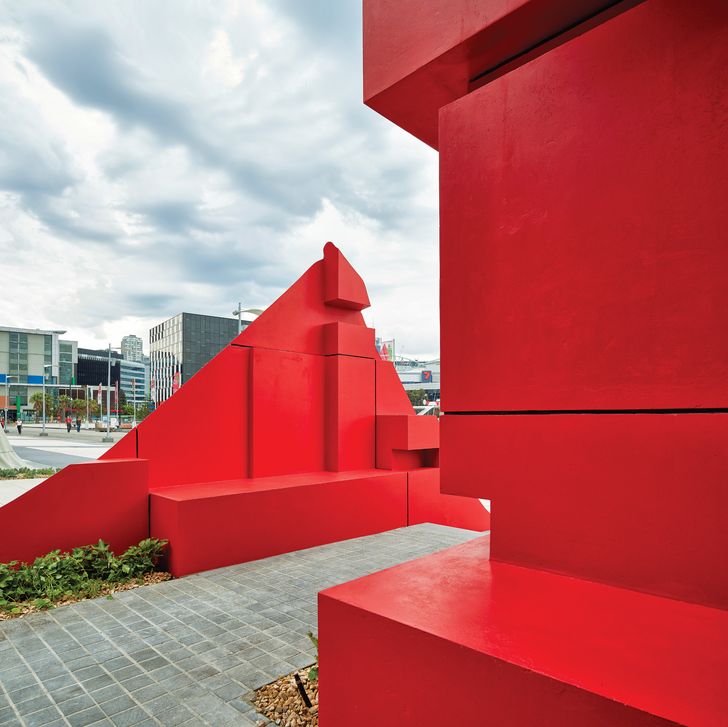 Thirdly, the project was genuinely collaborative. Not only did Morton work with a team of fabricators and assistants within MAP, he also collaborated with architecture practice McBride Charles Ryan, which, as the architect behind the nearby The Quays, had a long-term and strategic role in the site's selection and development of the brief. Morton also worked with landscape architecture practice Oculus to ensure the topography actually worked.
And then, there was the building process. It takes endurance and a special kind of patience to build anything these days, and too few artists are willing to slog it out – the endless meetings, reports, risk assessments and budget reviews, often in rooms full of skeptical specialists and nervous stakeholders. Yet that is what it takes to deliver anything in the public domain today, perhaps especially, artwork.
Finally, for all the currency of placemaking, the benevolence of community service and the imperatives of public relations, the artist's interests here were to simply make good art. By coincidence, Monument Park also makes a good place, embraces the community and adds to MAB's community credibility: all as a natural consequence of being art above all else.
This is a hard thing to do in a world where public art is often seen as the urban equivalent of snake oil, mending any number of city afflictions. Got an unloved traffic island? Fill it with public art. Got a community with social tensions? Public art will build bridges. Got a dank and dangerous underpass? Public art can make it safe again. Cheaper than bridges, sexier than parks and lower maintenance than a community centre, public art is so busy fixing the world it sometimes forgets it also has a responsibility to itself. To put it bluntly, art as community service is patronizing and generally bad.
Monument Park, by contrast, is a complex work that interweaves history, materiality, spatial richness and more than a little Freudian tension – the latter coming from an idea that had earlier taken form in a commission for the City of Melbourne in 2013, entitled Mayor . Invited to add to the city's art collection, Morton draped a cover over a painting by Tom Roberts of a past mayor. The drape was 3D scanned and a polyurethane resin copy was made, ready to hang on any one of the city's mayoral portraits – an Oedipal act of erasure that has become a familiar motif in Morton's work.
Erasure was also enacted in Morton's most recent exhibition at the Anna Schwartz Gallery in 2014, when he draped covers over public monuments from within the city's collection, which were then scanned and reproduced in bright plastic at 1:4 scale. This scaled-down and shrouded collection made it impossible not to play the guessing game of which lump was Burke and Wills and which lump was Matthew Flinders.
The guessing game is less evident in Monument Park, perhaps because Morton's initial proposal for Docklands did not include references to these city monuments, or any specific objects for that matter. Instead, a topography was imagined as if a concrete rug had been pulled up here and there, creating hills and valleys. Morton cites a series of installations by American artist Mike Kelley as an influence, where Afghan knitted rugs are laid on a floor, covering what appear to be small objects – toys, dolls, a baby maybe – with a suffocating uncertainty.
After being shortlisted to compete for the commission, Morton developed the idea into an act of covering famous public monuments from within the City of Melbourne collection, reprising the exhibition at the Anna Schwartz Gallery, this time under a carpet of grey concrete. Morton takes Kelley's sense of suffocating domestic repression and supersizes it to the scale of the city.
There are other details. The Hoddle Grid is imposed on the concrete "rug." Tufts of greenery burst out here and there; nature fighting back through the cracks. The raised forms are incised into, to make places to rest or shelter in, the materiality of which – raw concrete shell meeting internal colourful "filling" – is meticulously and beautifully detailed.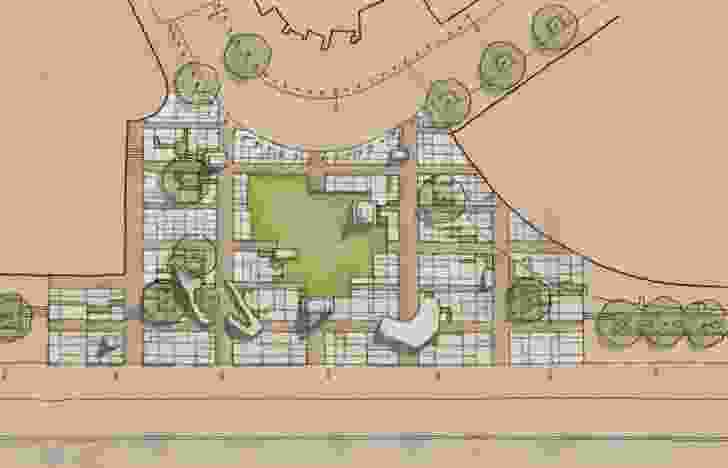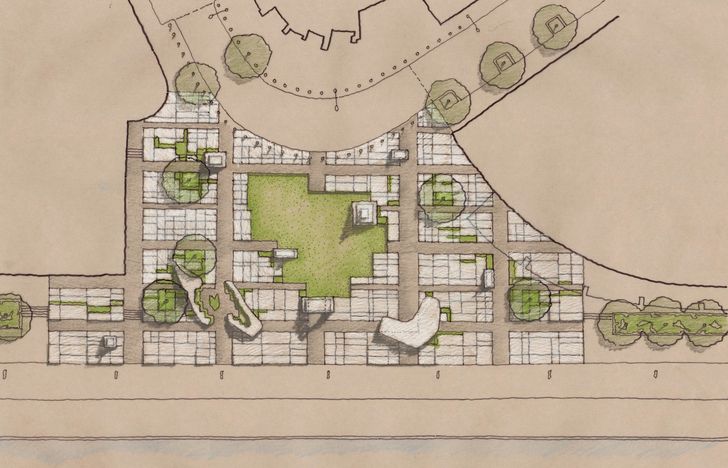 But it is the ghostly forms, evoking J. K. Rowling's menacing Dementors, that hold the greatest fascination. Whether embalmed or merely draped in covers, there is a melancholic observation in Monument Park that gives the lie to the famed permanence of the monument. Here, as within the eternal nature of the city, nothing lasts forever, and everything will sooner or later be erased and overwritten. This is the urban condition. Monument Park is therefore a monument to that fact. The city and everything in it, including shiny new dockland developments that largely erase our maritime past, have a lifecycle.
Intended or not, these ghostly concrete forms also have another inflection. With recent research indicating that upwards of 85 percent of apartments within the municipality of Melbourne are purchased by investors as "financial product," a new reality is slowly settling over parts of the city. Vacancy rates are rising, according to tax reform group Prosper Australia, which tracks water use, or rather the absence of water use, to reveal the extent of unused apartments. By which measure Docklands is the worst offender, with close to 20 percent of all its apartments lying vacant and unused. It is no wonder its public domain lacks the dynamic energy of the inner city. In this context Morton was brave to take this project on.
Thanks to Monument Park, Docklands is now that little bit more engaging and worthy of a visit. Morton's public art is far from the panacea that MAB may have wished – some sparkle dust to transform an otherwise limping urban life form into an energetic part of the CBD. That was never going to happen. But what has happened is better than all the rest.
Credits
Practice

McBride Charles Ryan
Melbourne, Vic, Australia
Practice
Practice

Callum Morton (Monash Art Projects)

Consultants

Art curator Charlotte Day
CNC Machining C5 Systems
Contractor Baron Forge Contractors
Engineering Mordue Engineering
Glass reinforced concrete GRC Environments
Irrigation design Ten Buuren Irrigation Designs
Lighting Candlestick Design

Site Details

Location Melbourne, Vic, Australia
Site type Urban

Project Details

Status Built
Design, documentation 12 months
Construction 6 months
Category Landscape / urban
Type Culture / arts, Public / civic

Client

Client name City of Melbourne, MAB Corporation

Source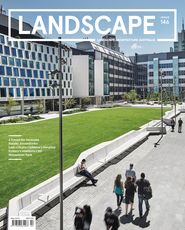 Review
Published online: 3 May 2016
Words: Andrew Mackenzie
Images: Jonathan Tabensky, MADA, Monash University, MADA, Monash University, Oculus
Issue
Landscape Architecture Australia, May 2015
Related topics