Geelong Youth Activities Area by Convic Design
Client: City of Greater Geelong
Jury Comment
This new section of edgy, energized waterfront located on the main water's edge in the heart of Geelong's CBD presents a bold and inclusive, anything-but-passive public open space. It was designed to attract Geelong's young people to the waterfront and also "forge intergenerational social networks." The jury is convinced that this is a unique urban public space that succeeds in connecting and giving back to the community. At first glance, it looks like an area for skateboarding, but with its series of terraced levels, it is in fact a cascade of variably sized spaces inherently adaptable for multiple future uses.
The jury applauds the focus on social sustainability and the City of Geelong's commitment to attracting active young people into this prominent shared public space.
See our review of this project in Landscape Architecture Australia 127.
Source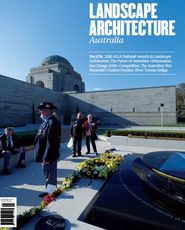 Issue
Landscape Architecture Australia, November 2010
Related topics