The Asia-Pacific region – the contemporary challenge
Although its philosophical and practical roots lie in the traditions of garden-making and rural life, landscape architecture is a profession born as a response to the challenges presented by modernity in the nineteenth and twentieth centuries – particularly those associated with large-scale urbanization, when land became landscape. Its central task lies in reconciling these very different phenomena, a task unavoidably one of struggle. That struggle arises because the modernization and its accompanying mass urbanizaton are processes characterized by an all-pervading scientific and economic determinism, by rapid change and by the constant flow of ideas in an unbounded public domain. These are the very antithesis of the processes associated with tradition, especially garden and rural traditions, which are by contrast essentially associated with retreat, continuity, quietness and reflection.
Across the world, this struggle has provided the birthplace of the profession of landscape architecture, which, at its most effective, reframes those traditions within the modern domain, recasting them to challenge the hegemony posed by these determinisms and the form of development that results. What, then, is professional effectiveness in landscape architecture in this modern world and how is it defined? This paper addresses that question. It asks the profession of landscape architecture in the Asia-Pacific region, now the focus of the largest scale landscape transformation ever experienced globally, not only to acknowledge that modernization is central to its existence and to its task, but to consider what it needs to do as a profession to be effective in this context.
Such acknowledgment, it is argued, brings with it responsibilities that transcend the individual practitioner and the individual site. It brings the responsibility to pursue a professional ethos of what I term "active transformation" and create, on the professional, societal and landscape scale, transformational projects – not only transforming land, but transforming practice and, most importantly, using the public domain to transform minds. That is what it means to be effective as a profession and it fundamentally differs from the effectiveness associated with arts or crafts such as traditional garden-making and rural life.
The transformational project
The achievements and position of landscape architecture globally amongst the array of professions associated with modernization and urbanization – engineering, architecture, planning and urban design – are salutary. Everywhere, landscape architects are busy professionals, responding to the very real technical challenges that come with large-scale urban and landscape transformation. At the project scale they argue for consideration of social and environmental factors as part of the development process and negotiate through complex day-to-day realities. They aim to create meaningful places from what their professional colleagues and the development industry typically see merely as space and living landscapes from what is often seen simply as land. Their professional focus lies generally at the project scale, transforming sites and in some instances transforming the minds of their professional colleagues and users about what can be achieved if the urbanization process is conceptualized differently.
Occasionally their work is transformative beyond the scale of the immediate site. That work, I argue, is what is needed to lift the profession into its rightful place, transforming the modernization process itself in the way that heroic historic figures of the profession such as Frederick Law Olmsted, Ian McHarg and Lawrence Halprin have. Each, I argue, employed what I term the transformational project.
While Olmsted, for example, is typically remembered for the way his major projects transformed sites, it was his way of working and the way they were positioned in the discourse of modernization and urbanization that made those projects transformational. McHarg, too, transformed sites, but again it was the power of his professional methodology, his writings, his radio programs and his discourse that made his work transformative. For Halprin transformational power was realized by his sites and by his books, writings and workshops. Like McHarg, Halprin's capacity to work across professional and decision-making domains as a thinker influenced the way in which the challenges associated with modernization were thought about.
All three not only changed land into landscapes and space into place. Each in his own way also changed minds, transforming the way that the entire development process was conceptualized across their regions. All went on to achieve global influence, not just because of their projects on the ground, but because both changing minds and changing places were equally important to them as professionals. They were the landscape architectural heroes of their culture and time, professional citizens because they took responsibility to act and argue for the public good, in the broader public realm.
As the focus of global modernization and urbanization in this century, the Asia-Pacific region needs its own professional heroes and citizenry. I challenge all of you to recognize what is needed to create the conditions for them to flourish here. They are integral to the development of the profession and the region and they demonstrate professionalism in its truest sense, not only because they produce great projects but because they actively engage with the contemporary world – by professing.
This paper explores selected contemporary work by landscape architectural and urban design colleagues in Australia and argues that this work is transformational not only because of its physical reality, but more importantly because of its socio-cultural reality. That socio-cultural reality and therefore transformational power is the result of professional work of a particular kind that focuses on the highly contested realm of ideas in the public domain, where contemporary culture is largely shaped by discourse between decision makers, professionals and communities. The two types of transformational project discussed include the landscape project of space and place, and the landscape project of discourse and professional proposition. Both transform the attitudes and practices of decision makers, clients and communities.
The full copy of this paper is published in the IFLA APR Congress 2011 Hospitality: Interact with Land conference book published by Thai Association of Landscape Architects (TALA) and Chulalongkorn University.
Source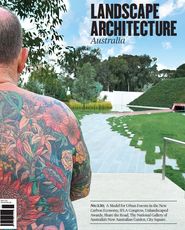 Practice
Published online: 8 Apr 2016
Words: Catherin Bull
Images: Dave Tacon
Issue
Landscape Architecture Australia, May 2011
Related topics