Victorian tourism hotspot Phillip Island will get a new village green, with designs unveiled for the redevelopment of the Cowes Jetty Triangle.
The landscape design by Tract will see the foreshore precinct transformed into a grass-terraced area for community events, festivals and markets.
An existing car park will be replaced with a sloping lawn, while additional indigenous species and feature trees will be planted to provide more shade and frame views from the historic Cenotaph and Esplanade.
"The new Jetty precinct landscape is intended to maintain the existing pattern of large scale shade tree planting over lawn areas," states Tract's landscape context plan.
"Garden beds and foreshore restoration planting are intended to be locally indigenous species. They will provide habitat for local wildlife, soil stabilisation for the coastal edge and a visual framework."
Officially unveiling the designs in early January, Minister for Regional Development Jaala Pulford and the member for Eastern Victoria Harriet Shing announced the state government would back the Bass Coast Shire Council project to the tune of $1.8 million.
"Our investment will revitalize the central Cowes precinct and deliver benefits for islanders and visitors alike – improving our community events and truly making it a public space for all to enjoy," said Shing.
The redevelopment of the Jetty Triangle is one of a suite of proposals for the area, which include plans for a revitalized Cowes Cultural and Community Centre and a new transit centre and all-day car park.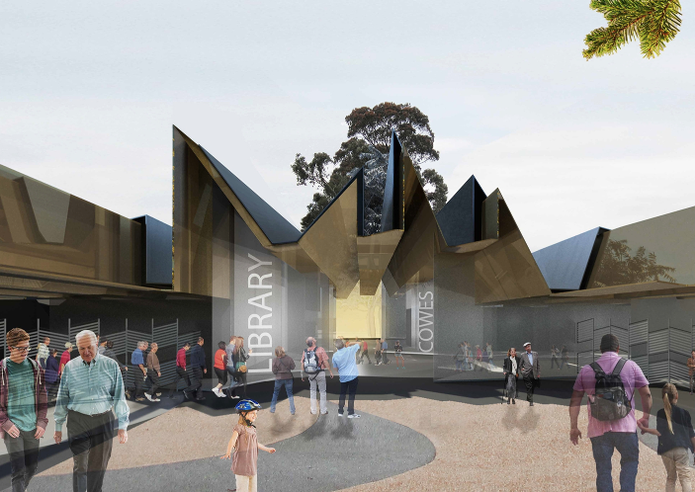 The new community centre, according to a concept plan developed by Terroir, will include a new theatre/concert hall, a great hall designed to fit 400, and a series of flexible community rooms, studios and classrooms. During a period of community consultation more than 300 responses were received, with the majority being in support of the concept plan. Fifty-seven percent of respondents were 100 percent in support.
A provision in the plan to lease space to ecotourism company Phillip Island Nature Parks, however, has attracted the ire of some in the community, with one local saying the decision amounted to turning the centre into a "commercial office block."
Phillip Island has a permanent population of around 9,500, while it is visited by 3.5 million people annually. Tourism on the island delivers $11.5 billion to the regional economy and generates 114,400 jobs, according to the state government.
Designs for a new $58.2 million Phillip Island Penguin Parade Visitor Centre designed by Terroir were released in May 2017.
The Victorian government will provide $48.2 million for the development through the Regional Tourism Infrastructure Fund, while Phillip Island Nature Parks have committed $10 million to the project.
Speaking of the plans to redevelop Cowes Jetty Triangle, Minister for Regional Development Jaala Pulford said, "the redeveloped space will open up new opportunities for markets and other events and the transit centre will improve traffic flow in an area of growing popularity."