From the designers: Hansen Partnership was engaged by Maroondah City Council to envisage a new town square for the Croydon community. The scope of works included extensive and collaborative engagement with local community groups, the development of concept plans, informed internal stakeholder coordination, and construction documentation and implementation. The completed square improves the character, arrival experience and functionality of this precinct in the heart of Croydon.
Croydon's town centre is an active shopping and dining precinct, however prior to the design, lacked a centralized civic space for community events. There was also no clear and direct pedestrian connection between Main Street (the activity and retail spine of the town centre) and the public transport hub comprising Croydon railway station and the bus interchange – both key gateways into Croydon. The new square now provides a direct link between the two, building on the work of Maroondah Council's strategic Croydon Connects project that seeks to create and enhance well-lit, safe and attractive pedestrian linkages from the Croydon railway station through Main Street and into the civic precinct over Mount Dandenong Road.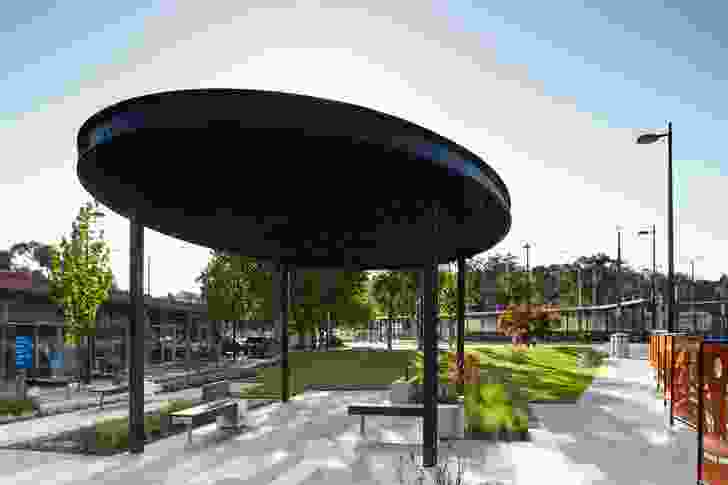 The Croydon Town Square project included the installation of a new Changing Places facility. These facilities offer extra features and space to meet the needs of people with severe and profound disabilities. Hansen worked closely with Jaws Architects to design the facility which enables equitable access to the town square for individuals who require specialized bathroom facilities.
The elements of the square work together to create a public space that welcomes both visitors and locals. The colonnade of red maple trees denotes one of the two main pedestrian arteries through the square, connecting the transport hub with Main Street. While set within a built-up environment, the trees have been planted within an extensive sub-surface structural soil system to allow for healthy growth to maturity. This system also provides for enhanced run-off drainage and tempering of tree roots, ensuring the tenancies adjacent to the trees are not inadvertently impacted.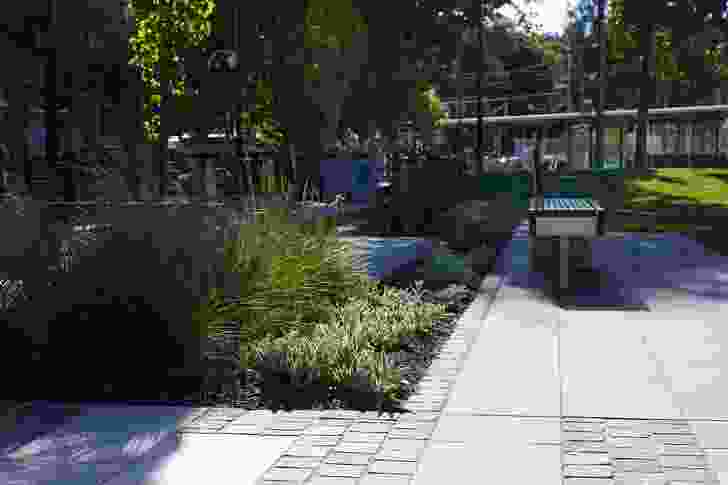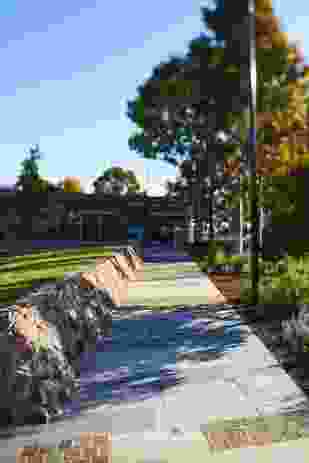 A natural stone retaining wall along Pierson Road affords a sense of safety and security to those within the square, separating a pedestrianzed gathering space from the carpark, roadway and station precinct. The subtle embankment form of the grass retained by the wall focuses attention inward towards the square, while still allowing for views outward. Garden bed planting is kept low and tree trunks clear, maintaining sight lines throughout the square and beyond to both the car park and Main Street.
For commuters, weekly shoppers, lunch-goers, or traders on their coffee break, the square offers both respite and a slice of solitude among the urban hum, as well as flexible space for community events.
Credits
Design practice
Project Team

Hansen Partnership:Steve Schutt, Castiel Shepp, Rui Liu, Irwinconsult (WSP): Robert Day, JAWS Architects: Neal Mackintosh
Civil, structural and electrical engineer

Irwinconsult

Architectural consultant

JAWS Architects

Consultants

Access auditor Architecture and Access
Building surveyor Metro Building Surveyors
Community engagement Co-Design Studio
Heritage Extent Heritage Advisors
Quantity surveyor North Projects

Site Details

Site type Urban

Project Details

Status Built
Completion date 2019
Design, documentation 17 months
Construction 9 months
Category Public / cultural
Type Parks, Public / civic