City of Greater Bendigo wins award at Victorian planning awards for its involvement in mosque crisis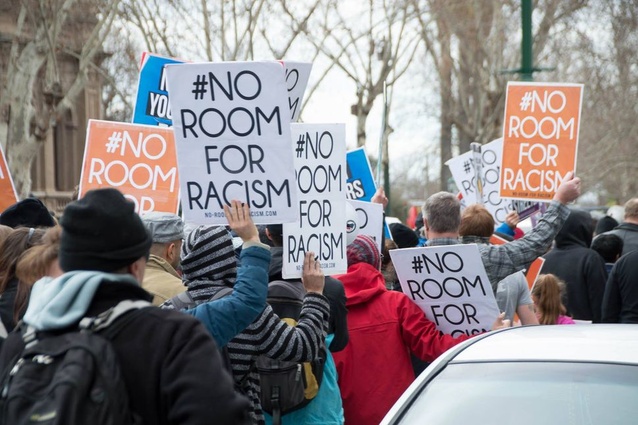 The City of Greater Bendigo's handling of the extraordinary challenges that arose from a planning permit application for a mosque to be built in its municipality has been recognized with an award from the Planning Institute of Australia's Victorian division.
The planning permit application was the focus of unprecedented social and political turmoil in a city that has a long multicultural history dating back to its gold rush origins.
The Australian Islamic Mission first applied in November 2013 to the City of Greater Bendigo for the planning permit to build the mosque on Rowena Street at East Bendigo.
The application was granted approval from the council in June 2014. That decision attracted a series of appeals, some of which escalated to the Victorian Civil and Administrative Tribunal, the Supreme Court of Victoria and even the High Court of Australia.
Protests and counter-protests drew participants from well beyond Bendigo and the controversy surrounding the application attracted national and international media attention.
According to PIA Victoria President James Larmour-Reid, "'Resilience' – a term often used in response to the systemic and social disruption wreaked by natural disaster – is equally relevant to major controversies like the Bendigo mosque application that disrupt a community, society or city.
"We need to empower our citizens, plan our cities, develop our staff and build our systems to not only survive these types of traumatic events, but to take stock, repair physically and psychologically, and thrive together into the future.
"The award is not about the decision that was made, but about the way in which an extremely contentious issue was dealt with by the City of Greater Bendigo and its councillors. It is made in recognition of the Council's adherence to planning law, policy and process; its sound governance practices; and its efforts to mitigate the social impact of a highly divisive issue upon its staff and citizens," he said.
The controversy surrounding the Bendigo Mosque proposal was in stark contrast to the reception of Australia's other prominent new mosque, the Australian Islamic Centre in Newport, designed by Glenn Murcutt and Hakan Elevli, which has been celebrated as a "progressive vision and enabler of intercultural dialogue in a multicultural society."
The 2016 PIA Victoria Awards for Planning Excellence were announced at a ceremony on Friday 4 November at RMIT University's Swanston Academic Building in Melbourne.
The annual PIA Victorian President's Award for Planning Excellence recognizes the most outstanding contribution to issues relating to urban and/or regional planning in Victoria.
See full coverage of the 2016 PIA Victoria Awards for Planning Excellence here.
For more coverage on this topic see the following articles:
The Australian Mosque 
Murcutt's 'extraordinary enlightenment': Australian Islamic Centre