Brisbane Foreshore Parklands by City Design, Brisbane City Council
Jury comment
The jury enthusiastically endorsed this project moving into the Urban Design category of the awards. This is recognition of the long-term commitment by the City of Brisbane to a vision of connecting public open space along the Brisbane Foreshore to the foreshore parklands of Moreton Bay. This gives the riverfront a shape and definition. While it contains a number of discrete, local projects, it is not merely a chain of parks along Moreton Bay.
The Parklands project has been conceived with clear forward thinking and commitment of significant financial resources, with the intent of creating an urban-scale edge that reconnects with the city's seaside edge. The implemented projects have enhanced recreation and residential development opportunities along Moreton Bay, generating social, cultural and economic benefits, while protecting and strengthening natural, scenic and cultural values of this stretch.
The jury applauds Council for its commitment and stamina to seeing this project through as it is one that will be of enduring value for Brisbane.
For further coverage see Landscape Architecture Australia 123, August 2009.
Source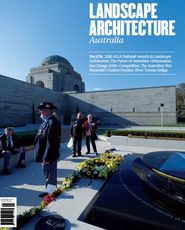 Issue
Landscape Architecture Australia, November 2010
Related topics