Eleven MCGs of new public open space – this was the promise delivered to Melbournians in the city's preferred metric when the Victorian state government announced that the method of removing nine level crossings along the Caulfield to Dandenong rail corridor would be to go up, rather than down.
While the public space promise wasn't enough to offset all displeasure among locals, who would have their mostly low-rise suburban skyline interrupted by twin nine-metre-high concrete rail viaducts, it did spark some fruitful discussion about the merits of each method (rail under or rail over) and the urban design and landscape architectural opportunities they offered.1
Now that the $1.6 billion project is more or less complete, the opportunities offered by "rail over" are just as compelling in the flesh as they were in theory – a testament both to the efforts of the project's design team led by Aspect Studios and Cox Architecture, and to the benefits of having a government client that, from the outset, understood that good urban design outcomes would be critical to the project's success.
On the final day of autumn I rode my bicycle from Caulfield to Dandenong along the Djerring Trail, a new cycle route created by the project that runs below the twin elevated rail lines. Along the journey I pass dog parks, basketball courts, parkour equipment, fitness stations, bike repair points, skate parks, wetland swales, new gardens and tree plantings a war memorial, new car parks and bus turn-around lanes. The level of amenity this corridor now accommodates is staggering.
The first thing that hit me was that the "stitching" effect is real. Where neighbourhoods previously existed separately, on either side of the rail line, they have now been united by welcoming train stations, generous and well-detailed plazas, brightly coloured recreation nodes and expansive green parklands.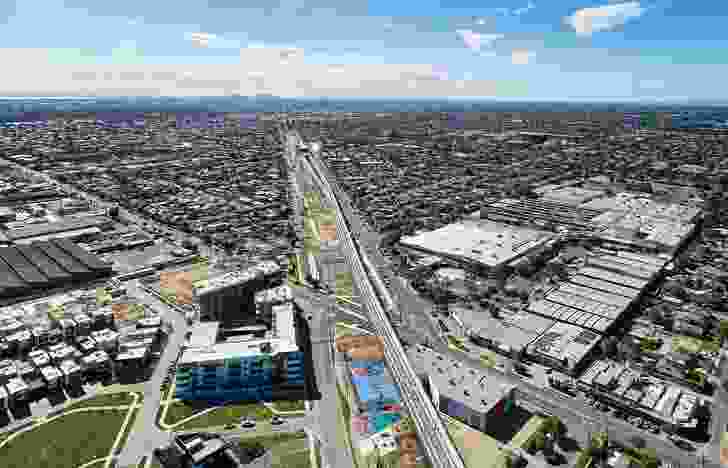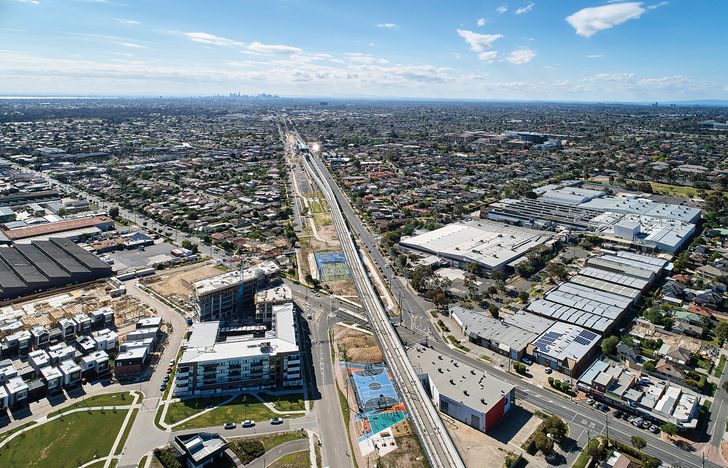 While each station appears similar on the surface, their design was complex. Kirsten Bauer, director of Aspect Studios, explains that the design team had to work closely with local councils along the route to draft urban design frameworks for each of the neighbourhoods, which meant they were able to integrate a lot more into the project and that its contributions extend well beyond the immediate site.
Unlike other underline parks around the world, the Caulfield to Dandenong parklands were fully integrated from the outset rather than built subsequently as an afterthought, and it shows in how the landscape, architecture and engineering have come together seamlessly. Even the concrete viaduct pillars were designed by the Aspect and Cox team, optimized for easy graffiti removal and to be sympathetic to the linear park below.
The five station forecourts use a similar language to one another, but with slight site-specific nuances. Glazed tiles are used in the urban furniture to bring colour and warmth to otherwise grey spaces, and their colour palette of yellows, oranges and greens references the artwork of celebrated painter Arthur Boyd, who grew up in nearby Murrumbeena.
At points along the route, artefacts from the site's recent history can be found reused in garden and seating details. Historic steel trusses from the demolished stations have been remade into boomerang-shaped seats, while rail tracks have been relaid in some planting beds to mark the alignment of the former line.
Bauer explains that finding places where trees could grow was a challenging task, with so many services running beneath the ground as well as conservative vegetation restrictions near to the rail lines. With planting difficult, Aspect used graphic surface treatments, designed in collaboration with graphic design practice Double-A, as an effective way to introduce colour and a sense of fun to the new public spaces. My favourite instance of this is at Noble Park, where a parkour course made from unsawn logs sits atop a soft-fall field of radiating graphic circles that extend up the concrete pillars.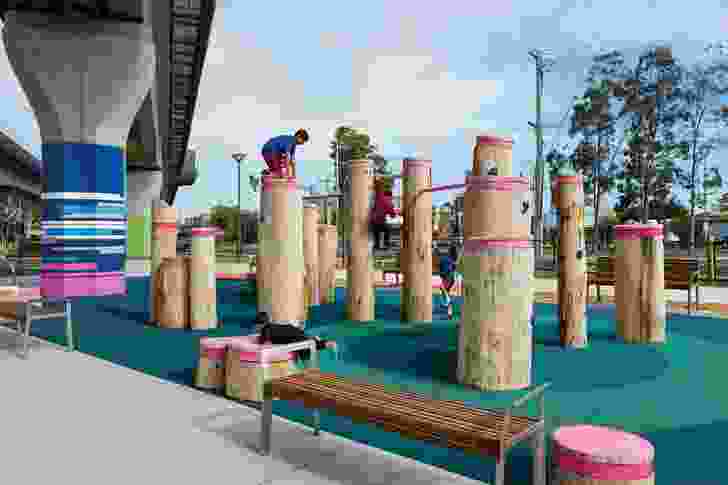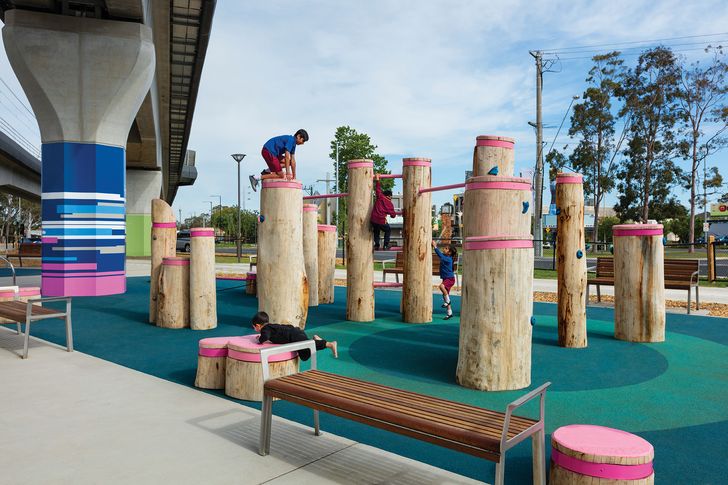 The only head-scratching moment I had came from attempting to navigate the train station signage. At each station forecourt, three large white letters are intended to mark the name of the station – "HUG" at Hughesdale, "CNE" at Carnegie, "NPK" at Noble Park, "CLA" at Clayton and "MRB" at Murrumbeena. But these three letter abbreviations are hardly obvious and read more as curious public artworks, particularly at "Hug Station."
About halfway through my ride I pass Springvale Station, an earlier level crossing removal that followed the "rail under" model. While the open sky has been preserved – which is no trivial concern for many – the urban design contribution of this method of removal is less positive in my mind. There are improvements at and around the station, but these soon stop. Ride or walk a little further and the downside of "rail under" becomes clear – a long strip of featureless lawn sits adjacent to what looks like a very lengthy razor-wire cage. The rail pit needs to be secured for safety and security, resulting in a hostile interface that extends (and divides) for hundreds of metres.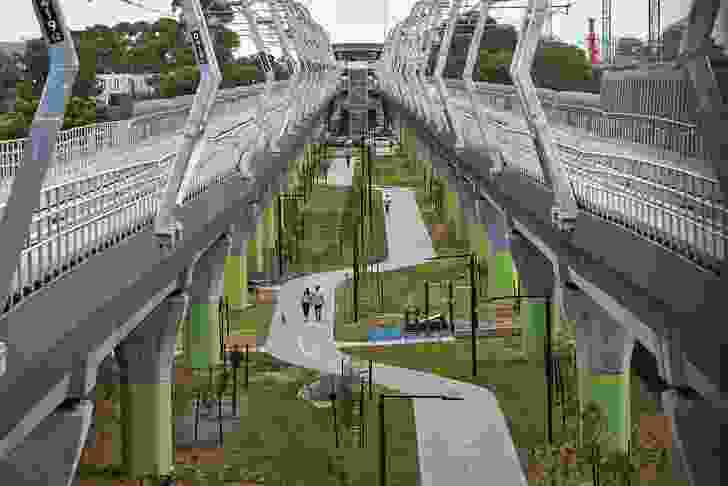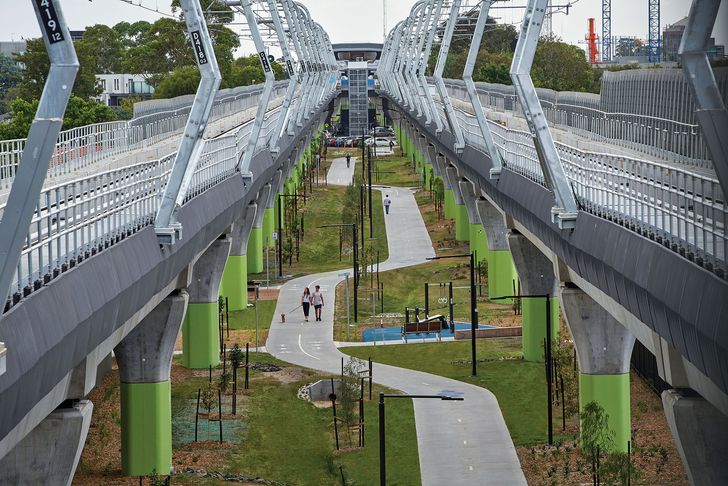 Victoria has come a long way in the past decade when it comes to how urban design outcomes are considered in major infrastructure projects. The wider Level Crossing Removal Project that encompasses the Caulfield to Dandenong section (by contrast with earlier level crossing removals, including Springvale Station), has its own dedicated urban design framework, developed in collaboration with the Office of the Victorian Government Architect (OVGA). Projects within this Level Crossing Removal Project umbrella are to be presented to the Victorian Design Review Panel at key milestones, ensuring a high level of design scrutiny.
Community fears that elevated rail would create unsafe graffiti-covered spaces were taken seriously in the design process, and a recent article published in The Age suggests that many locals who originally opposed the project have now embraced it.2 Yet it's likely too early to say whether these concerns were entirely unwarranted. Ongoing maintenance along the Caulfield to Dandenong underline is clearly a real concern, with $15 million of the project budget set aside for this in 2017. I spotted two private maintenance contractors washing graffiti off on the day of my visit and one wonders how long this level of care will be kept up.
The Caulfield to Dandenong Level Crossing Removal Project demonstrates that big ticket infrastructure projects can deliver huge public benefits when urban design thinking and outcomes are fully integrated from the get-go and aren't value managed out along the way. With many removals yet to come within the wider initiative, this project will serve as an important reference and hopefully allay some remaining fear in the community toward so-called "skyrail."
1. Craig Guthrie, "Leveling on the landscape value of rail corridors," Landscape Australia website, 15 September 2016, https://landscapeaustralia.com/articles/Levelling-on-the-landscape-value-of-rail-corridors/
2. Paul Sakkal, "More than a year on, has 'sky rail' turned suburbs into ghettos?" The Age website, 12 May 2019, https://www.theage.com.au/national/victoria/more-than-a-year-on-has-sky-rail-turned-suburbs-into-ghettos-20190509-p51lqm.html
Credits
Design practice

ASPECT Studios
Australia
Project Team

Kirsten Bauer, Heath Gledhill, Kate Slade, Nelson Gomes, Lewis Wright, Richard Grocke, Daniel Drummond, Brett Frost, Christian Lundh, Yuchen Su, Ruben Eelbode, Miki Matsuka, Niki Schwabe, Shimon Regev, Nicholas Tarney, Zoe Loomes, Siobhain Murphy, Blake Farmer-Bowers, Warwick Savvas, Tim Fowler, Paul Pilcher, Duyen Nguyen, Chris Flawn, Nick Jenkinson, Natasha Watkins, Yi Wong, Lucius Yin, Maroof Ansari, Anat Katz, Kate Dekok, Adam Kiekebosch, Matthew Mackay, Joey Hays
Lead architect

Cox Architecture
Australia
Consultants

Artists/graphics Double-A
Civil and structural engineer Aurecon
DDA Disability and Safety Audits
Head contractor CPB Contractors, Lendlease
Horticultural consultant John Raynor (Green Infrastructure Research Group)
Landscape contractor Recoland, Landscape Plus, Ecodynamics, PTA Landscapes, Civilex
Pier greening FytoGreen Australia
Road safety Road Safety Audits
Services engineering WSP
Soil consultant SESL Australia

Site Details

Site type Urban

Project Details

Status Built
Design, documentation 24 months
Construction 12 months
Category Landscape / urban
Type Public / civic

Client

Client name Caulfield to Dandnong Level Crossing Removal Alliance

Source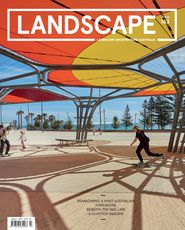 Issue
Landscape Architecture Australia, August 2019