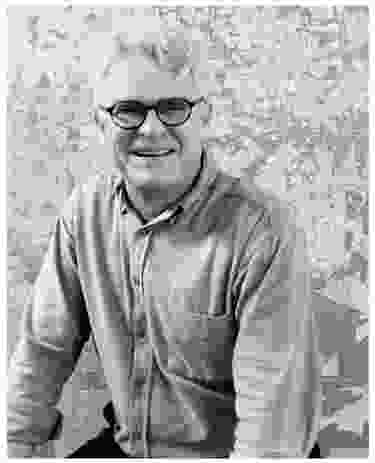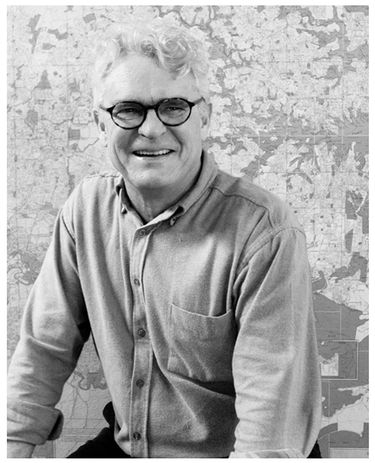 The
artificial construct of new headland evocative of Sydney Harbour's natural charms – a former prime minister's dream – represented a huge and expensive enterprise. Many questioned its logic and queried how Sydney's sandstone outcrops and irregular bushland could be satisfactorily reproduced. But Barangaroo Reserve, opened in 2015, has defied its critics; it is visually and aesthetically successful, and immensely popular with the public.
Barangaroo Reserve was designed by Peter Walker and Partners Landscape Architecture and Johnson Pilton Walker. The renowned US landscape designer Peter Walker calls it "the design of a lifetime," and the November 2016 issue of the American Landscape Architecture Magazine devoted fifty-seven pages in celebration of the achievement. In my experience, this represents unprecedented coverage of a major landscape project.
The most graphic aspect of the project is the use of huge fingered blocks of sandstone to re-create the harbour foreshore – though the bold colouring will weather and subdue over time and the layered planting will become more predominant. The waterfront margins hint at mangroves, before transitioning through native grasses set with compact Port Jackson figs. Here the design is punctuated by an actively used curving walkway and cycleway following the shoreline. The hillside is gentler to the north-east, with occasional rock shelves, while the western and southern slopes are strongly terraced with Corten steel-clad or stone-coloured walls, which in due course will be submerged by planting. The shadier southern slopes interpret the rainforest pockets found in sheltered locations around the harbour. For those of us who can recall the Hickson Road container terminals of yesteryear – vast areas of flat concrete serving the port – we know that the hill is an invention: earth bulked up over a carpark and exhibition hall.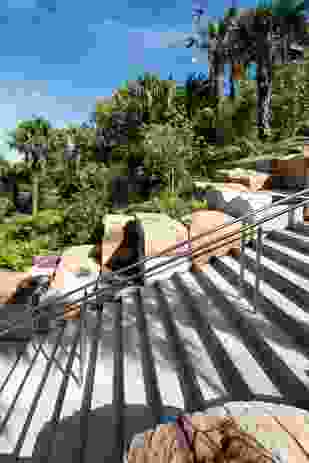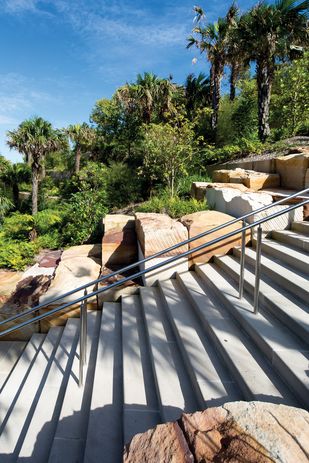 In the past many have sought to re-create a naturalistic version of Australian bushland, often with limited success – plant losses being an obvious symptom. Barangaroo Reserve is revealing itself as an exemplar in this regard, and it is timely to reflect on the reasons why the plants introduced into this new ground are doing so well. I spoke at length with both Simon Leake, managing director of SESL Australia and the consulting soil scientist for the project, and Stuart Pittendrigh, who came to the project as one of Sydney's most experienced horticulturalists.
Early in the design exercise the team toured the harbour foreshore, appreciating the places – such as Balls Head – where the original rocky landscapes and indigenous flora could be better understood. But it was an excursion to a pristine natural area at Bobbin Head, north of Sydney, that truly informed the group. Here the team could better understand the sequential plant groups that ascended the hillside from the estuary, thrived on poor sandy soils and responded to different exposures to sun and shade.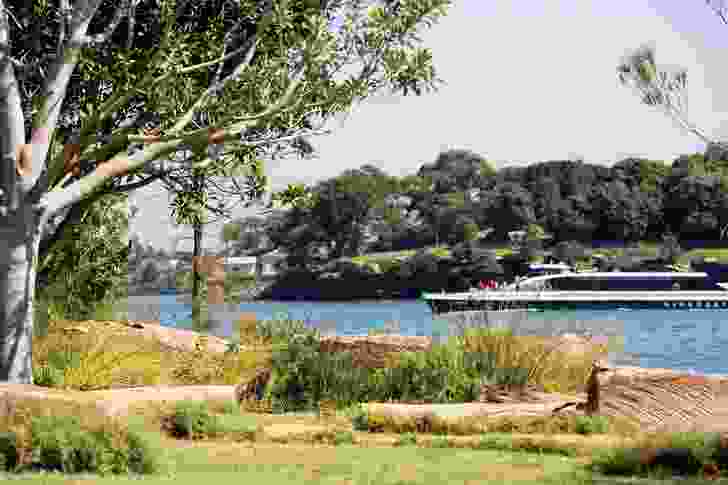 Leake has made a lifetime study of soils and their ability to promote healthy plant growth. Studying soil and agricultural science at the University of Sydney, he became increasingly interested in soil science. John Clements taught environmental horticulture and helped the students to understand the natural plant ecology on Sydney Harbour's North Head and the urban planting issues on city thoroughfares. When Leake graduated, there were no suitable jobs available and a leading pathologist asked him to use his knowledge of chemistry to do research into evaluative medical tests. Leake quickly realized that extracting solutions could be used to understand the make-up and qualities of soil, and in due course set up his own soil testing laboratory, initially advising farmers and later nurserypeople and potting mix suppliers. English and European traditions had encouraged the use of rich, loamy soil mixes, often unduly moist and heavily fertilized, and many of the Australian plants reacted poorly to being bedded in such material.
Leake established that plants from Sydney's sandstone belt thrived in what might be perceived as extremely poor soils: in essence, sand and broken rock enriched by leaf litter, bark and bushfire ash. The soil had incredibly low levels of phosphorus and – while it is a standard fertilizing ingredient in modern agriculture and horticulture – its unconsidered use harms native plantings.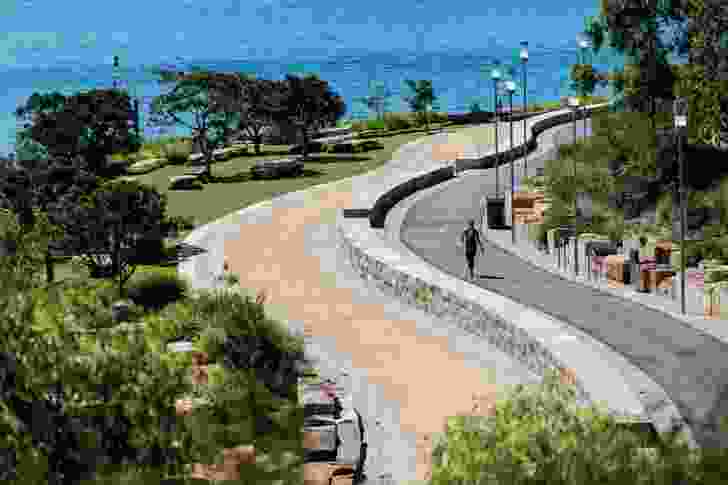 At Barangaroo Reserve, crushed sandstone and sand make up a large component of the introduced soil, with green waste compost forming 5–10 percent of the mix, providing natural enrichment for native species. The crushed sandstone had to be checked for its clay content. The clay factor causes "fatty" sandstone, which holds water and thus discourages good drainage, which is essential for plant wellbeing. More than seventy thousand trees and shrubs of eighty-four species were required, and were primarily grown at a nursery on Mangrove Mountain, south of Sydney. To facilitate their easy subsequent adaption to the site, the potting mix and the site soil mix were closely matched, both physically and in their low fertility levels.
Stuart Pittendrigh is a man of wide experience and many talents. He is a landscape architect, a horticulturalist and an arborist. Pittendrigh typically provides strategic advice on major projects. As consultant horticulturalist for Barangaroo Reserve, he was responsible for planting design, selection and location, as well as plant maintenance and management. Noting that most of the regional plants were shallow-rooted with a broad root spread, he devised special wide containers to facilitate this pattern of growth in the nursery. The trees and shrubs gained a better root ball and as a result performed more strongly when placed in the ground. Pittendrigh inspected all plants as they left the nursery and controlled handling on the site to minimize breakages and damage, and undertook corrective pruning. He chaperoned maintenance at the reserve from 2015 to 2017, and notes that it is designed as a bushland reserve for passive recreation and not as a park for intensive public use or events.
For Pittendrigh, Barangaroo Reserve has been an important achievement; he resolved a palette of historic indigenous plants and witnessed them thrive as a successful botanic entity.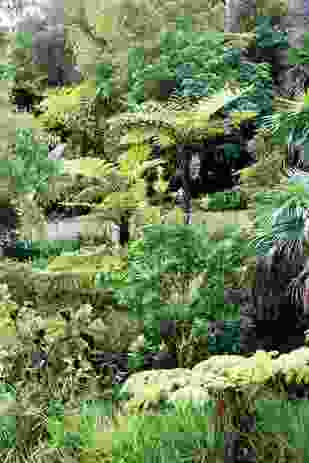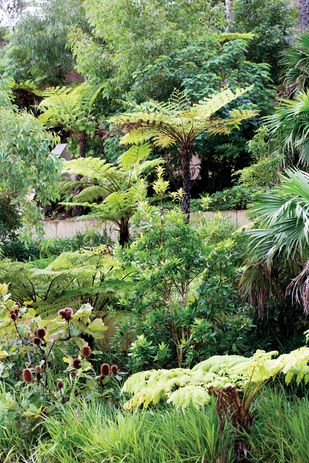 Plant list
Trees
Allocasuarina littoralis (black she-oak)
Angophora costata (Sydney red gum)
Banksia integrifolia (coast banksia)
Corymbia gummifera (red bloodwood)
Corymbia maculata (spotted gum)
Eucalyptus haemastoma (scribbly gum)
Eucalyptus pilularis (blackbutt)
Eucalyptus piperita (Sydney peppermint)
Eucalyptus punctata (grey gum)
Eucalyptus saligna (Sydney blue gum)
Eucalyptus tereticornis (forest red gum)
Ficus macrophylla (Moreton Bay fig)
Ficus rubiginosa (Port Jackson fig)
Livistona australis (cabbage-tree palm)
Platanus orientalis 'digitata' (cut-leaf plane tree)
Groundcovers
Billardiera scandens (hairy apple berry)
Blechnum nudum (fishbone water fern)
Blechnum patersonii (strap water fern)
Carpobrotus glaucescens (pigface)
Cheilanthes austrotenuifolia (rock fern)
Cissus antarctica (kangaroo vine)
Cissus hypoglauca (native grape)
Clematis aristata (old man's beard)
Clematis glycinoides (forest clematis)
Danthonia richardsonii (wallaby grass)
Davallia solida var. pyxidata (hare's foot fern)
Dianella caerulea (paroo lily)
Dianella revoluta (blueberry lily)
Gleichenia microphylla (scrambling coral fern)
Hardenbergia violacea (purple coral pea)
Hibbertia scandens (climbing guinea flower)
Isolepis nodosa (knobby club-rush)
Kennedia rubicunda (dusky coral pea)
Lomandra longifolia (spiny-head mat-rush)
Pandorea pandorana (wonga wonga vine)
Sarcocornia quinqueflora (beaded samphire)
Tetragonia tetragonioides (New Zealand spinach)
Shrubs
Acacia floribunda (white sallow wattle)
Acacia longifolia (sallow wattle)
Acacia myrtifolia (red-stemmed wattle)
Acacia terminalis ( sunshine wattle)
Acacia ulicifolia (prickly moses)
Acmena smithii (lilly pilly)
Allocasuarina littoralis (black she-oak)
Banksia marginata (silver banksia)
Banksia robur (swamp banksia)
Banksia serrata (old-man banksia)
Banksia spinulosa (hairpin banksia)
Bauera rubioides (river rose)
Boronia ledifolia (showy boronia)
Callicoma serratifolia (black wattle)
Callistemon citrinus (crimson bottlebrush)
Callistemon linearis (narrow-leaved bottlebrush)
Callitris rhomboidea (Port Jackson pine)
Ceratopetalum gummiferum (NSW Christmas bush)
Correa alba (white correa)
Correa reflexa (common correa)
Cyathea australis (rough tree fern)
Dillwynia retorta (healthy parrot pea)
Dodonaea triquetra (large-leaf hop bush)
Doryanthes excelsa (giant lily)
Elaeocarpus reticulatus (blueberry ash)
Eriostemon australasius (pink wax flower)
Glochidion ferdinandi (cheese tree)
Grevillea buxifolia (grey spider flower)
Grevillea linearifolia (linear-leaf Grevillea)
Grevillea sericea (pink spider flower)
Hakea dactyloides (finger hakea)
Hakea teretifolia (needlebush)
Hibiscus tiliaceus (cottonwood hibiscus)
Homalanthus populifolius (bleeding heart)
Isopogon anemonifolius (broad-leaf drumsticks)
Lambertia formosa (mountain devil)
Leptospermum juniperinum (prickly tea-tree)
Macrozamia communis (Burrawang)
Melaleuca hypericifolia (hillock bush)
Melaleuca nodosa (prickly-leaved paperbark)
Notelaea longifolia (large mock-olive)
Olearia tomentosa (toothed daisy bush)
Persoonia levis (broad-leaved geebung)
Philotheca myoporoidea (long-leaf wax flower)
Pittosporum undulatum (native daphne)
Telopea speciosissima (waratah)
Tristaniopsis laurina ('luscious' water gum)
Westringia fruticosa (coastal rosemary)
Source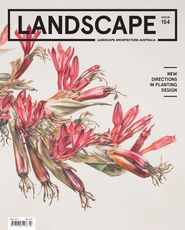 Issue
Landscape Architecture Australia, May 2017
Related topics