Ballast Point Park by McGregor Coxall
Client: Sydney Harbour Foreshore Authority
Jury comment
Ballast Point Park is a recent example of the contemporary reclaiming of harbour open space in Sydney, located on the Birchgrove Peninsula. A 2.8-hectare former industrial lubricant production site, with a rich heritage linking it to pre-colonial use by Aboriginal people, the site takes its name from the quarry operations of the late 1800s that supplied ship ballast. Working with fundamental principles of remediation and sustainable design, the resulting design resisted taking a "clean slate" approach to industrial land remediation, allowing the expression of its many layers of history to be revealed while creating a contemporary and robust park of regional significance that is locally used.
The jury praised the creative approach to reusing materials on site and admired the level of skill and coordination of players involved – from dealing with a lack of geotechnical information to revising design directions when new opportunities revealed themselves – for example, the discovery of the foundations of a harbourfront villa. McGregor Coxall's design elaborates the masterplan developed by Anton James Design in cooperation with Context and CAB Consulting.
For further coverage see Landscape Architecture Australia 124, November 2009 and Architecture Australia Vol 99 No.3, May 2010.
Source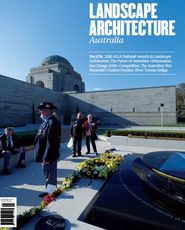 Issue
Landscape Architecture Australia, November 2010
Related topics