Australia's largest solar thermal plant to be built in Port Augusta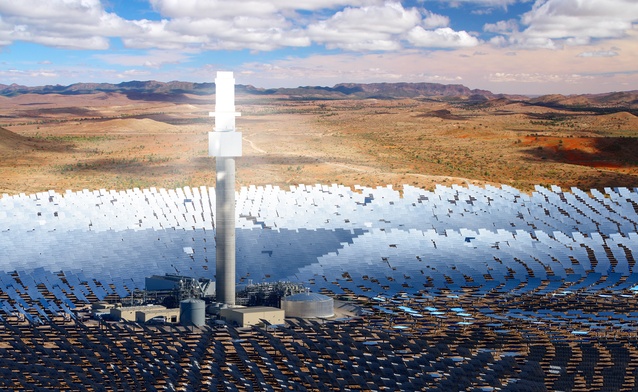 A 150-megawatt solar thermal power plant, the biggest of its kind of the world, will be built in the regional South Australian town of Port Augusta, the state government announced this week.
United States solar power developer Solar Reserve has been awarded the contract to supply all of the government's power needs, and will begin construction of the $650 million plant in 2018.
Solar Reserve's concentrated solar-power plant, called Aurora, will use thousands of mirrors, or heliostats, to reflect and concentrate sunlight onto a central receiver on top of a tower. This process will heat molten salt, which will provide a stored heat source used to generate steam that drives a single turbine to generate electricity.
A statement from Solar Reserve said the Port Augusta station's eight hours (or 1,100 megawatt hours) of energy storage capability would mean it could deliver power into the grid at high value electricity periods, providing additional capacity, energy security and reliability.
"Solar Reserve's energy storage technology is an excellent fit for the South Australian electricity system," Solar Reserve's CEO Kevin Smith said. "[The plant] will provide much needed capacity and firm energy delivery into the South Australian market to reduce price volatility."
The operator will supply all of the state government's power needs – including power for hospitals, government buildings and schools – for 20 years, with the plant expected to be operational by 2020.
The contract was awarded following a tender process launched by the government in September 2016 to procure 75 per cent of its long-term power supply in order to attract a new competitor into the electricity market. Solar Reserve's offer was the lowest-cost option of the shortlisted bids, with the government set to pay no more than $78 per megawatt hour.
Premier Jay Weatherill said the project would deliver about 700 jobs.
"We are supporting this nation-leading renewable energy project because it will deliver more competition into our energy market and put downward pressure on power prices for households and businesses," Weatherill said.
For the community of Port Augusta and for renewable energy advocates, this week's announcement comes at the end of a long and arduous campaign.
Daniel Spencer, a campaigner with Repower Port Augusta and Solar Citizens, who has been campaigning for solar thermal since 2012, said the announcement was a big deal for renewable energy and for the community.
"It's Australia's first big solar thermal plant with storage, which basically means solar power day and night, and these plants have been built around the world but this one's actually the world's biggest solar tower that has storage," Spencer said.
"It's a pretty huge deal and it's come after a five-year campaign."
Repower Port Augusta was formed in 2012 to advocate for a transition from the city's coal power stations to solar thermal technology. As Spencer tells it, since then the city council, unions, local businesses and environment groups from across the country have campaigned tirelessly for the plant.
Alinta Energy closed its coal-fired power station in May 2016, and earlier this year, the Federal Government confirmed it would grant $110 million in a concessional equity loan to support a solar thermal project at Port Augusta, as part of a deal struck with South Australian independent senator Nick Xenophon.
"The community's been through a lot with the closure of the coal station and this is going to mean new jobs, but it will also really change the image of Port Augusta," Spencer said. "The community really wants Port Augusta to become a renewable energy hub for South Australia, and this is kind of the jewel in the crown of that."
In July of this year the government signed an agreement with solar panel manufacturer and energy storage company Tesla to build the world's largest lithium ion battery in South Australia.
Premier Jay Weatherill said the solar thermal facility and Tesla-built lithium ion battery would enhance South Australia's reputation as a leader in renewable energy.
"The Port Augusta story is a stark example of the transition of the South Australian economy, with the closure of a dirty coal fired power station, and now the commissioning of this world-leading renewable energy project," Weatherill said.
The South Australian government's handing of the energy market has previously faced heavy scrutiny, with critics decrying the relatively rapid transition to renewable energy and the increase of intermittent sources feeding the grid. Consistently high power prices and a widespread blackout in 2016 saw Prime Minister Malcolm Turnbull criticise the government's approach and call for the removal of "unrealistic" renewable energy targets.
Energy Minister Tom Koutsantonis said the solar thermal facility would not only make the state a world leader in renewable energy but would also make the grid more secure.