Jury citation:
The new Bendigo Hospital invites us to rethink how health facilities can be designed to foster good health and wellbeing. It goes beyond convention by creating a precinct that engages with heritage and celebrates the cultural and ecological character of the region.
Careful attention has also been paid to sustainability. An integrated network of green roofs, balconies, courtyards and walkways allows both patients and visitors to benefit from a more inviting, high-quality public realm. Enhanced green spaces improve indoor comfort by reducing glare and the heat island effect. The use of solar photovoltaic and recycled water systems underpins the performance of the buildings and ensures that the precinct delivers both environmental and economic benefits to the local community.
Location: Bendig0 (VIC)
For more coverage, see Julie Willis's review here.
Credits
Architect

Silver Thomas Hanley

Project Team

Silver Thomas Hanley team: Aija Thomas (project director), Natalie Pitt, Bruce Crook, Max Saric, Anna Fox, Ali Little;, Bates Smart team: Kristen Whittle (project director), Tim Leslie, Mark Healey, Brendan Grayson, Mark Di Bartolo, Cian Davis, Andrew Raftopoulos, Brian Mason, Tammy Yu, Anqi Zeng, Ian Potter, Ray Feile, Melanie Buettikofer, James Christophidis, Prue Exelby, Willem Huang, Jason Knight, Quentin Leroy, Jesper Nyborg, Guilherme Rodrigues
Architect

Bates Smart
Australia
Consultants

Acoustic consultant Acoustic Logic
Builder Lend Lease
Building surveyor PLP Building Surveyors & Consultants
Engineer Irwinconsult
Facade engineering Inhabit
Landscape architect Oculus Landscape Architecture & Urban Design
Services consultant Norman Disney Young
Signage and wayfinding ID/Lab
Wind assessment MEL Consultants

Site details

Location Bendigo, Vic, Australia
Site type Urban
Category Public / commercial
Type Hospitals

Project Details

Status Built
Completion date 2016

Source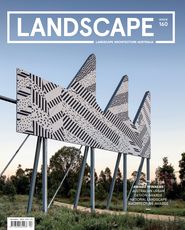 Issue
Landscape Architecture Australia, November 2018