From the designers: Tyrrellstudio were engaged by Sydney Catholics Schools to reimagine the outdoor spaces of All Hallows Catholic Primary School in 2018. At the time the practice was engaged, the exterior areas of the school had fallen prey to a jumble of good intentions and quick fixes that crowded every space. The playground, split over two levels and separated by a claustrophobic, walled ramp and narrow stair, had become overcrowded and rather depressing. A collection of new architectural works for the campus by BVN led to the client's desire for a rethinking of the fundamentals of the school's outdoor spaces.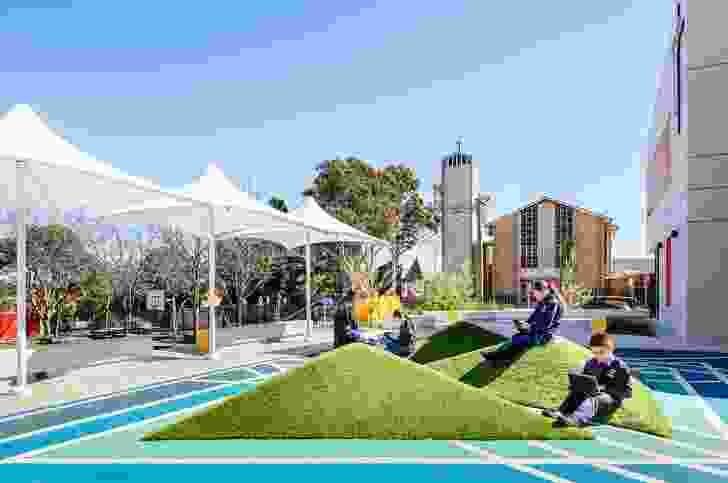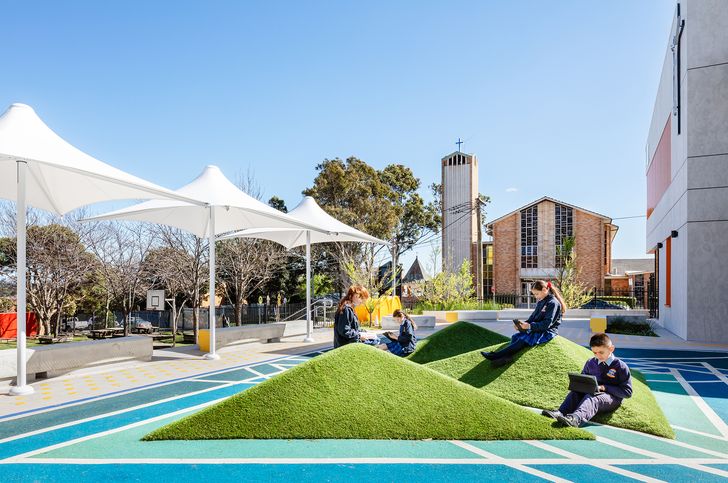 Tyrrellstudio's design aims to create a safe entry into the school, clarify circulation and provide a sense of connection between the different areas of the site. A major driver of the design was to make the school's small spaces feel larger, richer, safer and to create spaces that were more geared towards creative and social learning.
The design simplifies the school's exterior ground plane, allowing for views through the campus and superimposing a layer of rich detail onto the surface for students to explore and engage with. Play zones and circulation routes have been identified and strengthened, and social edge spaces, where parents might arrive and dwell for a few moments, encourage community bonding. The design creates both welcoming arrival spaces for students and a collection of diverse smaller spaces for quieter activities.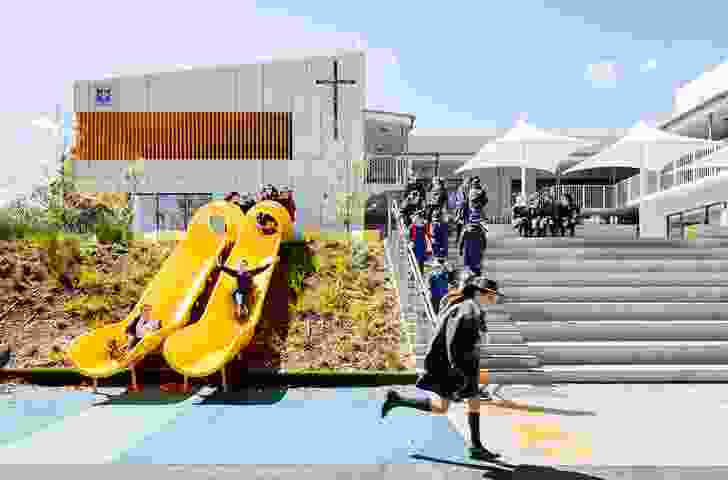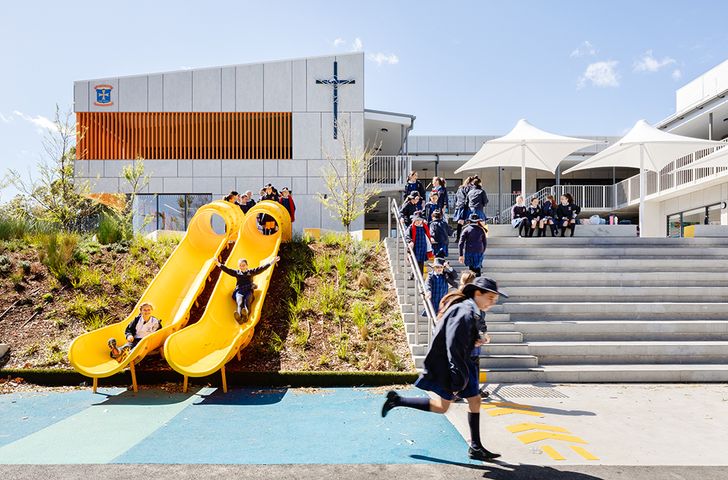 The wide range of spaces encourage different activities and levels of student interaction ­– there are spaces for play, learning, retreat, performance and competition. The design team has used the 2.4-metre level change across the site as an opportunity to connect the upper and lower playgrounds through amphitheatre seating, a rain garden and vibrant yellow slides. By deploying colourful linework and dynamic patterning onto the paving, the design invites imaginative play – "tracks" and gathering spaces have been formed. Synthetic turf mounds shaped from concrete form islands within the campus that encourage either social or solitary activities. Concrete benches kink and curve to support different social interactions: quiet time, lively group activities and outdoor learning. Individual bricks and the ends of benches feature bright colours. The design uses paint on paving, furniture and brick walls as a low-budget, high-impact way to delineate smaller areas within larger expanses of paving. This strategy has lent variety to the play spaces, evoking the idea of outdoor rugs and rooms and assisting with on-campus wayfinding without the use of signage.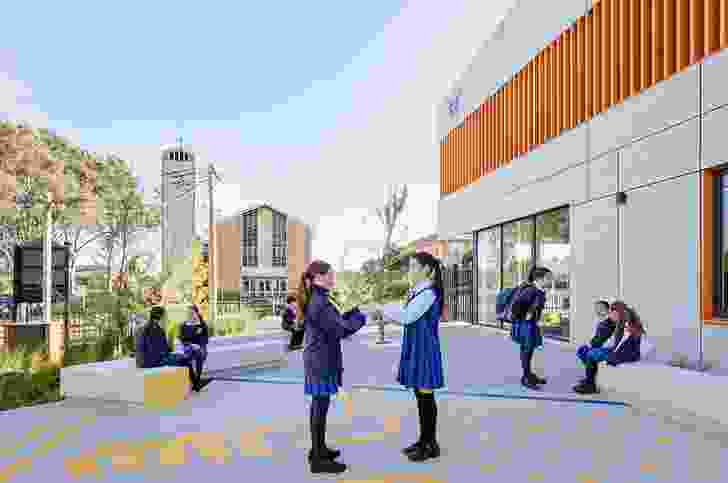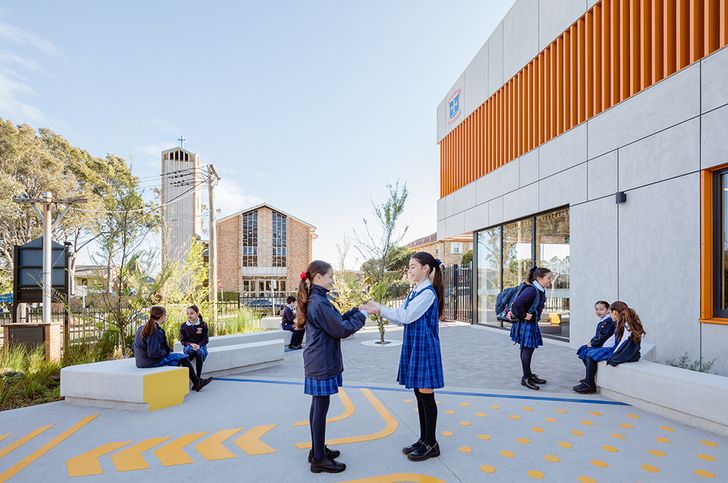 All Hallows Catholic Primary School functions as a sequence of small, high-impact spaces that students feel free to inhabit in creative and expressive ways. Although the exterior areas are, in physical terms, no larger than before, the design now provides room to run wildly, play a competitive game of handball or sit quietly with friends, all while feeling part of a connected space.
Credits
Design practice

Tyrrell Studio
Sydney, NSW, Australia
Project Team

Mark Tyrrell, Dan Sharp, Sarah Yates
Consultants

Architecture BVN
Hydraulic engineer AJ Whipps Consulting Group
Structural and civil engineer TTW

Site Details

Site type Urban

Project Details

Status Built
Completion date 2019
Design, documentation 15 months
Construction 10 months
Category Education
Type Schools