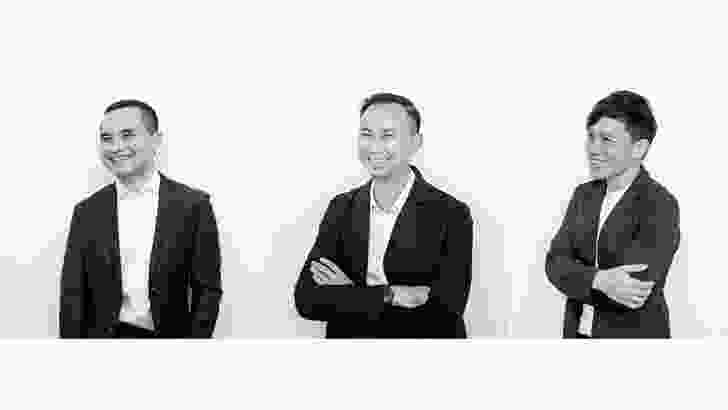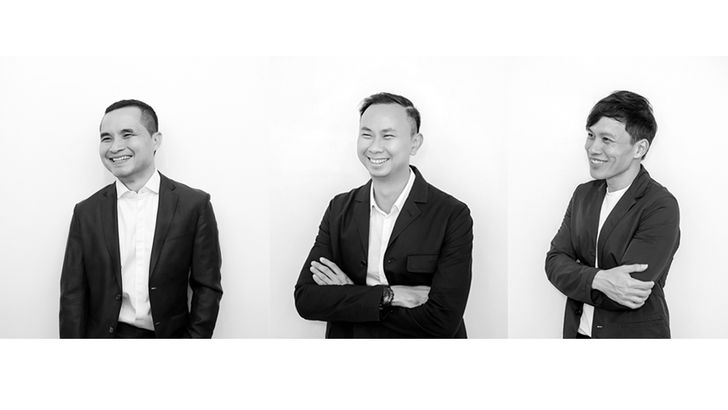 In 2018 Bangkok was the world's most visited city for the third year in a row, sitting ahead of London and Paris, which came in at second and third place respectively. Yet in the much-hyped Economist Global Liveability Index, Bangkok scored a glum ninety-eighth place in 2018. It's this vast disconnect between the city's high ranking as a global tourist destination and the poor quality of life enjoyed by many citizens that defines the work of Thai landscape architecture practice Shma – a firm that elegantly balances a strong base in high-end commercial work with provocative self-initiated projects that seek to improve the social and ecological conditions of Bangkok.
Founded in 2007 by directors Namchai Saensupha, Prapan Napawongdee and Yossapon Boonsom, Shma is part of a cohort of emerging Asian landscape architecture practices that are challenging traditional ideas with highly adventurous and innovative work.
After graduating from their university studies in the aftermath of the 1997 Asian Financial Crisis, the three directors began their professional careers in Singapore due to a lack of prospects in Thailand. "At the time, the mainstream work in Thailand was resorts for very wealthy people," explains Boonsom. "We really had to question whether it was the right thing for us."
The trio met in Singapore while working at the offices of Cicada Landscape Architecture, one of Asia's leading landscape architecture practices. After five years in Singapore, a city which was (and continues to) invest heavily in the public realm, the young Thai designers could clearly see a correlation between a high-quality public realm and a high quality of life, and grew motivated to return home to Bangkok where they felt their contribution was needed more.
"Of course [our business] had to survive back home in Bangkok, so the question [was] how we were going to incorporate a different type of project, other than the mainstream work available, which was luxury developments," says Napawongdee.
The office has more than survived, growing from an original staff of three to some sixty landscape architects in 2019, with projects located as far away as India. A deft material sensibility and commitment to design innovation can be seen in Shma's hotel and resort projects, such as at 23° Escape (an Outstanding Award winner at the 2017 IFLA Asia-Pac Landscape Architecture Awards) and the soon-to-be-opened Hotel Labaris, both in Khao Yai, Thailand.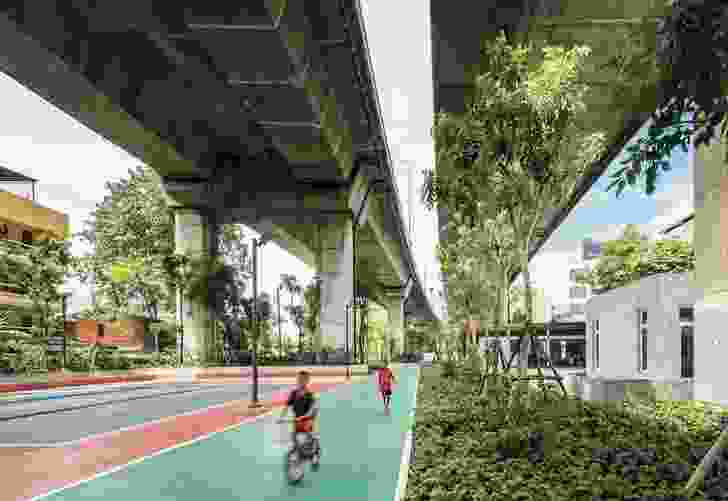 At Mapletree Business City II in Singapore the practice pursued a strong ecological agenda, with a vast 35,000-square-metre landscape for a new low-rise commercial tower complex that connects to an adjacent ecological reserve, with 70 percent of the site – including all rooftops – covered with planting at an average 1.8-metre soil depth. "We are often questioning the program or brief given by developers to find the new possibilities," says Boonsom.
Indicative of the realities of practising landscape architecture in South-East Asia, Shma estimates that around 70 percent of its projects are designed for private developers. When they first started out, it was closer to 100 percent. However, Shma's first public projects didn't come by chance or luck, they were self-initiated.
"Each year we run a workshop with students to tackle the public agenda," says Boonsom. "We posted a video of one of these projects [a proposal to create a linear park down the centre of a treeless and heat-prone Bangkok road] to Facebook, which is very popular in Thailand, and it got more than a thousand [organic] likes, which really surprised us."
Using the power of social media to harness public support for urban change, Shma began to develop other ideas for Bangkok and produce increasingly clever marketing material to communicate them.
A subsequent vision to create a ten-kilometre fitness route under an expressway viaduct, titled 10 Kilometres, won a 2018 World Architecture Festival WAFX Prize and subsequently gained support from a developer, which funded the delivery of a section of the route at Lankila pat 2. The project connects the communities on both sides of the expressway with a sports and recreational park.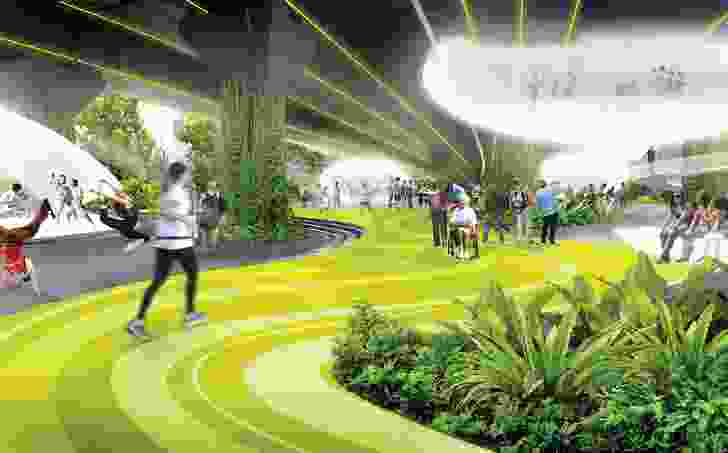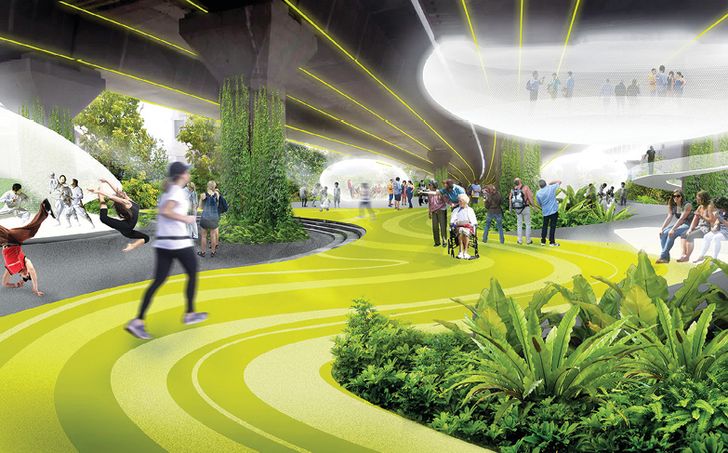 In what could be unprecedented in a landscape architecture practice, Shma is in the process of establishing a dedicated department for advocacy on public issues. Focusing on creating engaging videos disseminated on social media, they hope to highlight social and ecological imperatives and build public support for design-led solutions.
And their advocacy is having some high-profile success. In 2015 the Bangkok Metropolitan Administration (BMA) proposed a controversial plan to build fourteen kilometres of concrete promenade along the Chao Phraya River, in an effort to clear the riverbank of illegal encroachments and open the river and its historic landmarks to the public with parks, bike paths and walkways. But opponents say the project will sever communities from the river and destroy the livelihoods of many underprivileged people who depend on it. Deeply concerned about the proposal, Boonsom set up a community group called Friends of the River. He began to speak with residents along the banks and develop an alternative vision to protect against rising tides without destroying the interface to the river that communities depend on. The group recently led a national government committee chaired by Thailand's deputy prime minister, General Prawit Wongsuwan, to recommend the project be cut in half and the design be amended to allow greater connection to the river.
Another project that most typifies Shma's positive and playful approach is The Floating Park. In the first version of the project developed for Bangkok Design Week 2018, the park was built inside a disused river barge and housed an exhibition that explored the dire need for more open green space in Bangkok. Buoyed by its success, Shma is seeking funding to make the park a permanent fixture and has designed a subsequent edition for the 2019 edition of the Bangkok Design Week program. Equipped with aquatic plants to filter water and solar panels to power lighting and other services on shore, the latest edition – titled The Innovative Floating Park – doesn't offer visitors a ride on the river but is instead more directly concerned with education and advocacy about the river's health.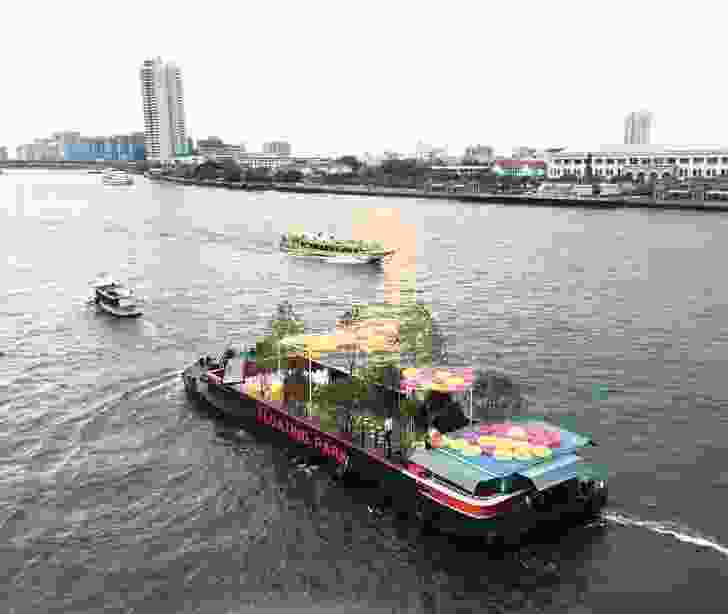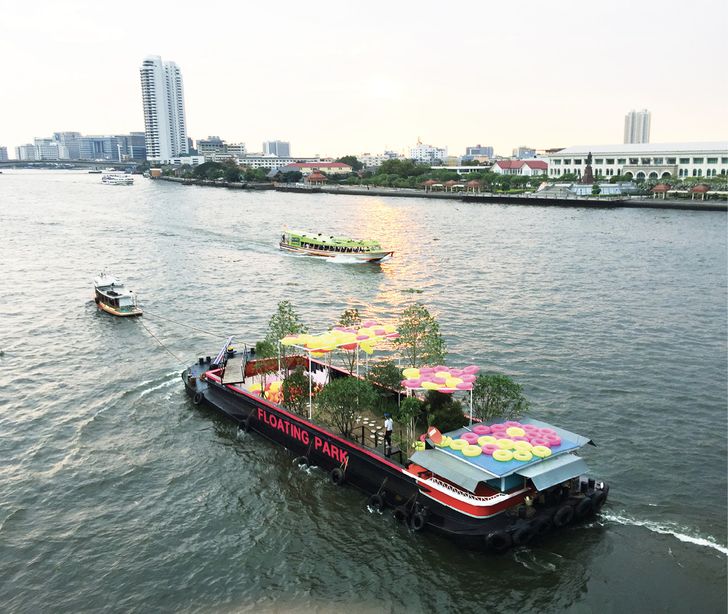 While most landscape architects would proudly claim that their profession is inherently focused on the betterment of environment and society, there are few so proactive as Boonsom, Napawongdee, Saensupha and their colleagues at Shma. They are not only participating in the public conversation about their city's future, but they are also leading it, and enjoying plenty of successes along the way.
Source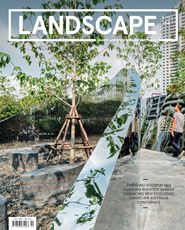 Practice
Published online: 29 Aug 2019
Words: Ricky Ray Ricardo
Images: Anongnard Jungmongkolsawat/Panoramic studio, Shma, Tanee Sawasdee and Napat Pattrayanond.
Issue
Landscape Architecture Australia, May 2019