The population of Australia's capital cities continues to grow and conservative estimates for Sydney suggest a growth from 4.7 million in 2013 to 7.9 million by 2053.1 Of this population, the New South Wales Department of Planning dictates that 80 percent of new homes must be located within the city's existing and planned urban footprint, meaning an additional 770,000 infill dwellings by 2036.2 This is a significant new societal and urban direction and we are now witnessing the emergence of a new urban Australia, in which backyards are increasingly scarce and the local park has been reduced in size to a handkerchief. However, citizens still crave greenery and ensuring its provision is a significant challenge for politicians and planners. Fortunately, many state and local governments have crafted targets for urban green infrastructure and urban canopy across private lands and gardens, streets and parks.3 Landscape architecture is the profession best placed to negotiate novel approaches to the provision of this green space, which will provide amenity and support human and ecosystem health in the future city, from the largest scale (the city) to the smallest (the garden).
Eve Apartments in Erskineville, only a few kilometres from Sydney's city centre and bordering Newtown, sits within a masterplanned area that aims to inject both residents and capital into its post-industrial location. While the history of the area's factories and warehouses has been referenced little in the current design, save in the layout of the neighbourhood's streets and their names, a new swathe of dense apartments offers a snapshot into Australia's urban future. Six-storey apartments are complemented by wide footpaths, mature street trees and an ample supply of seemingly obligatory coffee shops. While critics and the public alike have invariably labelled this cookie-cutter "developer urbanism" as "boxy, bland and boring,"4 in this part of the city we find an apartment block with a difference. With Eve, 360 Degrees Landscape Architects, a Sydney- (and now Brisbane-) based practice has delivered a successful and much-cherished apartment complex that sits apart from the surrounding banal dross.
The design philosophy here was to "start with green." Under the thoughtful approach of Daniel Baffsky, Liam Bowes, Karen Ruthven and Glenn Dixon, a highly successful design and planting palette has been implemented. Sure, we've had roof gardens, vertical gardens, green buildings and green roofs for some time now, but what is unique about this project is the skill of the design team in assembling such a thoroughly thought-through planting palette with an architecture that is at once accommodating and receptive to planting. This is, however, no accident. In an unconventional and pioneering approach to achieving design excellence, 360 Degrees was engaged by Eve's developer, Fridcorp, to help write the architectural design brief, and be a part of the design competition review panel alongside the City of Sydney to award the winning architect.
Externally, Eve is set back slightly from the street, mirroring the nearby terrace houses (which the inhabitants might have otherwise purchased) to provide a series of raised, lush and rambling gardens that spill onto the surrounding street. Deep planters include thematic swathes of Acer palmatum (Japanese maple), Lagerstroemia "Natchez"(crepe myrtle), Magnolia x alba (white sandalwood) and Waterhousea "Sweeper" (weeping lilly pilly), heavily underplanted with Dichondra repens (kidney weed), Viola hederacea (violet), Syzygium "Cascade" (lilly pilly) and Syzygium smithii (lilly pilly).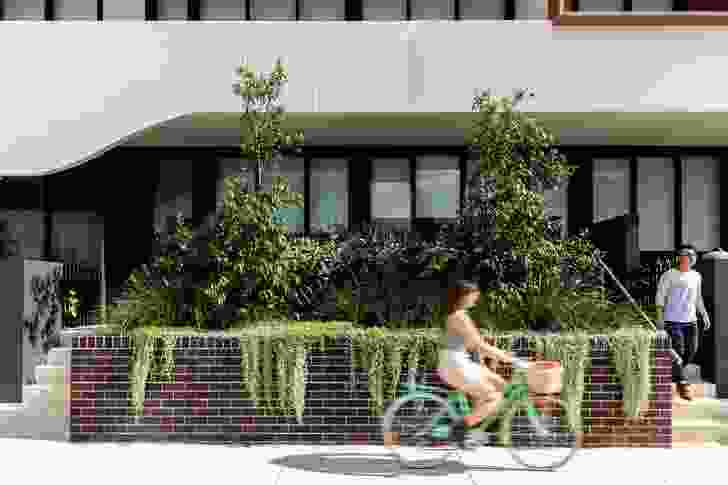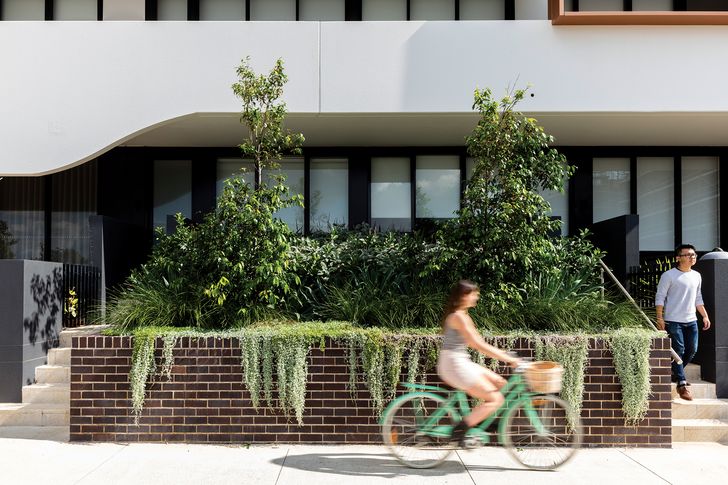 The apartment complex's glamorous entrance, with its black glazed brick and expensive sofa, leads to a communal courtyard that is visually lightened by tropical birch (Betula nigra) and a subtle staggering of private gardens. Here the eye is led upward by impressive Thunbergia grandiflora (blue thunbergia), Trachelospermum jasminoides (star jasmine) and Cissus antarctica (kangaroo vine) creepers that ascend five storeys from courtyard to roof, lending a lush, almost tropical feel to the secretive courtyard space, aided by dense plantings of Alpinia nutans (dwarf cardamom), Alocasia macrorrhizos (giant taro) and Rhapis exelsa (bamboo palm). According to the designers, the climbers provide a "low-maintenance, high-impact alternative to other intensive vertical gardens." Skilfully selected for microclimate and solar access, these also bring ample privacy to the 198 apartments' residents and soften the building's mass.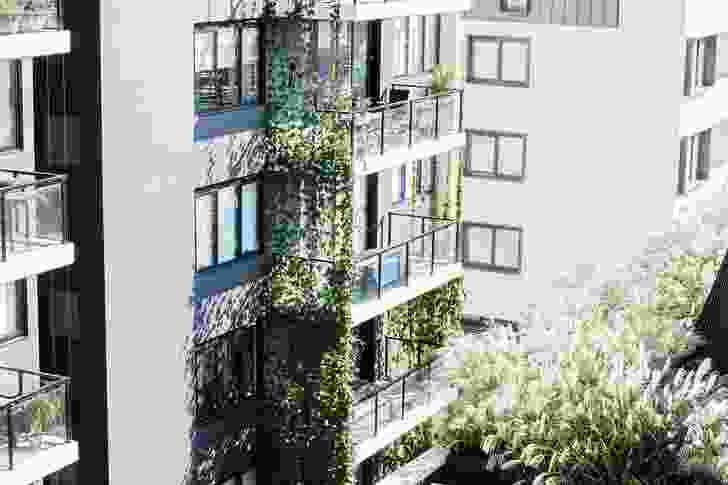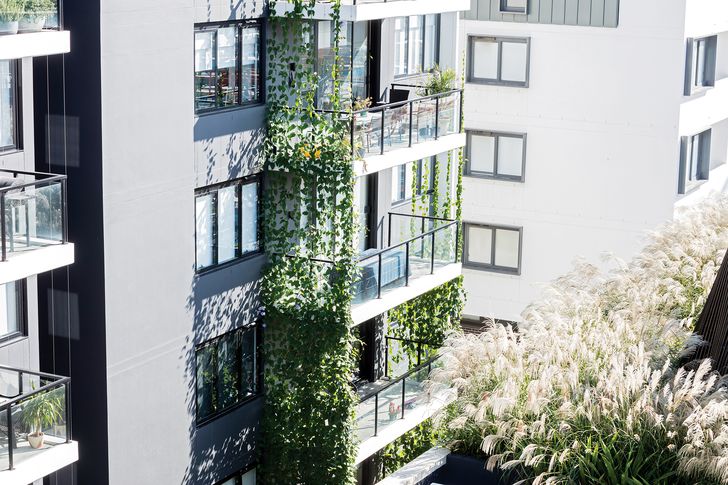 However, it is the fourth-floor roof garden on the building's northern side that really strikes a chord with its inhabitants. Described by Bowes as a garden that "just happens to be on the roof," this is a haven for bees and a recombinant nature (I noticed a nesting pair of New Holland honeyeaters within the apartments' trailing vine thickets) and offers a peaceful escape for residents and space to linger. A planting palette that contrasts with the courtyard below includes low planting of Adenanthos sericeus (woolly bush) and Poa labillardieri "Eskdale" (blue tussock grass), punctured by two specially designed seating pods amid vertical Doryanthes excelsa (gymea lily) and Beschorneria yuccoides (Mexican lily).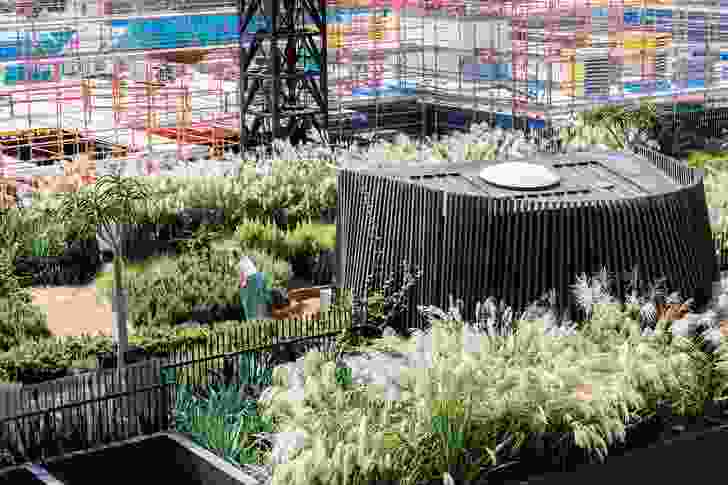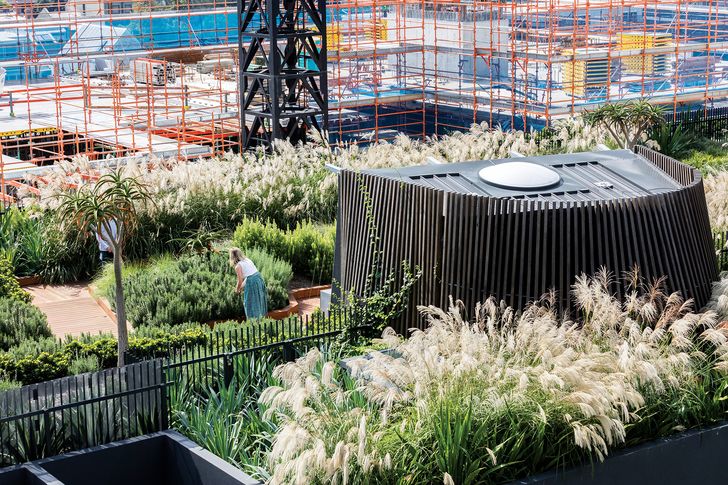 A resident I met while visiting the roof garden stated simply, "I love it" and asked why "a bigger deal wasn't made of it" when they bought off the plan eighteen months earlier. It would seem that "green" does indeed sell. This demonstrates that when the city, the developer and the architect embrace landscape architecture's potential, citizens' appetite for "green" can be met through the well-designed and much-loved green spaces that our future cities will increasingly need.
This project offers a humble example of the key role for landscape architects in Australia's urban future: a challenging time of city expansion, infill and shrinking green spaces. With supportive government policies (at least in New South Wales) and novel project arrangements such as those at Eve, there has perhaps never been a better time in Australia for landscape architects to simultaneously deliver both the large-scale urban and the detailed domestic-scale "green" that citizens inherently crave.
Plant list (partial)
Ground floor (central and street-front courtyards)
Betula nigra (tropical birch), Lagerstroemia "Natchez" (crepe myrtle), Acer palmatum (Japanese maple), Waterhousea floribunda (weeping lilly pilly), Magnolia x alba (white sandalwood), Thunbergia grandiflora (Bengal clock vine), Cissus antarctica (kangaroo vine), Plectranthus "Mona Lavender" (mona lavender), Lomandra "Nyalla" (mat rush), Rhaphiolepsis "Oriental Pearl" (Indian hawthorn), Thysanolaena maxima (tiger grass), Syzygium "Cascade" (cascade lilly pilly)
Rooftop garden
Aloidendron barberae (tree aloe), Adenanthos sericeus compact (dwarf woolly bush), Aloe arborescens (candelabra aloe), Rosmarinus officianalis (rosemary), Miscanthus sinensis "Gracilimus" (maiden grass), Poa labillardieri "Eskdale" (tussock grass), Furcraea foetida (Mauritius hemp), Rhaphiolepsis indica "Snow Maiden" (Indian hawthorn)
1. Australian Bureau of Statistics, "Population projections, Australia, 2012 (base) to 2101," abs.gov.au/ausstats/abs@.nsf/Lookup/3222.0main+features52012%20(base)%20to%202101 (accessed 5 December 2018).
2. New South Wales Department of Planning, "Metropolitan Plan for Sydney 2036," 2010.
3. At the time of writing, Greener Places was in draft for consultation. Government Architect of New South Wales, "Greener Places: Establishing an urban green infrastructure policy for New South Wales," 2017.
4. Richard Hughes, "Here's what our readers hate most about Melbourne's soaring skyline," The Age website, 2 July 2018, theage.com.au/national/victoria/here-s-what-our-readers-hate-most-about-melbourne-s-soaring-skyline-20180702-p4zp00.html (accessed 5 December 2018).
Credits
Design practice

360 Degrees Landscape Architects
Sydney, NSW, Australia
Project Team

Daniel Baffsky, Liam Bowes, Karen Ruthven, Glenn Dixon
Consultants

Architect DKO architecture
Design practice Richard Crookes Constructions
Landscape contractor AYZ Landscapes

Site Details

Location Sydney, NSW, Australia
Site type Urban

Project Details

Status Built
Completion date 2016
Design, documentation 9 months
Construction 18 months
Category Landscape / urban, Residential
Type Outdoor / gardens

Client

Client name Fridcorp
Website fridcorp.com.au

Source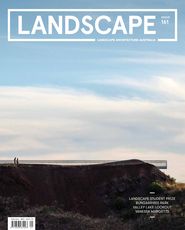 Issue
Landscape Architecture Australia, February 2019