As Venice was flooded and bush fires were raging across Australia, a sense of urgency for not just technical progress, but social and environmental change could be felt across the panel discussions at the Smart City Expo World Congress 2019, held from 19 to 21 November in Barcelona, where almost 25,000 visitors gathered for three days to debate the future of our cities.
Who gets to define the future?
The fields of architecture, urban design and policy making have always struggled to accommodate gender diversity. Urban spaces are male by default, argued Catherine D'Ignazio from MIT's Department of Urban Studies and Planning, one of the congress keynote speakers – and smart cities are no exception, as technology is not built in a diverse way and often does not cater for the experiences and needs of women. Data feminism, a way of thinking about data science and data ethics that is informed by the ideas of intersectional feminism, can assist in boosting data literacy and digital participation among women and minority genders and in developing gender-engaged approaches, as well as innovative planning processes that centre women, trans and non-binary citizens. The existing unequal power balance not only affects women, D'Ignazio emphasized, but also other marginalized groups – and technology can assist in addressing some of these issues.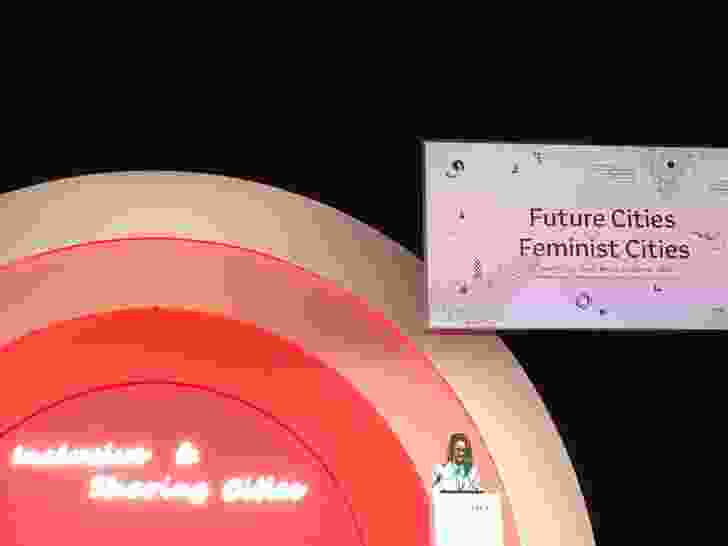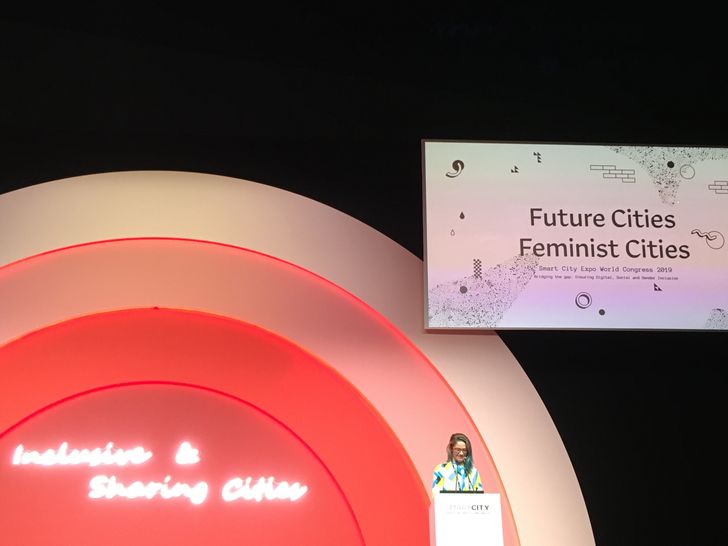 The importance of technology and city-making not only for, but more critically by women was manifested in the work of organisations such as Geochicas, a group created in Sao Paulo in 2016 which analyzes how women are represented in geospatial and technological spaces to improve the overall diversity and quality of the data that goes into online editable mapping platform OpenStreetMap.
A new mindset
Another prominent talking point was that smart city technology already plays a pivotal role in cutting greenhouse gas emissions, reducing energy consumption and improving sustainability. An example of this is the use of the UN Sustainable Development Goals (SDG) to shape planning policies, such as the Bristol City Council's smart city strategy "Connecting Bristol" that was nominated for the 2019 World Smart City Award. 5G was another technology flagged as one of the next key steps in the digital transformation of our cities. "The problem is not a lack of tech solutions to tackle climate change, but a lack of will in wider society to push these ideas through," stressed keynote speaker Laura Tenenbaum, of the Earth Science Communications Team at NASA's Jet Propulsion Laboratory.
Janette Sadik-Khan, who as New York City transportation commissioner from 2007 to 2013 oversaw historic changes to the city's streets, including closing off Times Square for car traffic, contended in her presentation that smart mobility goes beyond electric vehicles and autonomous driving and requires a shift in mindset. Now a principal at international consulting service Bloomberg Associates, Sadik-Khan demonstrated what the redesign of our cities might look like using case studies that included New York and Barcelona's Superblocks.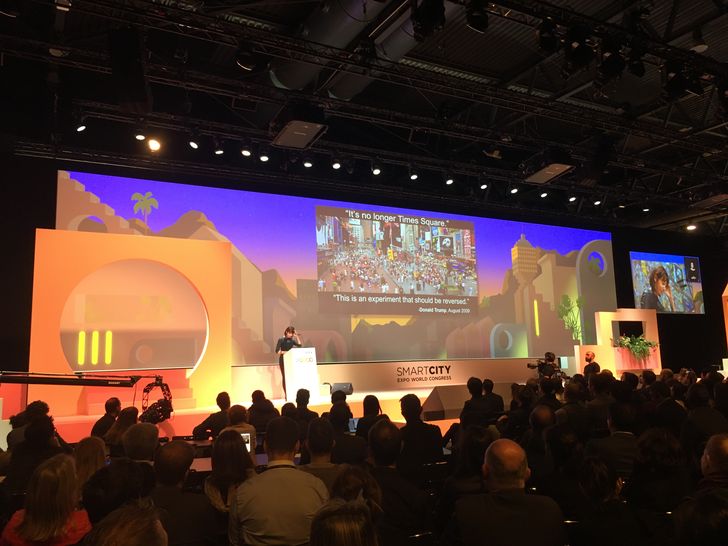 Curating the data noise
The need for cities to be the drivers of smart city innovation was pointed out frequently. By building strategic partnerships, both with private industry and other government players, using the potential of grassroots organisations, and capacity building through co-creation and citizen participation, local governments can develop innovative financial tools and new models of governance and implementation. City governments are also crucial in protecting citizens' data sovereignty by enforcing privacy laws, enabling citizens to produce, share and own their own data.
The collection, interpretation and visualization of data lies at the heart of the smart city and assists with decision-making processes and monitoring. Companies such as the Barcelona-based Lobelia, Portugese company Ubiwhere which focuses on the development on smart technology for cities, and Sydney-based Envirosuite, an environmental management software development firm, provide digital platforms to monitor and visualize climate change vulnerability, the frequency of heat events and heat waves, air quality, noise, traffic flow and other open-source data.
How citizens can play a key role in data collection and collaborative mapping through digital and analogue engagement was demonstrated by FoodMapping, a Barcelona-based citizen science project coordinated by local consulting agency, Ideas for Change. Inhabitants of three Barcelona neighbourhoods were given mobile phones equipped with a specialized app and a mission to collect data about local food offers and habits. The app preserved the privacy of the citizen scientists who met afterwards for various workshops to discuss their collated results.
Data is the new gold and combining different data sets – quantitative and qualitative, open data, social media feeds, crowd sourced and citizen generated – enables more in-depth and nuanced results.
A change in paradigm
Other topics explored during the congress's proceedings include the big impact of the social and urban environment on our quality of life. With this in mind, a more detailed knowledge of various urban phenomena through the measuring, analyzing and superimposing of big data can contribute to the determination of new urban design parameters.
Award-winning Barcelona-based architecture firm 300.000km/s – at the congress to present their collaborations with the local government – are known for their use of digital tools that harness open data and big data in combination with citizen-generated qualitative data. According to the architecture team, the processing and interpretation of massive amounts of information can enable a much more detailed analysis and representation of the complexity of urban spaces, which in turn allows for a scientific approach to site analysis and the monitoring of urban design interventions. For Barcelona's Ciutat Vella Land Use Plan, designed as an instrument to balance economic activities and the district's residential role, 300.000km/s reinvented the traditional master plan. New methodologies of spatial analysis based on machine learning and artificial intelligence were applied to create a predictive model to inform, simulate and draft a new flexible and dynamic strategy. Through the inclusion of data from population census, social networks, commercial premises and noise sensors, among others, new layers of information describing urban behaviour were added. The focus of the plan, the result of a two-year process, is to preserve the liveability in the city.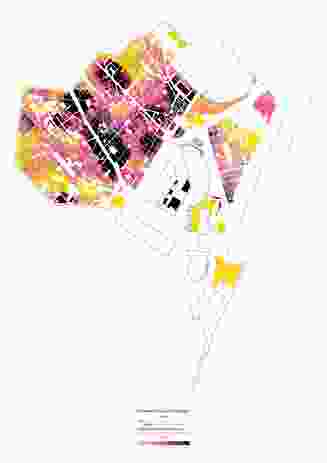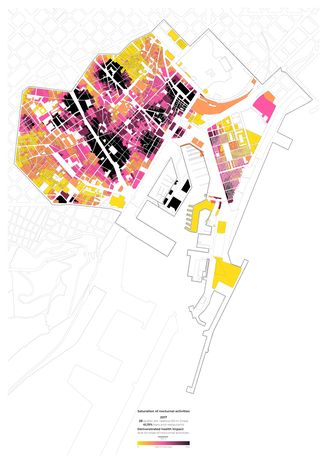 The digital platform of Australian urban tech company Neighbourlytics (although not presented at the congress) can be viewed as another example of the use of public social data to measure and monitor the quality of life and wellbeing in cities. Capturing the digital footprint of our cities will inevitably become increasingly important for local governments and city-makers, as they continue to try to understand how people live and experience the city.
To create "cities made of dreams" – the motto of the 2019 congress – we need to change the narrative and confront the social inequalities, political transformations and looming climate crises our cities are facing. Technology is not the solution to our problems, but can assist with increasing our knowledge and expertise as urban designers and city-makers – and serve as a tool to empower us as citizens.