Tidal economy: The Lower Mekong Delta
Ben Kronenberg explores the shifting landscapes along the Mekong River's labyrinth of tributaries.
The Lower Mekong Basin is a gasping, swelling river system comprising two hundred ecoregions and a hundred different ethnic groups within a dual monsoonal climate. In An Giang and Kiên Giang, Vietnamese rice farming provinces near the border of Cambodia, a complex array of hydroclimates, multiple sub basins, varied drainage patterns and tidal fluctuations drive the region's aquatic and agricultural seasons. Forecasting from the International Centre for Environmental Management predicts that these shifting dynamics will promote excessive flood duration and increased salinity and brackish water throughout the land region by 2050, interfering with regular farming crop reliance.
Residents here, however, have adopted strategies for flexibility within their agriculture portfolio, developed in the 1960s.1 They exhibit adapted farming methods during seasonal variances in floods and droughts. These methods include integration of aquaculture and agriculture (IAA) in brackish water and the development and planting of flood-tolerant "scuba" rice.2 Within these adaptations, there lies an understanding of accepted water inundation and the idea that the land or territory is not solid.
Exploring methodologies within this condition is crucial to the economic survival of the region. However, during a series of field trip investigations to specific communes in this region, as part of a Red Cross small-scale mitigation project team, it became clear to me that issues of short-term household livelihood were urgent at ground level. This "ground level" became a testing ground, not only for the resilience of individual households but also for broader approaches to the issues.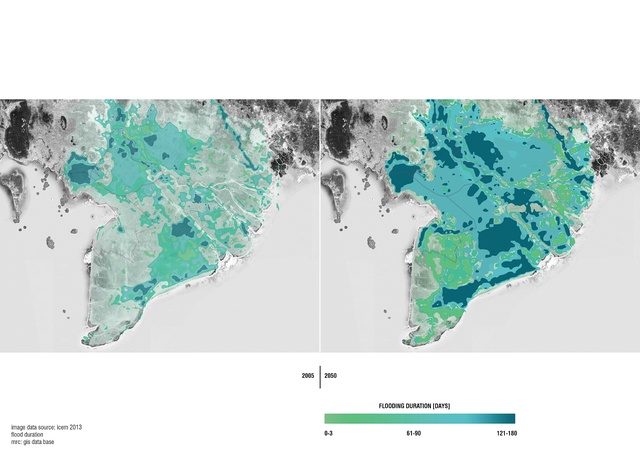 Along the Mekong River's labyrinth of tributaries, households within the economically poor Vietnamese provinces of An Giang and Kiên Giang are battling ongoing issues with security of land tenure and food, disease management and water salinity. There are continuing discussions about agricultural commercialization in the region, which will have an overarching effect on land ownership within these subsistence-based communities, which lie in freshwater, alluvial land. Throughout the field trips there has been mounting dialogue and interaction with farmers who have shifted to using IAA farming techniques within the fluxing brackish water. But with these techniques come ongoing land complications such as unavoidable sedimentation, cumulative degradation and over-salinization.3 Over time, this leads to a decline in the area available for rice production. It seems that while IAA farming yields a biannual crop for households, the effect of aquaculture farming is detrimental to a long-term rice crop, critical to the economy within this region of Vietnam.
The field trips conducted by the Vietnamese, Australian and German Red Cross engaged fourteen communes within these two provinces. They included small-scale projects (part of the larger Climate Smart Community Based Disaster Risk Reduction project) that assist with the immediate preservation of households, such as education, water storage and salinity solutions, flood evacuation, latrine and small bridge construction, and the supply of items paramount to the immediacy of livelihood. The Participatory Hygiene and Sanitation Trans- formation dissemination campaign is an example of this, an educational seeding strategy for water sanitation practice within each commune. This method educates the most effective community leaders, allowing for a stronger potential for information spread. Walking within these commune clusters, you notice posters warning of dengue fever and waterborne disease and promoting latrine hygiene. This highlights the different scales of approach required when thinking about the issues of an economically poor flooding region. Vehicular travel by land and water yields surveillance of bank erosion, degraded road material and poor bridge construction conditions. Community leaders share stories of unfortunate drownings resulting from falls on decayed bridges, highlighting the importance that these small-scale projects can have within Lower Mekong Delta regional provinces.
Our visits to commune households and dialogue with residents identified issues of water catchment and basic salinity as a priority. However, it cannot be dismissed that on a larger scale, there is a dependence on landscape morphology in the Lower Mekong Basin for survival. The Rijn-Maas-Scheldt delta in the Netherlands is an example that highlights the complexity of estuarine systems. Here, storm surge barrier introduction led to the severing of the ocean–river relationship for the benefit of flood prevention. This showed the potential for unrest of adapting landforms for human need and not only promoted an interference in the processes and reduction in the dynamics involved in its land formation,4 but also saw the introduction of blue-green algae, water oxygen depletion and changes in water depth to meet its new equilibrium. The avoidance of comprehensive large-scale engineered solutions such as storm surge barriers within the economically poorer Lower Mekong Delta regions has perhaps made clear the need for lateral solutions on a household level, such as the development of flood-tolerant rice and diverse farming systems.
Bioengineering and the scientific adaptation of existing farming methods required for living within such a shifting landscape are key approaches to the broader issues of increasing flood duration. Scrutiny of the long-term negative effect of local IAA farming practices gives way to solutions that accept water inundation and maintain minimal disturbance to the landscape. The field trips have offered an insight into the smaller-scale issues and the projects that are being conducted by bodies such as the Red Cross within the region, and serve to accentuate the importance of approaches that consider the ongoing sensitive nature of these breathing river systems and the households alongside them.
Benjamin Kronenberg visited the Lower Mekong Delta as winner of the 2012 Hassell Travelling Scholarship.
1. Thanh Be Tran, "Sustainability of rice-shrimp farming system in a brackish water area in the Mekong Delta of Vietnam" (Sydney: University of Western Sydney, 1994).
2. "USAID Mekong ARCC Climate Change Impact and Adaptation Study for the Lower Mekong Basin: Main Report," prepared for the United States Agency for International Development by the International Centre for Environmental Management, November 2013.
3. Le Thanh Phong et al, "Integrated Agriculture-Aquaculture Systems in the Mekong Delta, Vietnam: An Analysis of Recent Trends," Asian Journal of Agriculture and Development , vol 4 no 2, 2007.
4. Leo Adriaanse and Jandirk Hoekstra, "Designing a Safe and Sustainable Rijn-Maas-Schelde Delta," Water: Resource and Threat, Topos 68, September 2009, 68–75.