Urban streetscapes are increasingly important civic spaces that need to perform many roles, now and in the future. However, there is a very powerful ideology that affects the vegetative composition, design and species selection of streetscapes – the "war on weeds." Landscape architects, planners, architects and engineers have an opportunity to challenge such unquestioned ideologies, which prevent effective design in urban streetscapes.
The war on weeds is a well-intentioned, and in most cases very valuable, environmental movement in Australia. When a weed is a genuine threat to an intact seed bank and healthy indigenous vegetation community, the removal of that weed becomes paramount. But what of the urban landscapes in which the majority of Australians reside? The seed bank has long been corrupted, and the hydrology, geomorphology, permeability and floral composition have so radically been altered – is it even a valuable construct to be calling plants weeds? Could they be the unsung heroes in the hostile disturbance ecology that we call the city?
The median strip on the southern side of the intersection at Victoria and Hoddle Streets on the border of several inner-Melbourne suburbs is an interesting case study that is reflective of an insidious and alarmingly common phenomenon. For about twenty years the median strip was mass-planted with Agapanthus orientalis (agapanthus), which grew happily despite extremely hostile growing conditions. The agapanthuses sent up flowers every summer, providing something of beauty for the thousands of drivers passing by each week. They outcompeted any other plants and the maintenance was virtually non-existent, which translates into a cost-effective planting for the authorities that managed it.
A few years ago the agapanthus plantings were removed and replaced with artificial turf. The use of artificial turf had become common during the last drought, so much so that the public was now accepting it on public land. The rationale is likely to have been better visibility for traffic and zero maintenance. Interestingly, the latter has not been the case.
The artificial turf is permeable and, as such, it now supports the following annual plants that are considered weeds: Conyza bonariensis (fleabane), Sonchus oleraceus (milk thistle), and an understorey of Hypochaeris radicata (cat's-ear). This meadow of Asteraceae (daisy family plants) is virtually impossible to be rid of as their seeds are wind-dispersed; the local council now sprays and slashes the median strip regularly and the artificial turf is almost invisible.
The irony of this situation is that the removal of a supposed weed (agapanthus) has resulted in a suite of weeds.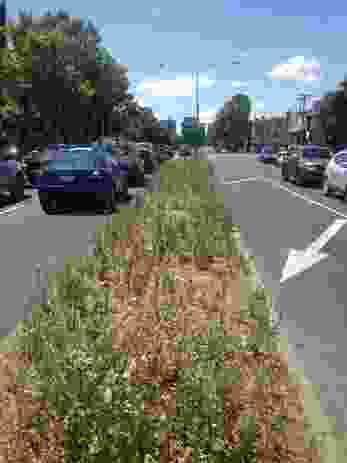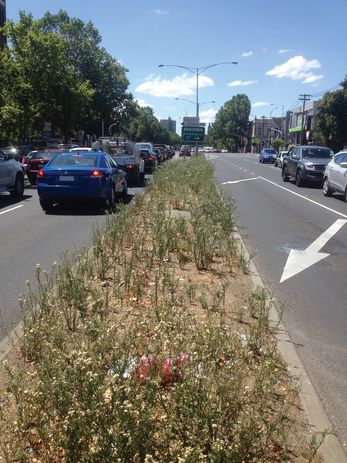 The maintenance of this landscape has greatly increased since the placement of the turf, yet the outcome is much poorer. This is not an isolated case. We need to start thinking about how to work with new urban ecologies that include what may be considered weed species, especially in hostile environments like streetscapes. We need to move away from the Georges-Eugène Haussmann model of the monocultural avenue street planting and embrace a more responsive approach to planting design.
Species selection for street plantings should take into account the aspect, the local geology and the enhancement/screening of views. Working with the recognized tropes of copses, drifts and clusters offers possibilities and opportunities as designers. Rather than pouring resources into trying to maintain static landscapes, we could redirect resources into managing successional landscapes that have a level of spontaneity and delight.
Ulmus minor "Atinia" (elm) was planted extensively in Melbourne in the nineteenth century – it is almost extinct in its natural habitat in Europe and yet it thrives in Melbourne, often becoming "weedy." This tree will form a copse very quickly via root suckers. On High Street, at the entrance to Northcote, there is an avenue of senescent elms. Photographs from the nineteenth century show a fantastic array of gaudy exotica with an understorey of Agaves, Pelargoniums and Gazanias. For the past ten years the understorey has been a thick layer of woody mulch often made blue by the indicator dye used in glyphosate, which is used to kill the elm suckers. If the suckers were allowed to grow, a beautiful copse of elms would manifest in a few years; instead, the avenue has recently been mass-planted with cultivars of Western Australian desert shrubs. It will be interesting to see how these plants compete with the elm suckers and the constant poison drift.
There is anecdotal evidence that kangaroos and cockatoos often dig up or ringbark trees and other vegetation planted by humans but do not touch self-sown plants of the exact same species. Perhaps subconsciously, vandals who snap and rip out newly planted trees are acting on the same instinct. Establishing vegetation in the hostile environment of a streetscape is difficult and expensive, but there is a whole suite of plant species that would happily self-sow and green our streets of their own volition, most of them far more suited to our changing environment than the species we select.
The more rambunctious a weed is, the more value it has in hostile urban environments – as long as it can be contained within that environment. Alianthus altissima (tree of heaven) is the "urban wonder tree." There is a copse of it above the Banana Alley Vaults, between Flinders Street and the Yarra River, growing in gravel that is about 300 millimetres deep. The trees grow in the most hostile environments imaginable and yet they thrive. Alianthus can thrive in extreme air pollution and can cope with compaction, salinity, heavy metal contamination and extreme temperatures. It already exists throughout inner-city Melbourne, so why not embrace it and use it to full advantage?
As Australian cities face rapid development in response to population increase and a more extreme climate, we need to examine how we can use so-called weed species to green and cool our urban streetscapes. We need to radically increase the amount of vegetation in our cities if they are to remain liveable. To destroy healthy, thriving vegetation just because it is considered a weed is questionable. To replace weed species with plastic grass is an ill-conceived act of environmental vandalism. It's time to tell the Emperor that his new clothes are a skirt of fake grass dripping in glyphosate.
Source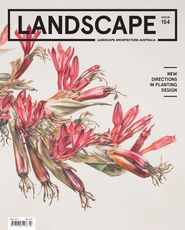 Issue
Landscape Architecture Australia, May 2017
Related topics