The impact of climate change on our cities no longer lies in the realm of future predictions. As the realities of climate change become increasingly evident, attention has turned to mediation strategies focused on reducing the urban heat island effect. Increased urban density, heat production from cars, airconditioning, vegetation removal, increased impermeable surfaces and air pollution all contribute to the urban heat island effect. Guidelines for mediating the warming of our cities encourage the construction of green infrastructure in the form of green roofs and green walls, increased vegetation and the adoption of reflective and light-coloured surfaces for roofs and paving.
Emerging research, however, suggests that these highly generalized recommendations may not achieve the desired outcome. A 2015 article in Nature highlights that in some cases rooftop plantings may actually increase night-time temperatures, "cool" roofs can slow wind and limit rain precipitation, green infrastructure on buildings can have minimal impact on thermal comfort at street level, and extensive tree planting can actually increase humidity.1 Consequently, researchers are beginning to warn against the application of a one-size-fits-all approach to climate change mediation.
An alternative approach to generic mediation strategies can be found by shifting the conceptualization of climate change from a problem to be solved to a focus on the design potential of atmosphere. Over the past decade, a new generation of architects including Philippe Rahm, Sean Lally and David Gissen has explored the design potentials of atmospheric phenomena such as energy, heat and humidity to produce new aesthetic values, forms and spatial typologies. These largely invisible phenomena are now made tangible to designers through technological advancements such as computational fluid dynamics, simulation and realtime data.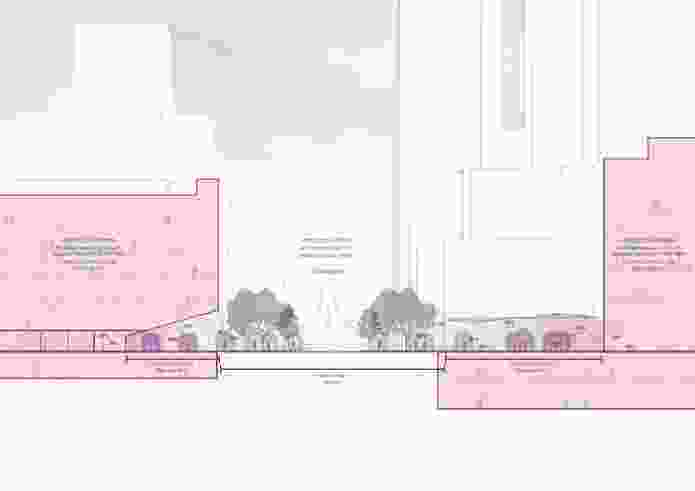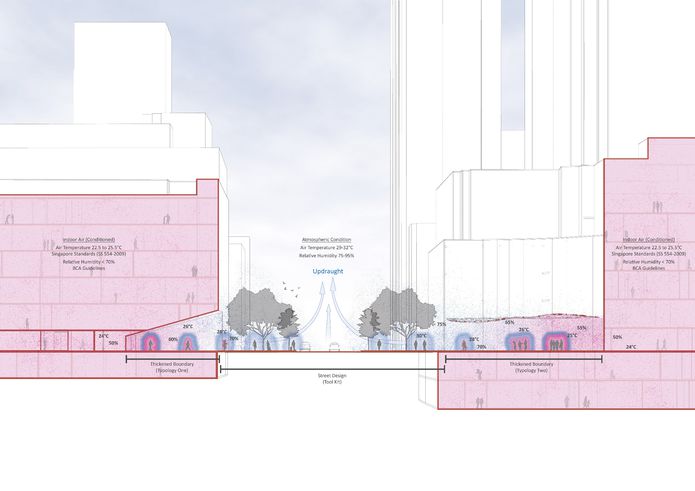 Designers are beginning to work at the intersection of technology, science and nature to explore the complementary potentials of biological and technological performance in addressing the ramifications of climate change. These approaches are especially evident in Asia, where the heat, humidity and pollution combined with high urban densities are producing problematic external conditions. Singaporean projects such as Gardens by the Bay, Clarke Quay and South Beach (under construction), as well as Philippe Rahm and Catherine Mosbach's design for Phase Shifts Park for Taichung, Taiwan (known as Jade Eco Park), explore a range of atmospheric design strategies to produce new typologies and experiences of streets, urban spaces and parks.
For example, Rahm and Mosbach's scheme for Phase Shifts Park does not aim to modulate the variable climate conditions of Taiwan, for instance making the hotter areas cooler. Instead, the scheme maintains and even extends the graduation of conditions, established through computer fluid dynamic simulations, augmenting qualities where areas are naturally cooler, less polluted and less humid. This tactic is guided by Rahm's interest in designing space through voids, particles and atmospheres rather than lines and forms. The augmentation of microclimatic parameters amplifies the polarity of conditions, with hot spaces necessary to establish cool ones, thereby "creating spaces by acting on difference."2 Space emerges through the transformative boundaries of atmospheres and conditions, not as hard spatial delineations. The resulting spaces establish an atmospheric structure of cool, dry and clear air, with circulation conceived to link similar climatic conditions.
Inspired by the approaches of Lally, Rahm and Mosbach, we set out to explore the possibilities for manipulating Singapore's humid equatorial environment in Jason's master's thesis project. Focusing on the busy commercial strip of Orchard Road, we aimed to improve the thermal comfort of the street without resorting to large external roof structures as applied at Singapore's Clarke Quay (Image 2). Singapore's evolution as a modern nation state is intrinsically linked to the role that airconditioning has played in producing a controlled environment condition for manufacturing, business and living. Known as the "airconditioned nation," Singapore has developed an extensive underground system of airconditioned arcades and commercial buildings that manifests at the human scale as an extreme disjuncture between humid tropical conditions and airconditioned spaces.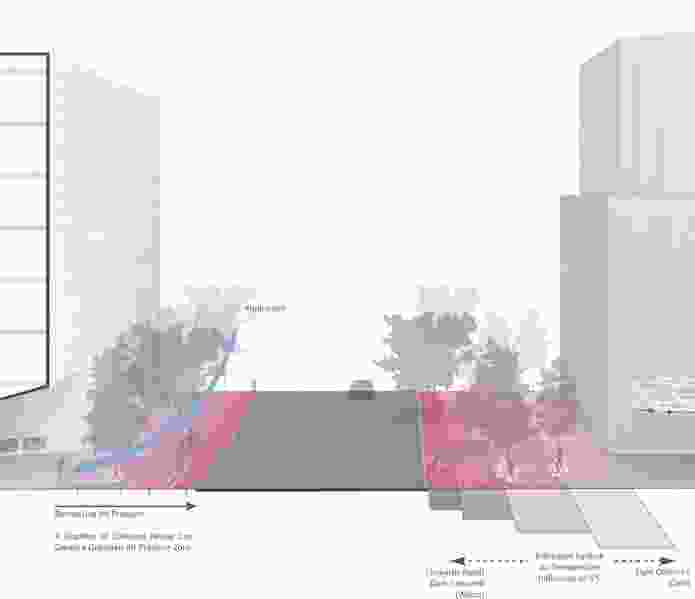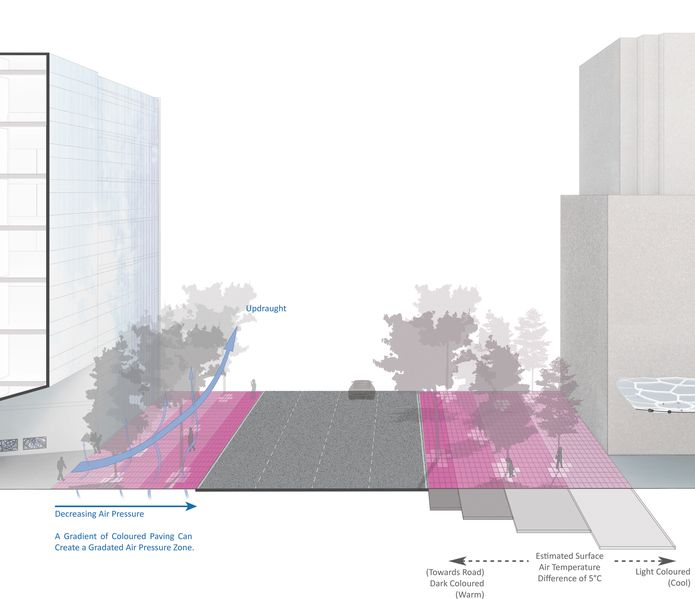 Scientific literature highlights the difficulties of reducing humidity levels without resorting to mechanical means. However, it is possible to influence people's experience of humidity – a gradual transition from cool to humid environments, for instance, lessens people's perception of humidity. Adopting this principle, "zones of atmospheric gradation" were proposed to disrupt the abrupt transition so characteristic of Singapore's internal and external spaces. Intermediate atmospheric spaces (Image 3) were inserted at the threshold between the commercial building and the street, designed either as an atrium space within the architectural volume or projected into the street. These spaces are conceived to be two to four degrees warmer than the twenty-four degrees Singapore standard for airconditioned spaces, achieved through mechanical means.
Attention then turned to the potential of trees and paving to continue this atmospheric gradation into the street. A series of rules derived from scientific literature documenting the effects of wind, heat, shade, planting and paving on humidity informed the parametric modelling and simulation (using Grasshopper, Rhino and realtime data). This iterative testing generated a "tool box" of strategies to apply in the detail design of the street. For example, the diagram shown in Image 4 describes the principles used to encourage air updraught through the manipulation of paving colour. Grasshopper was used to develop a script to understand and categorize heat storage and emission rates from different coloured paving, with the aim of establishing updraught through air pressure differentiation. This became the basis for the paving pattern, which produced a preferred pedestrian pathway along Orchard Road.
This exploration of the invisible phenomena of humidity highlights the productive intersection between scientific research (which documents the behaviours of atmospheric conditions) and speculative design processes of parametric modelling and simulation. With a focus on performance, designers can translate scientific research into critical parameters of influence, which can then inform tactical, site-specific and innovative spaces for our increasingly warming cities. Form emerges through the interrogation of information and performance. Importantly, these approaches move beyond generic mitigation responses to engage air and ground and technological and biological performance, to reconceive external spaces that can respond to a climatic future that cannot be accurately foreseen.
1. Hannah Hoag, "How cities can beat the heat," Nature: International Weekly Journal of Science , 26 August 2015, nature.com/news/how-cities-can-beat-the-heat-1.18228 (accessed 2 November 2015).
2. Philippe Rahm, in an interview with Jillian Walliss at the Graduate School of Design, Harvard University, 14 December 2014.
Source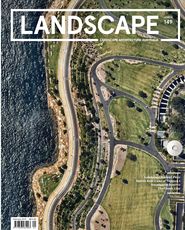 Issue
Landscape Architecture Australia, February 2016
Related topics