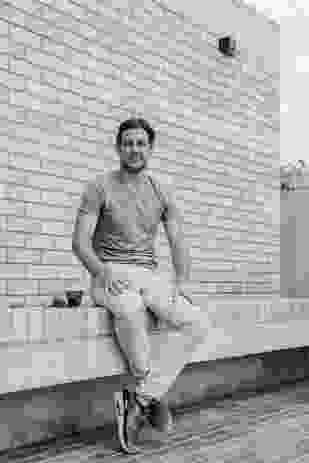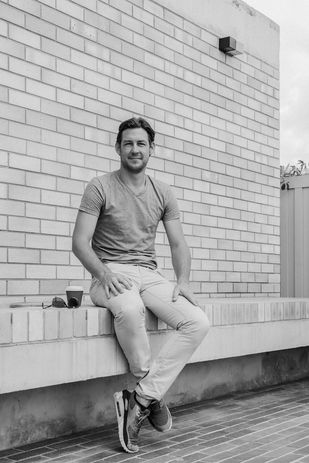 Dan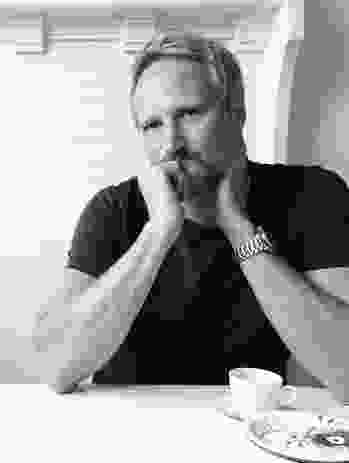 Young began his landscape architecture practice in 2014 with the help of friend and collaborator Paul Owen (Owen Architecture), working on a number of residential projects in Brisbane. Ricky Ray Ricardo caught up with the duo to talk collaboration, private practice and planting design.
Ricky Ray Ricardo: How did you start your practice and come to work on residential projects?
Dan Young: I'd had a few false starts with projects – really not knowing how to go about starting and getting caught up in details. I was talking with Paul socially about how to go about getting set up and … how you would approach getting projects. Paul basically said, "Oh, just do it."
Paul Owen: You were working on your PhD [currently on hold] and trying to figure out what to do next … I was saying to Dan that when I first started practising it wasn't so much that I particularly wanted to design houses, it was more that they were the most abundant [type of project]. And I knew that someone like Dan could do the same thing, but as a landscape architect, and it would actually be relevant on a wider scale. When I first started practising, I had deliberately aimed for private house commissions. For me, this was more about the commission type than the building type – private house commissions follow the traditional architectural process involving an architect and a "patron." Dan and I had been chatting and I wondered if this would also apply to his work.
DY: Brisbane is really a landscape city, a garden city. And that's a challenge for landscape architects here, especially because architects coming out of the schools here already have a really good understanding of landscape. So what is your leverage as a landscape architect? Because you're not that unique, in that sense. You really have to bring a horticultural aspect with you and realize, "Okay, this is how I can contribute."
RRR: On that horticultural aspect, Dan, do you feel that that's something your landscape architecture education prepared you for, or did you have to go and learn it for yourself?
DY: I have always had an interest in horticulture, so it was easy to build on that. It's something certainly that I've looked into further, not in any formalized study, but purely through necessity.
RRR: Could you tell us about the Rosalie House garden and how it was conceived?
DY: The diagram for that house, in a landscape sense, took care of itself. Spatially it's a series of wonderful spaces and the clients were open to the idea of a light intervention; they wanted something that fit with their family dynamic and lifestyle, and that was appropriate to the scale of the site and its suburban context.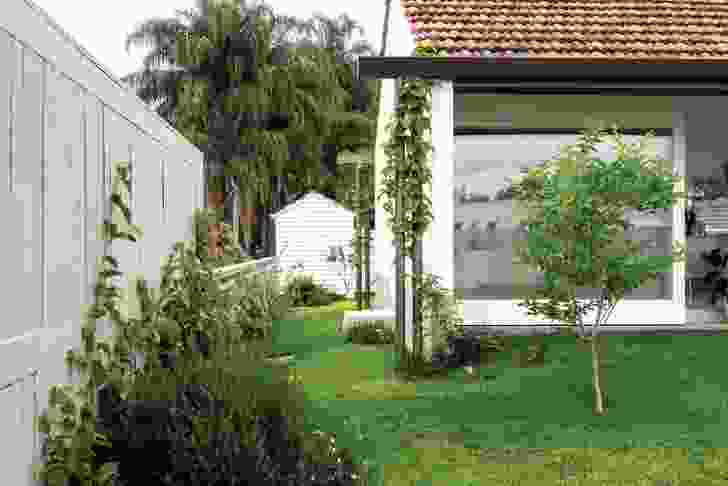 RRR: How important is working on site for you?
DY: I think the connection between designer and site is crucial – it's far too easy to overlook some of the human-scale interactions or moments that really don't translate well in a set of drawings if you're not frequently on site. Rosalie House was a test in many ways to see how you could go about getting the outcome you wanted in terms of texture and spatial quality, and then work backwards to figure out how you might document that effectively to get a comparable outcome from a general contractor.
PO: I wanted [to create a] landscape that was part suburban garden and part public park space. And then Dan, I remember one day you used the term "meadow" for one of the courtyards. I had been working in our garden city context for a long time and was interested to know how Dan would contribute to thoughts about occupying the suburban landscape. We started talking about ways to make appropriate landscapes … gardens with no edges, plants taking over structures.
RRR: Have you worked on projects where you've handed over documentation and then got a result that wasn't up to your expectations?
DY: Not as yet, but I've had a good working relationship with contractors. And it involves spending a bit of time at implementation being out on site and talking about it. It might be that you're there doing set-out and you build it together. Its difficult to get a fee for putting together a comprehensive planting plan for a project that might only have a $20,000 budget, so you might just go down and do a full set-out yourself, or instead let the contractor lay the plants out and come in and fine-tune it on the day of planting.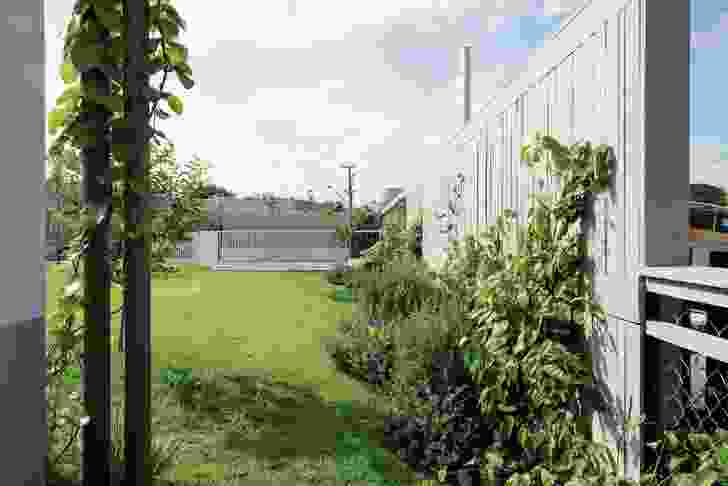 RRR: A concept that we're exploring in this issue of Landscape Architecture Australia is "new directions in planting design." What are your guiding design principles in this area?
DY: Variation in form, texture and scale, for starters. So it might be that I set up guiding principles around leaf shape, or plant form, which is then scaled up and down and replicated at different scales across the palette, which then results in a sort of superimposition of density. Also shades within a colour spectrum – so always working between different shades and scales. I find this lends legibility to a project, without being prescriptive in a plant selection sense; it allows me to introduce plants that I mightn't otherwise consider, because the selection criteria leads to something with specific qualities as opposed to something I "like."
RRR: Who do you think has an interesting approach to planting design?
DY: I really like the work that Andrew Green [regional technical director at RPS Australia Asia Pacific] has done over a number of years – it's an approach I think I've subconsciously referenced in my own work. I was interested in his work while I was studying, and a lecture he gave once about his experiences working with Lawrie Smith [renowned for designing public gardens in Queensland] really resonated with me, especially the ideas about how to subtly vary form and texture across a large palette.
Internationally, Gilles Clément – in terms of textural arrangement and the vernacular way of planting and compiling a palette. He has a wonderful way of saying, "Well, it doesn't matter if something gets trodden on," and if somehow the project self-curates in that fashion, I think there's a lot of value in that. It's difficult to balance the idea of temporality or seasonality, though, because that's all time-based, and what I mean by that is that it's sometimes difficult to reconcile the perception of a "finished" landscape with the reality of how that landscape presents itself in the everyday.
RRR: What common characteristics of residential garden design, particularly in Brisbane, would you most like to challenge?
DY: An appreciation of landscape as an evolving entity is missing from the general discourse. But more importantly, there's a standardized response to the residential garden that might be planting a hedge or screening trees along the boundaries and turfing the remainder, which I just don't subscribe to. There's such value in that space on so many levels – it's kind of obscene to give it so little regard, when it's really quite a simple site-planning exercise to determine the most appropriate approach.
PO: My generation and the generations before me grew up with lots of land, in smaller houses with larger lot sizes. But recently there's been a shift toward larger homes and smaller lots, and so that outdoor space has been compartmentalized. This lends itself to the idea of building boundaries, but still trying to maintain some vestige of a backyard.
DY: And there's typically a negotiation of this idea of the backyard and what the client functionally wants from it, as it often can't happen because the planning is wrong. They're generally looking for something that can't easily exist anymore.
RRR: Have your clients generally been open to having their minds changed?
PO: It's a bit easier to do at the moment because of peoples' general sensibilities. If this was the 80s we'd be battling against people wanting resort landscapes. The other thing to try and achieve, which we can't really do without Dan's help, is stitching a project with the larger suburban landscape, which is something I always want to try to do.
RRR: When your practices are built on residential work and your contributions are always in private space, do you ever feel a desire to effect change on more of an urban scale?
PO: Yes, but I like having a direct and immediate influence on our city, too. The cumulative effect of a lot of small commissions seen on a map shows that this kind of fine-grain work may have some influence on the city. I think this could apply even more with landscapes than with buildings.
DY: By the end of my studies I was pushing toward broader-scale strategic planning and representation and theory-based practice. My switch to almost entirely residential practice was really a response to what is happening in Brisbane. It was kind of a post-GFC decision as much as anything, with a side effect being the rediscovery of a love for plants that didn't ever disappear, but kind of just got pushed aside.
PO: We live in a distinctly suburban country. We tend to ignore this fact a lot, at least in design discourse. But I think engaging with the suburban model is important.
DY: It has to be a genuine engagement, I think that's the driving thing for me. I live in the suburbs where families are still the predominant occupants. We have high chain-link fences down the sides and can see four backyards in one direction and three in the other direction. There's a dialogue that occurs because of those fences, where you can talk to twice-removed neighbours across backyards. There's community value ingrained in the idea of a collective social space, which [you lose] as soon as you start to close everything in.
Plant list – Rosalie House
Shrubs, groundcovers and climbers
Allium millennium (ornamental onion)
Baeckea virgata (twiggy heath myrtle)
Carex everoro (everoro sedge)
Carpobrotus glaucescens (pigface)
Chonemorpha fragrans (climbing frangipani)
Cissus Antarctica (kangaroo vine)
Dichondra repens (kidney weed)
Gardenia florida (common gardenia)
Gardenia radicans (prostrate gardenia)
Hoya 'Krimson Queen' (wax vine)
Isolepis nodosa (knobby club rush)
Myoporum parvifolium (creeping boobialla)
Parthenocissus tricuspidata (Boston ivy)
Rosmarinus prostrata (prostrate rosemary)
Syngonium spp. (assorted syngonium)
Trachelospermum jasminoides (star jasmine)
Tulbaghia violacea (society garlic)
Viola hederacea (native violet)
Westringia fruticosa 'Mundi' (coastal rosemary)
Westringia fruticosa 'Naringa' (native rosemary)
Zephyranthes candida (rain lily)
Trees
Backhousia citriodora (lemon-scented myrtle)
Cupressus sempervirens stricta (Italian cypress)
Lagerstroemia indica x fauriei 'Natchez' (white crepe myrtle)
Olea 'Helena' (olive)
Pyrus calleryana 'Capital' (capital pear)
Tabebuia palmerii (pink trumpet tree)
Turf
Zoysia japonica 'Empire Zoysia'
Source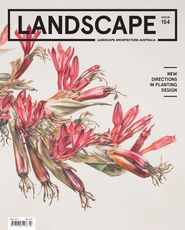 Practice
Published online: 5 Oct 2017
Words: Ricky Ray Ricardo
Images: Cathy Schusler
Issue
Landscape Architecture Australia, May 2017
Related topics