BIM: Something we should talk about
Irrespective of whether building information modelling (BIM) is being adopted by Australian landscape architects, it is only a matter of time before it begins to affect the way they practise – if it hasn't done so already. In Australia, the architecture, engineering and construction industry is undergoing significant changes that are influenced by BIM. As an unfolding situation, the term BIM serves as a useful, catch-all phrase for various digital technologies and project processes and signals a considerable shift in approach to the way design-to-construction projects are delivered.
The principal driver of BIM is the merging of information from different professions into shared 3D virtual models. For each project, a BIM manager coordinates the consistency and quality of the many different data sources. Significantly, this data from architects, engineers, landscape architects and construction contractors can be constantly updated in digital models. An additional level of complexity is that different software platforms are currently being used by different professions; how and with whom information is exchanged is crucial in BIM processes.
In order to fulfil BIM's promised efficiencies, the streamlining of time, labour, costs, materials and waste is pursued over the course of a whole project. In the high-risk, intensely competitive construction industry, there are major expectations to achieve these efficiencies in site planning, concept, design, detail, construction and management.
There are many reasons why now is an important time for the landscape architecture profession in Australia to engage with BIM, three of which I will elaborate on here.
Firstly, digital technology is rapidly changing across the architecture, engineering and construction industries, at both the national and international level. This is important for the landscape architecture profession because procurement processes are increasingly driven by technological capability. Many clients, government stakeholders and private developers are now demanding the use of BIM to improve profits, reduce wastage and capture data to use in managing their facilities. For example, in the United Kingdom there were moves to mandate BIM by 2016 for all government projects. Although this has been implemented to varying degrees, its imperative has propelled design professions and supply-chain and construction contractors to adopt new technologies very quickly. The United Kingdom's Landscape Institute has been exemplary in its respons e to equip landscape architects for the repercussions of this industry makeover. The professional association provides research, information sessions, courses, masterclasses, workshops and comprehensive online resources. Importantly, the institute commissioned the book BIM for Landscape (2016). This handbook is a vital resource for landscape architects around the world who are encountering BIM in projects for the first time. It offers a discipline-specific reference that outlines tools, protocols and precedents. As a professional association, the Landscape Institute fundamentally enables members to be kept abreast and "skilled up" to navigate the ever-evolving BIM domain.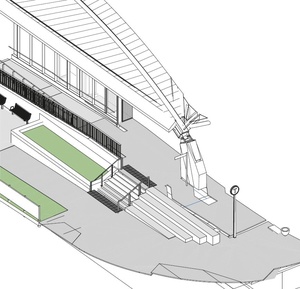 Secondly, it is important to be able to engage in new ways of interdisciplinary collaboration. New BIM processes and languages of collaboration are currently being shaped by the engineering and architecture disciplines, which are most likely to take the lead in coordinating projects as BIM managers or as lead consultants. As a result, they are setting the terms of engagement in prescribing software tools and workflow sequences.
In addition to their expertise, landscape architecture practices rely on these professional associations with large engineering and architecture practices to partner on larger projects. In order to tender on BIM projects as partners, it's critical for practices to gain competitive advantage by demonstrating an ability to adopt BIM. This applies particularly to large and more complex projects – such as infrastructure, institutional, civil and public realm – that usually span three or more years. Therefore, now is the time to engage with BIM in order to develop interdisciplinary, collaborative relationships and to secure future business.
Getting a "seat at the table" for such projects ultimately boosts landscape architecture's authority to influence the development of landscape in the overall scheme. Getting involved in these shared models from the outset enables a more effective voice to negotiate in the new BIM paradigm. As an example, a structural concrete pier could be moved by a project engineer within a shared digital model, with the implications for an adjacent pedestrian pathway and surrounding garden beds resolved by the project landscape architect prior to construction. In earlier documentation processes such a minor amendment could easily be overlooked, only to become apparent during the construction phase, which could increase project costs and timelines.
And finally, all this imposes considerable pressure on organizational structures and services. The workflow conventions that were shaped by AutoCAD are now being challenged by the new BIM paradigm, which has implications for how practices adapt. As practices are initially experiencing BIM via on-the-job training during live projects, the new processes are demanding a review of the way practices are structured by hierarchy of roles, rather than project teams and workflows. At the same time, roles are being redefined as new skill sets are in demand. The combination of design capability, 3D digital modelling skills and experience in design detail documentation is highly sought after by practice teams looking to be as proficient as possible in BIM-driven projects.
The BIM phenomenon is made all the more complicated as new software is introduced, requiring offices to invest in expensive software and staff training. There is also the issue of how to apportion costs for the additional BIM services into project fees. Consequently, organization type and size are critical factors for practices considering the implementation of BIM. For example, the number of software licences purchased will determine how many staff can develop skills at any one time, and therefore be able to contribute to project timelines.
Essentially BIM is part of much larger transformations in the role of digital technologies in design practice, changes that are well documented in the recent book Landscape Architecture and Digital Technologies: Re-conceptualising Design and Making (2016), by Jillian Walliss and Heike Rahmann. Alongside BIM, these shifts include the new potentials offered by parametric modelling, scripting, real-time data simulation, prototyping and fabrication. The case made by the book and the evidence of BIM uptake in Australian projects highlights the need for landscape architecture practices to seriously deliberate their future design and construction directions. Given these new opportunities and the rapidly changing construction environment, it is time for the profession to decidedly address BIM for its own advantage.
Building information modelling (BIM) is a requirement on more and more large-scale projects, and if landscape architects want greater influence over an overall design scheme, they'd better get to know the playing field.