The work being produced in Australia's landscape architecture schools is at the forefront of pushing boundaries and making new connections in the discipline, but much of it does not transcend faculty walls to be seen by a wider community. The Landscape Architecture Australia Student Prize identifies and shares the finest graduating projects produced in landscape architecture education across the country. Australian universities each nominate a student based on their end-of-year presentation. The projects are then blindly reviewed by an independent jury, which awards one student the national prize.
Jury comment
The spread of winning projects this year includes a proposal that addresses desertification in the north-central African country of Chad by reimagining agricultural cycles of farming and grazing as mutually beneficial activities; a scheme that encourages new relationships between humans and animals through an immersive, sensory zoo environment; and a strategy for an inhabitable renewable energy landscape that utilizes local food waste.
In selecting this year's winner, the jury was particularly struck by the potency and focus of the scope of Revival: Drug Rehabilitation Landscape by Oshadi Jayasinghe of Deakin University. The proposal tackles drug addiction, a difficult issue, not often talked about in landscape practice – and intertwines it with the reclamation of a post-industrial site. Its innovative approach draws attention to the importance of time in both processes. The project's presentation evidences many of the skills landscape architects use on a daily basis, with evocative graphics that express a detailed understanding of the site's unique spatial qualities and how these might encourage stewardship and connection to nature. Revival demonstrates and expands the role that landscape architecture can play in addressing social issues. It is a compelling example of the kinds of thinking that will inspire the discipline's future development and its role in promoting social sustainability.
National Prize winner
Revival: Drug Rehabilitation Landscape – Oshadi Jayasinghe, Deakin University
Prize winners
Apotheosis – Rebecca Lee, Queensland University of Technology
Wayfinder – Fehin Coffey, The University of Canberra

Nomadic Mechanism – Rainie Zhang, RMIT University
Adelaide Sense City Zoo – Shan Huang, The University of Adelaide
Transitioning to renewable energy: An integrated landscape approach – Cheng Xing, The University of Melbourne
Returning Toongabbie – Emma Lacoste, UNSW Sydney
Gateway to the Third Kingdom – Ella Farley, University of Technology Sydney
The 2019 Landscape Student Prize comprised Shaun Walsh (national president, Australian Institute of Landscape Architects), Jerry de Gryse (director, Inspiring Place) and Emily Wong (editor, Landscape Architecture Australia).
The 2019 Landscape Architecture Australia Student Prize is presented by Landscape Architecture Australia magazine and LandscapeAustralia.com and supported by the Australian Institute of Landscape Architects through the provision of a complimentary AILA graduate membership for the National Prize winner.
Source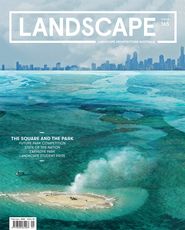 Award
Published online: 5 Feb 2020
Words: LandscapeAustralia Editorial Desk
Images: Cheng Xing, Ella Farley, Emma Lacoste, Fehin Coffey, Oshadi Jayasinghe, Rainie Zhang, Rebecca Lee, Shan Huang
Issue
Landscape Architecture Australia, February 2020