Jury citation:
Railway Square is set among twentieth-century industrial buildings and demonstrates an innovative approach to the adaptive re-use of rail corridor land.
The jury was impressed by the way the project successfully celebrates the history of the area while reflecting the past and looking toward the future. The project clearly distils a narrative of the post-industrial area that considers both day and night community occupation.
The relationship between the landscape architect and the stakeholders has ensured that this project will be successful as the area continues to regenerate and gentrify.
Location: Midland (WA)
Aboriginal Nation: Whadjuk
Source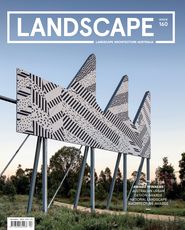 Issue
Landscape Architecture Australia, November 2018