Jury citation:
In this project, the landscape architects have delivered an extraordinary series of extensive playspaces within the parkland setting of the new Optus Stadium on Burswood Peninsula. Never before has such an impressive, all-encompassing collection of play areas been on offer in Perth, appealing to all ages while broadening visitors' appreciation of nature, culture and diversity.
Extensive engagement with the local Indigenous community and others has led to the inclusion of six zones, representing Noongar seasons. Each zone incorporates different plants, local materials, nature play themes, art and educational signage in interesting and diverse ways.
The jury was impressed by the significant contribution this playspace makes to community infrastructure for the children and youth of Perth. The result is an entirely new kind of playspace that embraces local knowledge and understanding of place.
Location: Burswood (WA)
Aboriginal Nation: Whadjuk
Read Tinka Sack's review of the project here.
Source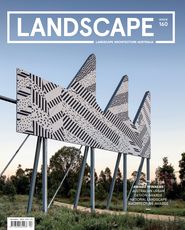 Issue
Landscape Architecture Australia, November 2018