Jury citation:
From planning to execution, this project demonstrates excellence in leadership and provides the town of Newman with a wonderful legacy project. It will continue to foster socially and financially sustainable community interaction.
The square is a significant component of the Newman Town Centre revitalization project. It provides significant shade trees across a 2,600-square-metre civic plaza that was previously hardstand carpark. The creation of a new civic space assists the regional community of Newman to transition from a mineral-dependent region to one that is more livable, and puts community and identity at the heart of the town.
The project highlights the opportunities that come with authentic reconciliation approaches to the design of public space. This was exemplified by the cultural healing between two Indigenous language groups, the Martu and Nyiyaparli, whose Cloud Rock Rainmaking Story has been produced with local artists and is made available on the large digital screen within the square.
The community's sense of ownership and ongoing direction has been supported by a robust place-management plan led by the landscape architects. Landscape architects are directly contributing to improvements in the mental and social health and wellbeing of a regional community, and this is embedded in the project.
Location: Newman (WA)
Aboriginal Nation: Nyiyaparli and Martu
Source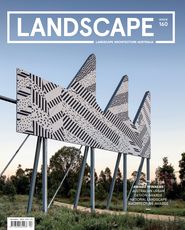 Issue
Landscape Architecture Australia, November 2018