Jury citation:
On an undulating hillside within Centennial Park, one enters a secret garden in which inventive site-specific play elements made from natural materials merge with the landscape setting, creating a journey of discovery for visitors. The design breaks out of the usual paradigm in which the play structures stand in isolation from their context. Rich, diverse and layered plantings define a sequence of spaces that offer changing perspectives for adults and children and a place for environmental education. Close collaboration with Centennial Parklands and the Centennial Parklands Foundation has made this achievement possible.
Location: Randwick (NSW)
Aboriginal Nation: Gadigal
Read David Welsh's review of the project here.
Source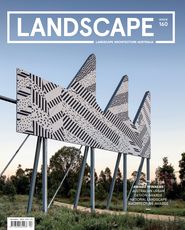 Issue
Landscape Architecture Australia, November 2018