Jury citation:
This intricate and thoughtfully designed space is a wonderful example of the university's strategy to promote outdoor learning spaces. The design's abstraction of the region's geology is conceptually innovative and its high level of detailing ensures a unified space. The project's success is demonstrated through its detailed, iterative evolution in accordance with rock availability, and digital technologies have been used to enhance the spatial qualities embedded within. The "learning for all" approach to education encourages campus visitors to think more deeply about the broader landscape. Vegetation and water emphasize the geological conditions of the region, adding to the storytelling embedded in the space.
Location: Clayton (VIC)
Aboriginal Nation: Wuywurrung
Read Tanya Court's review of the project here.
Source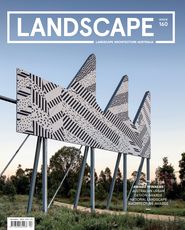 Issue
Landscape Architecture Australia, November 2018