There is a stark absence of critical writing and research into workplace equality within the Australian landscape architecture profession, with the exception of a few excellent initiatives, including UDLA's 2014 short film, WA Women in Landscape Architecture; Verity Campbell's joining with Parlour's WikiD edit-a-thon to increase the number of Wikipedia entries on Australian women landscape architects; and the odd social media notice of workplace participation in an International Women's Day lunch. Most of what we feel or think we know about gender issues within the profession is anecdotal. As such, over the past few years I have followed Parlour's research into women, gender and equity within architecture with much interest and speculated, as no doubt many of my female colleagues have, on whether the findings of significant gender inequity within that profession mirror our own.
But now we have the beginnings of an answer. For the first time the Australian Institute of Landscape Architects (AILA) 2017 salary survey has included an analysis of salary versus gender distribution, providing hard evidence that women occupy both fewer senior landscape architecture positions than men and get paid less than men across all senior echelons of the profession.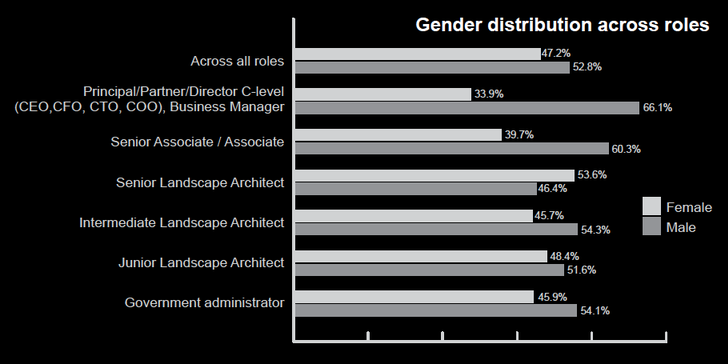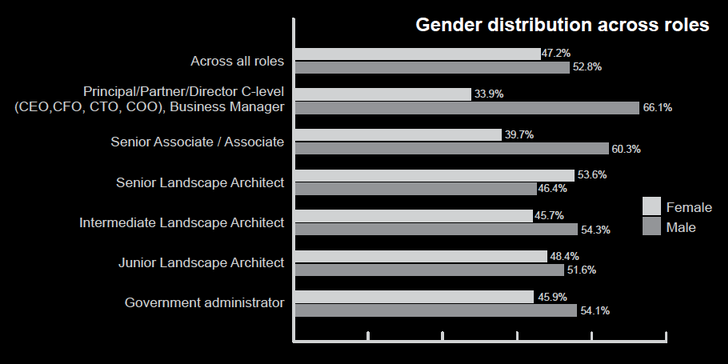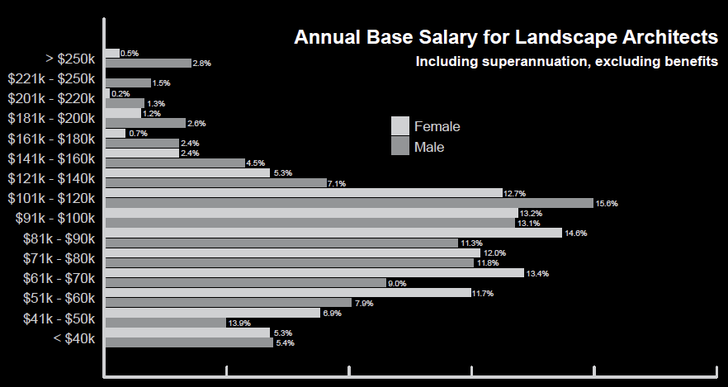 The survey of about half of AILA's registered members found women represent 70 percent of "low income earners" within the profession while men represent 100 percent of "high incomer earners." Men outnumber women in every salary bracket above $101,000, while the reverse is true for every salary bracket between $41,000 and $100,000. There are also more males than females in nearly all roles (the sole exception being Senior Landscape Architect), with the disparity increasing substantially in senior roles: for example, males hold 66.1 percent of principal, partner, director and business manager roles, along with 60.3 percent of senior associate and associate roles. But only 52 percent of junior landscape architects are male and only 52.8 percent of roles are held by men overall. Further, males make up the higher proportion of respondents in the top salary ranges for all roles with one exception – Junior Landscape Architect. This closely follows the Association of Consulting Architects Australia 2017 National Salary Survey findings.
The findings resonate with many women's experiences of gender inequity in the profession, in both subtle and not-so-subtle ways. I have regularly observed over the length of my career, for example, assertive and competitive behaviours rewarded, particularly around betterment of pay and position, and I have seen male colleagues given leadership and professional development opportunities not made available to women. Long unpaid work hours are a cultural norm within the design profession to the significant disadvantage of all but especially working mothers. And there have been times when I have certainly experienced incorrect assumptions by senior management about my career ambitions, which were viewed as limited due my part-time status, as I care for a young family and balance work with an art practice.
So, what is to be done? The fact is gender pay inequality won't fix itself. It requires a whole series of proactive corrective policies to be applied over the long term. And all studies point to it being not only fair but good for business. While other professions are well down this road, landscape architecture hasn't passed go.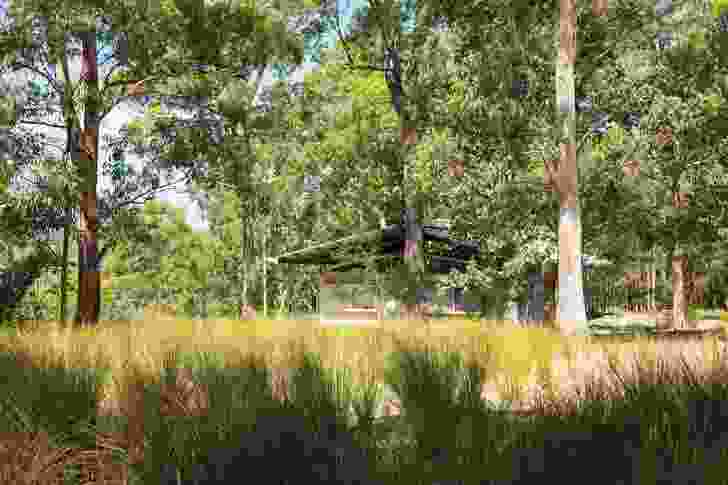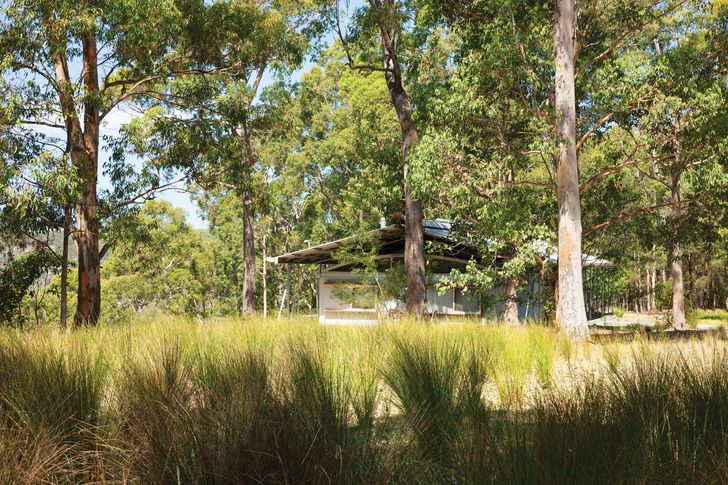 Firstly, we've only just identified the problem and further work is needed to understand the specifics. Why are women still under-represented in the upper levels of the profession? Is pay inequality a consequence of women leaving the profession or vice versa, or are the two issues operating concurrently? Are our workplaces flexible enough? Of the respondents to the survey only 7% identified as working part time. Better understanding of the issues shouldn't be too difficult, as investigative models used by Parlour and the government's Workplace Gender Equality Agency and subsequent research outcomes could easily be applied to landscape architecture.
Secondly, we need to demonstrate that we understand the issue and have a will to fix it. Talking about it would seem a good place to start, as is reading about it. There are plenty of architectural academics making the case more eloquently than me, including Naomi Stead, Justine Clarke, Gill Matthewson and Despina Stratigakos. But importantly, I am speaking up. I am surprised that the profession isn't more concerned, that there isn't more open critical discussion and that nobody has commented on the results of the 2017 AILA Salary Survey publicly.
In fact, this is just the second article on the topic of workplace gender equity published by Landscape Architecture Australia since its inception as the voice of our profession in 1979, with the first published earlier this month.
To AILA's credit, when asked to comment, newly appointed CEO Tim Arnold said a study into gender equity, diversity and pay is a strategic priority and has been tabled by the board awaiting funding. Given AILA's media release congratulating its members for appointing a majority of women representatives to the current board, now would seem the time to prioritize actions over intentions and fund the research immediately. And perhaps update AILA's 2015-2020 Strategic Plan, which does not include any reference to gender and workplace equality as the priority it is supposed to be.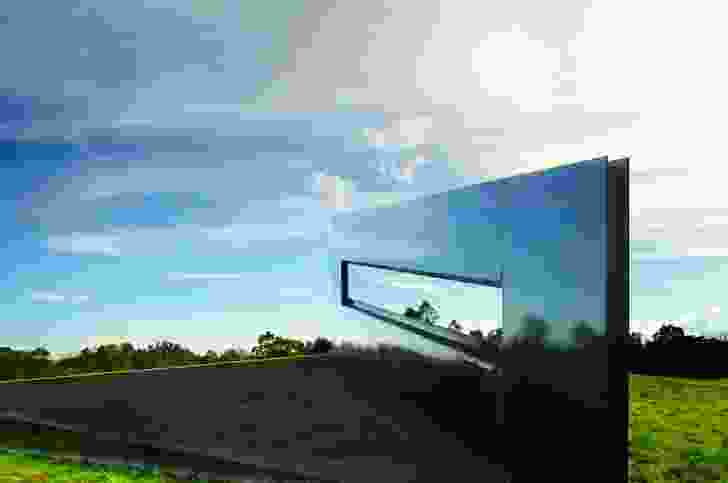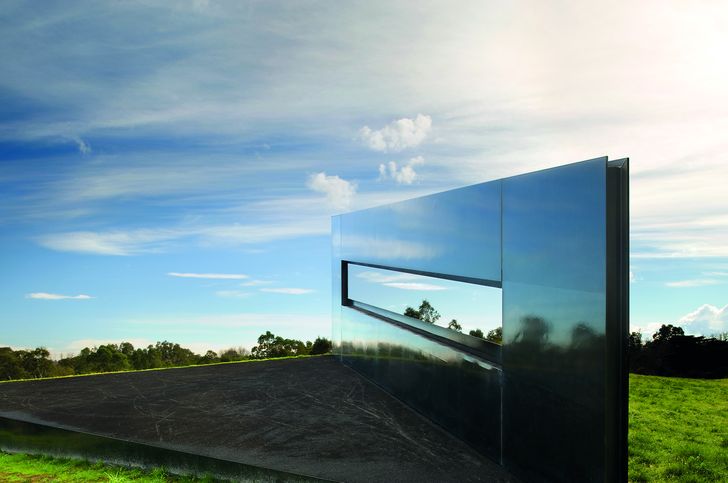 Since reading the AILA survey, I have presented the results twice in public forums, and discussed it with a number of senior practitioners. I was perplexed to find that a common response from audiences was to personally distance themselves from the problem, as if this that was more important than acknowledging it exists and needs fixing. I am sorry senior members of our profession, but we can't all be doing the right thing or the problem would not exist.
This polite reticence or lack of introspection does our profession no favours and surely we cannot make moral claims that we are a profession delivering equitable, inclusive and sustainable environments if we can't redress this issue of imbalance and unfairness among our own ranks.
What can you do? Write to AILA in support of immediate funding for their gender equality proposal. Discuss the survey results with your colleagues, managers and directors and understand what is being done in your workplace. Read the Parlour Guides to Equitable Practice and the Australia. Visit the Workplace Gender Equality Agency website and read some of their research papers for a wider perspective. Join Marion's List, a public register of women in built environment disciplines. Be brave. Be loud.
We all need to add our voices to generate collective initiative and activism if we are to progress towards gender equality and diversity within the landscape architecture profession. Equality benefits everyone.
Members of the Institute can find the 2017 Salary Survey results here.
Related topics