Jury comment
Exercising design restraint is important in landscape architecture, and the designers of the Forest Edge Garden in New South Wales's lower Hunter Valley have done this to perfection. The designer worked to establish trust with the client before treading lightly in an adventure to explore and unleash the natural characteristics of the site. The approach has been to bring together the site's geology, flora and aspect, along with the transitional patterns of fire and drought, to deliver a garden that draws its aesthetic appeal from the landscape in which it sits. The design focuses on resilience, from careful species selection to careful water management regimes.
Forest Edge Garden maintains all the usual elements of a residential garden, but it delivers these in a way that brings long-term appreciation of the wider landscape and a desire to manage and protect its delicate ecological attributes.
For more coverage read Laura Harding's review of Forest Edge Garden from Landscape Architecture Australia 142.
Credits
Consultants

Architect Jonathan Temple (House and Pool), James Stockwell (original house)
Builder Danny Smith Professional Building Services
Bush regeneration consultant Australian Bushland Restoration
Landscape contractor Bates Landscape Services

Site details

Location Hunter Valley, NSW, Australia
Category Landscape / urban design
Type Outdoor / gardens, Parks

Project Details
Source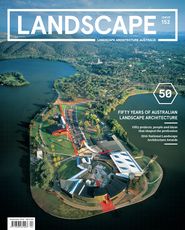 Issue
Landscape Architecture Australia, November 2016
Related topics