Jury comment
Port Adelaide is one of Australia's most valuable and least developed post-industrial waterfronts. Over the past decade it has been the subject of a slow-burn renewal through many state government and local council initiatives designed to re-energize "The Port."
Within this context, Hart's Mill Surrounds has almost single-handedly transformed how South Australians view "The Port" by adaptively reshaping the precinct and opening it up for public uses. The former mill, a heritage-listed waterfront building, provides the backdrop for a contemporary new play space, while the sensitively and adaptively re-used flour shed is now fit for community uses. This has also enabled the completion of a hike-and-bike loop, and created a new destination as well as interpretation opportunities for the former industrial uses on the Port River.
The contrast of the bright yellow play space against the red brick mill and expansive wharf areas creates a new experience as well as providing much-needed attention to the Port Adelaide community.
For more coverage read Jo Russell-Clarke's review of Port Adelaide Renewal: Hart's Mill Surrounds from Landscape Architecture Australia 145.
Source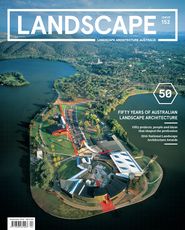 Issue
Landscape Architecture Australia, November 2016
Related topics