Jury comment
Royal Park in inner Melbourne has been undergoing a transformation as part of its overall masterplan, but until recently still lacked a clearly defined gateway and engaging play space.
Return to Royal Park has delivered on these objectives, providing an exciting, nature-based play space for children of all ages and developmental needs, where people are encouraged to come together. The new landscape responds to the natural character of Royal Park and the planting scheme cleverly reflects Wurundjeri descriptions of Melbourne's seasons. The outcome is an immersive gateway that encourages visitors to the adjacent Royal Children's Hospital to get outside and play.
For more coverage read Ricky Ray Ricardo's review.
Credits
Consultants

Activation/Education City of Melbourne Park Rangers
Community engagement consultant Capire
Construction manager Lend Lease
Disability access consultant Access Solutions National
Electrical and lighting engineer Webb Australia Group
Hydraulic engineer Irwinconsult
Landscape contractor Delta Group
Maintenance contractor Serco Open Space
Planting consultant Plant Design
Play auditor and design consultant Play DMC
Play equipment Richter Spielgerate, Playworks
Project leader City of Melbourne: City Design
Project partner Department of Health and Human Services (Vic)
Structural and civil engineer Irwinconsult
Tree planting and maintenance Citywide

Site Details

Location Melbourne, Vic, Australia
Site type Urban

Project Details

Status Built
Category Landscape / urban
Type Parks, Playgrounds

Client

Client City of Melbourne and State Government of Victoria - Department of Health

Source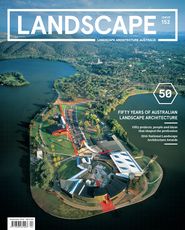 Issue
Landscape Architecture Australia, November 2016
Related topics