Jury comment
The Goods Line is an exemplary addition to the social infrastructure of inner Sydney through the clever adaptive use of a defunct rail line. It is an outstanding demonstration of landscape's role in improving urban connectivity.
The repurposed rail line completes a missing link in the green infrastructure connecting Central Park, Darling Harbour and Circular Quay, while also providing an enjoyable destination in its own right with shaded performance spaces, play areas and places for both reflection and connection. The hard and soft landscape detailing is extremely well done. Post-industrial chic intertwines with sinuous, sleek concrete; the railway is remembered but not memorialized.
The project creates a vibrant urban park that has broad demographic appeal and, as a result, strengthens the public life of the area. The design cleverly interprets the rich industrial history of the structure while also creating an exciting new identity that is already stimulating the possibilities of adjacent spaces.
For more coverage, read Simon Kilbane's review of The Goods Line from Landscape Architecture Australia 149.
Source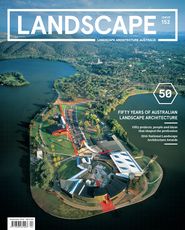 Issue
Landscape Architecture Australia, November 2016
Related topics