Project statement
The Metamorphosis of Point Henry, Jillong seeks to transform an abandoned and polluted site into a healthy and recreational environment, conserving this spectacular site's historic and cultural meaning to reflect its layers, but also Geelong's cultural evolution to prompt future thinking.
Point Henry is a Geelong landmark embodying both Wathaurong country and colonial settlement, and epitomizes a landscape transformation from maritime and economic to post-industrial, while hosting vibrant recreational and birdwatching activities. Recently redundant as the site of an aluminium smelter, Point Henry needs a radical juxtaposition of design ideas for a new vision. This design draws inspiration from the flight of Bunjil – an Aboriginal mythological creator deity – over Corio Bay. Bunjil's wings "hugging" and "protecting" the landscape are seen in a wing-cell structure offering a "respiratree" (respiratory + vegetation) framework to both heal and enable flight.
Reflective of Bunjil's custodianship flight, the first space metaphorically leads people to experience and understand water and coastal processes; the second space features a "sculpture of reflection" that uses recycled materials and offers an incrementally twisting and structural flow through the site's buildings, forests and sharp edges; the third space "immerses one in time" with twists and undulations in metal capturing the instable rhythm of waves and creating a fantastical landscape; and the fourth is an adventurous journey to the future.
Source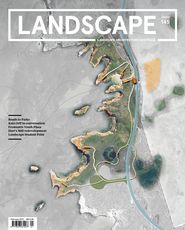 Issue
Landscape Architecture Australia, February 2015