Project statement
This project aims to address the complex systemic vulnerabilities intrinsic to industrial decline through strategic intervention and a process of decentralized decision-making. Its goal is the reclamation of disused components of an operational mining landscape. A subversion of existing power relationships underpins the work, at the level of both designer/stakeholder interactions and design propositions for the Hazelwood lignite mine in Morwell, Victoria.
An understanding of physical and abstract systems governing the site was pursued through an open participatory process, empowering stakeholders at various phases to have critical and generative input. Propositions range from the infrastructural to the programmatic to the regulatory, and champion a whole-systems approach to the radical adjustments inherent in industrial and economic shifts of this scale.
The outcome of the work is twofold. It is a challenge to exclusionary design practice and the notion that design should be deployed only when asked for by those in a position to afford and control the process and outcome. And it is a vision for a settlement still reeling from the gradual concentration of power that was precipitated by a now fading industrial boom, taking into account the likely social, economic and ecological effects on industrial settlements in an era of inevitable decarbonization.
Source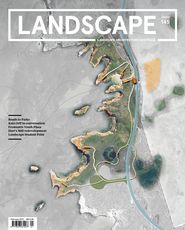 Issue
Landscape Architecture Australia, February 2015