SW1 by Andrew Green (formerly Gamble McKinnon Green)
Client: Property Solutions and Austcorp
Jury Comment
The strength of the design influence of the landscape architect is evident in the integration of plants with a restrained natural materials palette to unify private and public open space. This influence is delivered via a layout that provides a variety of places for gathering and a sub-tropical refuge and thoroughfare within the urban fabric of Brisbane's West End.
SW 1 successfully employs green infrastructure in a seamless way to benefit the amenity and liveability of medium density housing and provides a model of sustainable mixed use development.
See our review of this project in Landscape Architecture Australia 132.
Source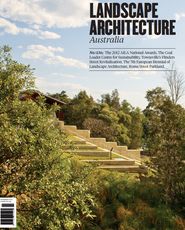 Issue
Landscape Architecture Australia, November 2012
Related topics