Last week UN Member states, including Australia, committed to implementing the New Urban Agenda in a landmark agreement at the Habitat III summit in Quito, Ecuador. This is an unprecedented global call to action for governments at all levels, urban professionals, private sector, civil society, academics and local communities to work to make our cities more inclusive and sustainable over the next 20 years.
Habitat III is a bi-decennial event that caps off five years of international discussions, led by the United Nations Human Settlements Program (UN-HABITAT). It has resulted in the adoption of a new global strategy for cities, outlined in the New Urban Agenda.
Over 30,000 people gathered in Quito last week to support the process. The formal government negotiations were surrounded by hundreds of side events, talks, exhibitions and events, which each outlined case studies, tools and approaches for delivering on the New Urban Agenda's promise of equitable "cities for all".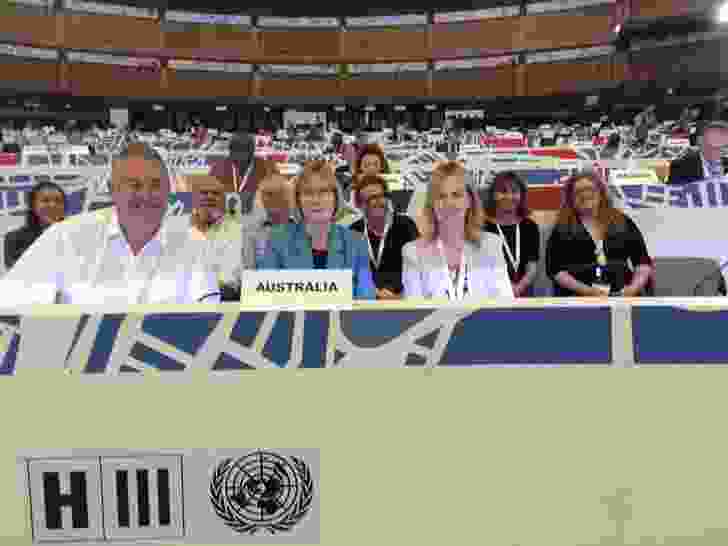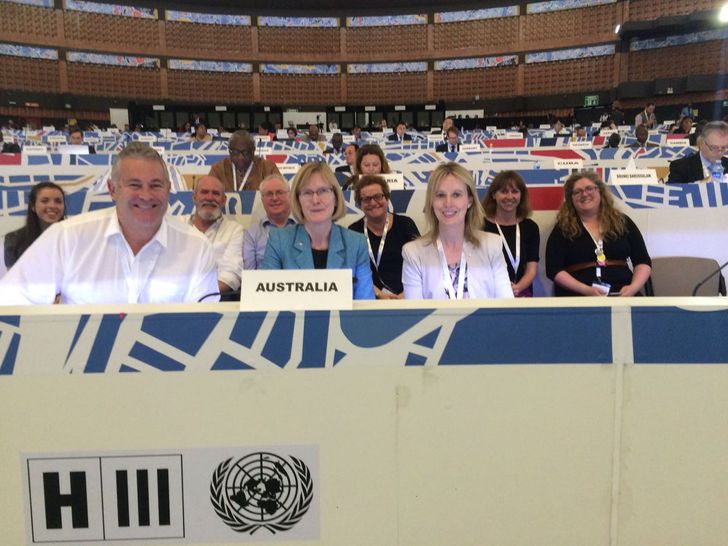 Australia represented at Habitat III
Among the participants was a delegation of over 50 Australians representing academia, peak bodies, civil society, professionals, not-for-profits and youth who presented new tools and ideas for implementing the New Urban Agenda. Members of the group also discussed strategies for aligning Australia's domestic policy and practice with this new international benchmark. Australia's official delegation to Habitat III was led by UN Ambassador Gillian Bird, who noted housing affordability and traffic congestion as major challenges for Australian cities in her official statement.
New Urban Agenda: A paradigm shift in global thinking
The New Urban Agenda represents a paradigm shift in global thinking, recognising what professionals have perhaps understood for some time: that our future is urban. From gender-equity to youth-empowerment, participatory planning to inclusive public space, The New Urban Agenda sets a high benchmark for the type of urban development we should strive for and a global accountability framework for achieving it. Its catch-cry to "leave no one behind" commits to reducing urban inequality. This is a challenge that we can take up and apply to every city and neighbourhood.
What does this mean for Australian professionals?
For the first time, the New Urban Agenda sets out the central importance of urban professionals as a key delivery partner. Whether it is advocating for national policy, delivering infrastructure and housing, addressing climate change, improving gender equality, strengthening public participation or creating inclusive public space – urban professionals have a role to play. This has enormous implications for the Australian profession, if we choose to take up this challenge.
While Australian cities are considered some of the world's most liveable, the New Urban Agenda remains relevant. Australia falls short in the area of national urban policy. Our cities are becoming increasingly divided, with inequitable access to space, jobs and services, and we are vulnerable to the impacts of climate change. Equally Australian urban professionals have knowledge and innovation that can assist other cities to improve on liveability, that we can share through peer-to-peer learning.
The opportunity is ours to lose.
10 things you need to know about the New Urban Agenda
As with any inter-governmental policy agenda, the 175 paragraphs of the New Urban Agenda are high-level. Therefore implementation is critical. Delivering the New Urban Agenda requires professionals to develop strategies, policies, projects and tools that can help address some of these core challenges. This needs to be achieved at every level: from local projects to international policy.
As a starting point, here are 10 of the key concepts highlighted in the New Urban Agenda.
1. The urban paradigm
By 2050 the world urban population is expected to nearly double, making urbanisation one of the 21st century's most transformative trends. The New Urban Agenda asks us to take advantage of this opportunity as the vehicle through which sustainable development can be realised. It urges not only the adoption of urban strategies and policies, but that all strategies and policies take into account urbanisation.
2. Everyone has a right to the city
The New Urban Agenda acknowledges that current urban development trends will not deliver equitable cities for all. Instead we need to adopt policies and practices that "leave no one behind". As professionals, the New Urban Agenda encourages practices that work towards just, safe, healthy and resilient. Practices that end poverty in all its forms, end violence against women and girls (particularly in public spaces) and end all forms of discrimination, including people with disabilities. The New Urban Agenda acknowledges that some governments have adopted these practices through a 'right to the city' framework – a term originally coined by Henri Lefebvre (Le Droit à la ville) in 1968. There was a strong push from participants at Habitat III, particularly by the Mayor of Barcelona, for other governments to follow this path.
3. Participatory and people-centered cities
The New Urban Agenda calls for people-centered planning, and to ensure that participation is integrated across all areas of practice. The document urges professions to move beyond community engagement, to seek to empower all individuals and communities, particularly women and youth, as partners in creating the city.
4. Supporting local leadership
One of the major paradigm shifts in Habitat III is the call for decentralised decision making. This moves away from the Habitat II (1996) and Habitat I (1976) agreements which focused on delivery by national governments. The Mayor's Forum held on the first day of Habitat III argued strongly for greater responsibility for cities in the delivery of the New Urban Agenda. This decentralisation is not only for local governments, however. The New Urban Agenda outlines that it is everyone's responsibility: individuals, communities, civil society to shape better cities. The role of the professional is then to find new and better mechanisms to partner locally – with both councils and communities – to deliver improved spaces and plans.
5. Age and gender-responsive planning
Across all areas of city-making, the New Urban Agenda calls on professionals to seek to achieve gender equality. This includes women's full and effective participation at all levels of decision making, as well as eliminating all forms of discrimination, violence, and harassment against women and girls in private and public spaces. Some city governments to present at Habitat III, such as Vancouver, have achieved progress in this area by putting a gender intersectional lens across all decision making. Other civil society organisations, such as Slum Dwellers International, specifically train and empower women to deliver urban renewal projects.
The agenda puts forward similar objectives for working with young people. The #Youthab forum held immediately prior to Habitat III demonstrated best practice case studies for youth-led development, such as young people creating new public spaces from redundant land in slums in Nairobi.
6. Use public space to improve participation, safety and inclusion
Public space is a strong theme throughout the New Urban Agenda document, recognising that equitable city-making cannot be achieved without sufficient quality public space. The New Urban Agenda argues for improved public participation in shaping public space, and for improvements to safety of public space, particularly for women and girls. Up to 30% of Australian women feel unsafe in public space. This is an area that urban professionals can help address.
7. Use infrastructure development to improve prosperity for all
The New Urban agenda recognises that urban form, infrastructure, and building design are among the greatest drivers of cost and resource efficiencies. As professionals we have the opportunity to improve economic prosperity through good design. The agenda also calls specifically for the development of compact cities, with well-connected infrastructure and services, preventing sprawl and marginalisation.
8. Environment, disaster and resilience
Under the New Urban Agenda UN member states acknowledged the threat of climate change and committed to preserve and promote the ecological and social function of land in cities. UN member states also committed to facilitating the sustainable management of natural resources in cities and human settlements in a manner that "protects and improves the urban ecosystem and environmental services and reduces greenhouse gas emissions and air pollution". This provides a clear mandate for professionals to continue to work in ways that achieve environmental sustainability.
9. Smart cities approach
Governments and partners are urged to make the most of digitisation and a smart cities approach as an independent point. Equally governments and partners are urged to work more closely with science and technology sector. A number of side events at Habitat III demonstrated possible strategies in action: from drone mapping to virtual reality for slum redevelopment.
10. Collaborative networks and partnerships for success
Finally, across all themes and clauses, collaboration and partnerships are called for: across all levels of government, all sectors, with professionals, communities, private sector and civil society. Through formal and informal peer-to-peer learning networks. This process of collaboration and information sharing began at Habitat III but will be all the more critical in years to come.
Related topics