I've come to a hotel forecourt in Seoul's Itaewon district to meet a landscape architect whose practice holds rockstar status in South Korea's landscape community. After a patchy phonecall, a black BMW mounts the curb, tinted windows roll down and I'm invited to jump in the back; there's no time to stop.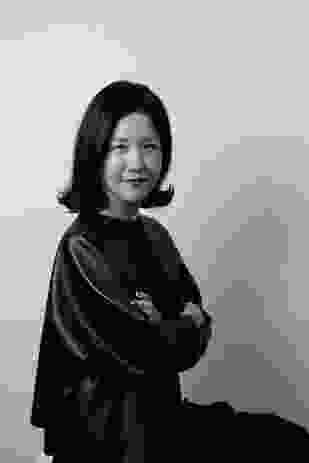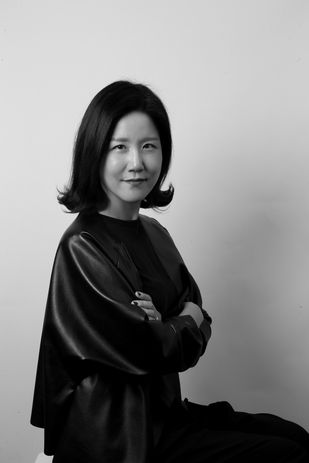 Jungyoon Kim is a founding director of Parkkim, a landscape architecture practice she runs with her partner Yoonjin Park in the upmarket district of Gangnam, made famous by that song we'd all rather forget. She and one of her senior colleagues have taken time out of their schedule to show me one of the practice's largest built projects – the Yanghwa Riverfront Park on the bank of Seoul's Han River.
Seoul, the capital of South Korea, is home to some 10 million people and has an international reputation as a high-tech city that embraces new ideas and technologies sooner than most. But it hasn't always been this way. In the wake of the Korean War in the 1950s and 60s, South Korea was one of the world's poorest countries. Half a century later and it is Asia's fourth-largest economy, largely thanks to the success of family-run business conglomerates, or chaebols, such as Samsung, Hyundai Motor Group, SK Group and LG Corporation. These four companies alone account for half the country's stock market value.1
The urban fabric of Seoul reflects this rapid, market-led transformation – there is a scarcity of parks and open space, the average age of buildings is just twenty-eight years2 and, more recently, numerous architectural "icons" have been constructed to portray the city's new image of itself as a prosperous global metropolis in north-east Asia.
But as is common practice in emerging world cities, design expertise was eagerly imported from established names, rather than identified locally. "Fly-in fly-out" architects from Europe or North America (think Jean Nouvel, Zaha Hadid, MVRDV, OMA and others) have designed many of Seoul's most high-profile urban projects, which has led to many areas that feel placeless and ignorant of their contexts. In the words of Professor John Hong from Seoul National University, "Seoul is [now] struggling to redefine itself as a place of culture."3 Kim puts it a little more bluntly: "In Seoul you find many shits of foreign architects," she jokes as we drive across one of the many bridges that span the Han River.
The mayor of Seoul holds considerable power and plays a major role in setting the city's development agenda. In 2003, former mayor Lee Myung-bak (himself a former CEO of Hyundai Motors) initiated a bold project to replace an elevated highway with a linear park and restored stream, the Cheonggyecheon. It was designed by local practice SeoAhn Total Landscape and has proved so popular with the public that many agree it won Lee Myung-bak the South Korean presidency in 2008.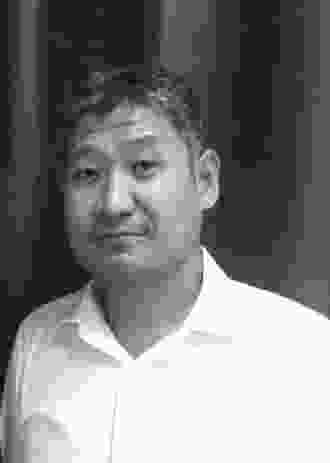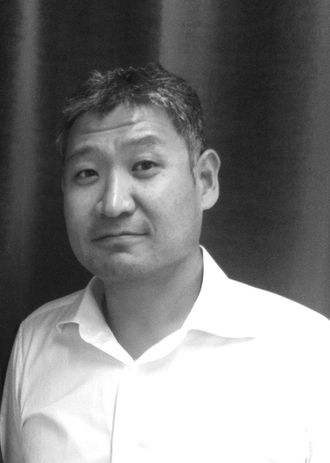 This time of intense interest and investment in improving Seoul's urban environment coincides with the establishment of Parkkim in 2006, a couple of years before the global financial crisis put the brakes on development. While originally from Seoul, Park and Kim were educated in the United States at Harvard University's Graduate School of Design (GSD), and their first landscape architecture roles were in Boston – Kim at Child Associates and Park at Sasaki Associates. They were both working at urban design and landscape architecture practice West 8 in the Netherlands when they made the decision to return to Seoul to participate in the city's new wave of development and to help undo the negative aspects of a previous generation of urbanism.4
We arrive at the Yanghwa Riverfront Park, one of Parkkim's first big commissions. It formed part of the City of Seoul's wider Han River Renaissance Project, initiated under the leadership of the mayor at the time, Oh Se-hoon. The project saw a significant stretch of the southern bank of the Han River revitalized in stages by numerous design consultants. Under Oh Se-hoon's leadership, Seoul heavily invested in citywide, design-led urban regeneration processes, which was unprecedented in Asia.
"A hundred years ago there was a beautiful sand beach here. But now the Han River is a totally controlled river, with dams upstream dictating flow," explains Kim.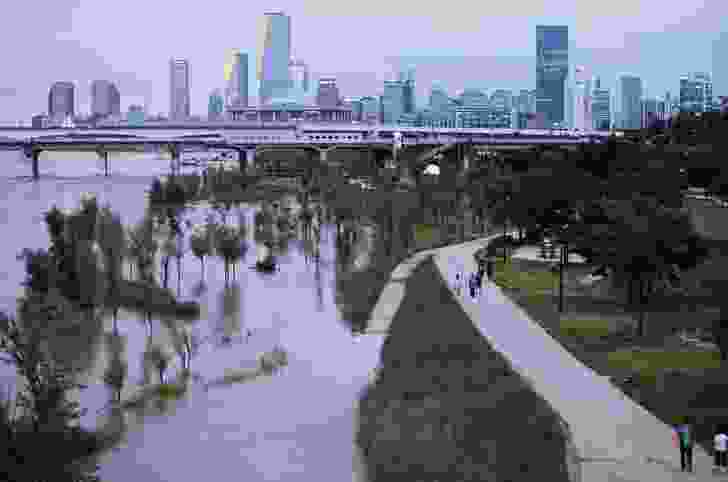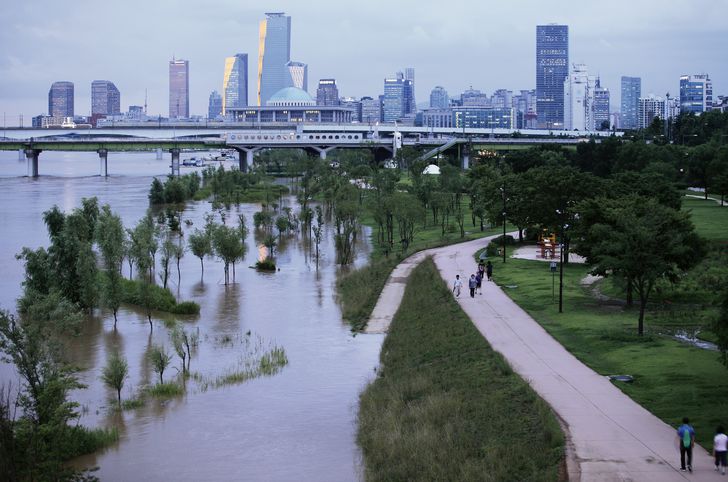 Over the past century the course of the river has been heavily modified, with terraced levees constructed along the banks in the 1970s to prevent flooding. A civil engineering solution, the levees have largely succeeded in reducing floods, however, in denying the natural processes of the river all sorts of other problems have inevitably arisen. One of these is the issue of silt deposits, which occur after floodwaters subside. The cost of removing the deposits in the Yanghwa area is around US$100,000 per annum, according to Kim. Mud has to be cleared from the terraced banks quickly before it dries out and hardens, at which point it becomes a far more difficult and expensive exercise.
Coined "mud infrastructure" by the practice, Parkkim's design for the riverfront park is a high-performance landscape principally focused on addressing the silt problem. The park's landform has been conceptualized to drain mud deposits back into the river as floodwaters subside, while still providing topographic variation for a range of programs, such as picnicking, open-air events, fishing and spaces for people to simply be alone – incredibly important in a city of ten million. Interestingly, Kim points out that their park was the only design in the wider Han River Renaissance Project that did away with the terraced condition.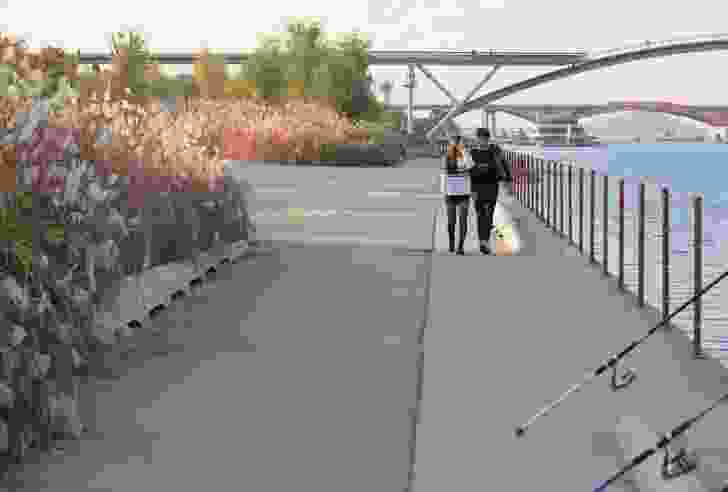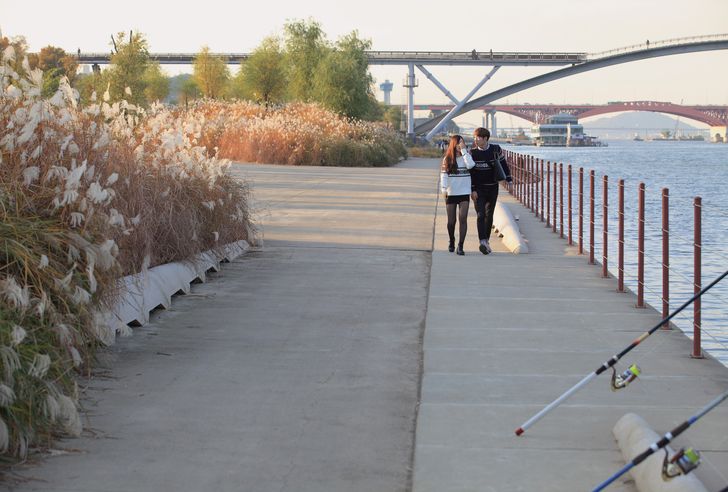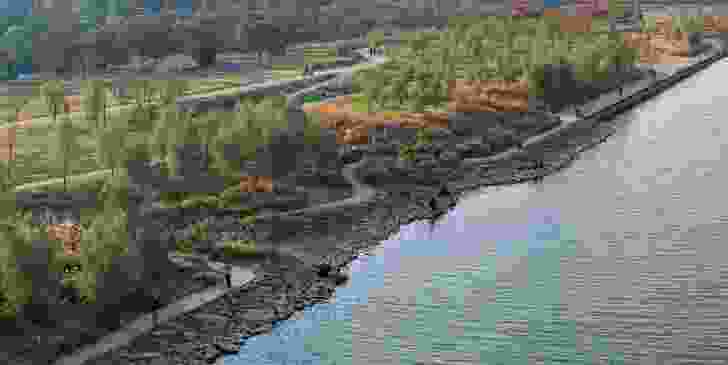 To Kim's frustration, we find that trees have recently been planted by the client [the river authority] in the very areas that should be kept clear for easy silt drainage, highlighting the often-tenuous relationship between design intent and a project's post-handover maintenance. Parkkim, however, is known to take matters into its own hands. A former employee now working in Australia, Hong-In Lee, recounted a time when Park called the office down to the Yanghwa Riverside Park early on a Sunday morning to rip out shrubs, guerrilla style, as they would have grown up to block an important view. Kim blames the typical discontinuation between design concept and post-construction management. "The city needs to understand that landscape architectural practice goes far beyond just planting as many trees as possible," says Kim.
The next day at Parkkim's Gangnam office we discuss the firm's more recent work, which includes a mix of commercial and public projects, and even a few residential projects. Senior staff members have just returned from presenting a proposal to redesign the plaza of a regional civic centre in the Gyeonggi province. South Korea suffers from a lot of poor air quality, much of it due to pollution drifting across the Yellow Sea from China. The design for the plaza responds to the site's atmospheric conditions by proposing "lungs" in the form of a dense forest, ephemeral ponds and vertical misting jets on the western edge, intended to capture fine dust particles from the air and bring them back to the soil.
In stark contrast to the landscape architecture profession in Australia, the practice's commercial work is also some of its most innovative, which reflects the power and wealth of South Korea's chaebols and their emerging understanding that good design equals good branding.
In South Korea's second-largest city, Busan, the office has recently completed a rooftop garden for low-cost airline Air Busan. A deep soil profile wasn't possible, so Parkkim developed a lightweight tensile roofing structure in the airline's corporate colours to provide a shady place for staff to sit and meet that wouldn't violate weight restrictions.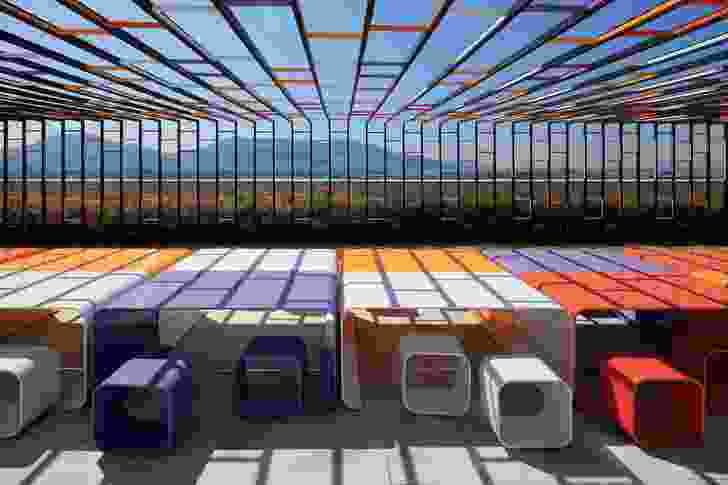 Back in Seoul, the team is developing a precast concrete paving module on a public pedestrian link project. The city mandates that permeable pavers must now be used in all streetscape projects, which is impressive public policy. However, the pavers currently on the market are "too ugly," says Kim, and after six months the city pollution clogs the pores, making them no more permeable than regular pavers. So Parkkim challenged the city's preference for permeable pavers, convincing it to try precast concrete modules instead. When the project is complete, it will be the first time that a public path in Seoul is made with precast concrete pavers. Parkkim believes that excellent drainage is not just about the permeability of surfaces, but more about the grading of the site and careful construction of the design. It was no easy feat, they assure me.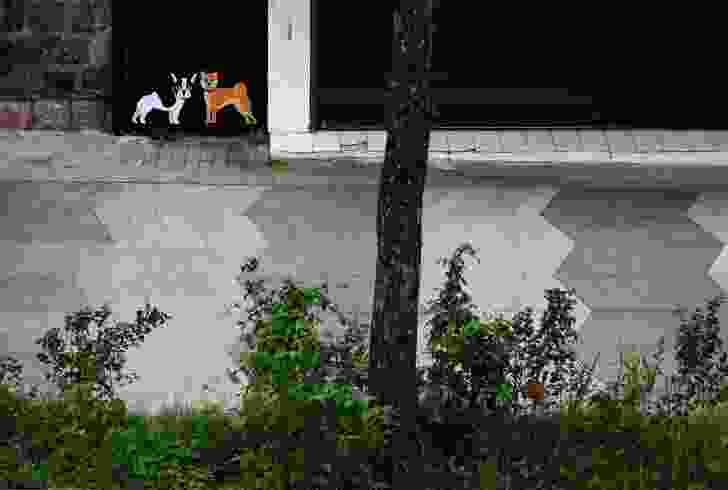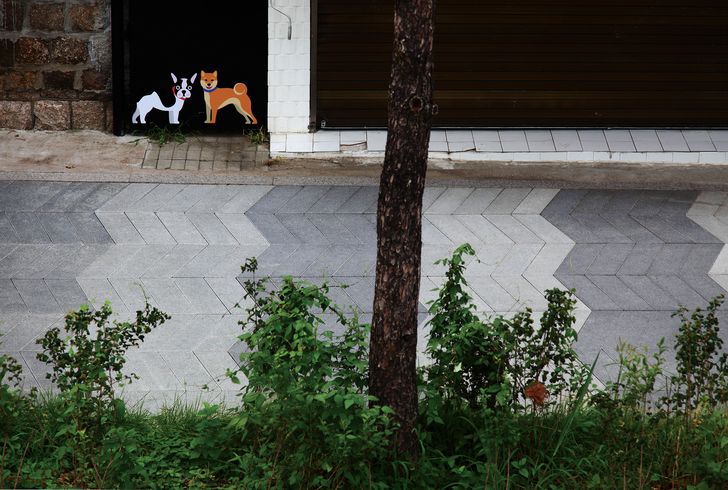 "It's extremely difficult to convince [the city] to try new ideas … they always want us to present design precedents," says Kim.
But difficulty rarely seems to sway them. Across Parkkim's oeuvre an intimate engagement with materials and detailing is evident; near enough is not good enough and off-the-shelf options rarely suffice. This is made possible by cheap fabrication costs in South Korea, relative to Western countries, and potentially the country's intense work culture.
Parkkim's interest in material ingenuity and innovation also highlights an interesting relationship between the local landscape architecture culture and the capability of South Korea's manufacturing industry. The manufacturing industries in Australia and the USA are in long-term structural decline, whereas countries like South Korea, Japan and China are manufacturing hubs and costs are therefore considerably lower than in the West. Many Asian countries, including South Korea, have a much stronger sense of fabrication and material practice than Australia (Japan would be at the top of the list). All this means that it is generally cheaper and easier to fabricate something new and interesting in South Korea than it is in Australia, and the attention to detail and degree of perfection are far greater.
Parkkim doesn't have any international projects as yet, but the directors say they are open to them. "Practising overseas brings its challenges, and you must be prepared to lose a lot of control over the outcome," says Kim. "Particularly in China." For Park, the focus should always be on delivering a good project, wherever it may be.
Jungyoon Kim is speaking at the Landscape Australia Conference on 5 May 2018 in Sydney. Book tickets to the Conference here.

__
End notes:
1 . Hyunjoo Jin, Se Young Lee, Nichola Saminather, "Chaebol reform at forefront of South Korea presidential campaign – again," Reuters website, https://www.reuters.com/article/ us-southkorea-politics-business/chaebol-reform-at-forefront-of-south-korea-presidential-campaign-again-idUSKBN16Z0AU (accessed 26 October 2017).
2 . Data from the Seoul Metropolitan Government (2016), taken from infographic in Brand Documentary Magazine , issue 50, 2017, 132–133.
3 . John Hong, "No Progress," in Yoonjin Park and Jungyoon Kim (eds.), Alternative Nature (Seoul: Mediabus, 2016), xix–xxiv.
4 . Hong, "No Progress," xix–xxiv.
Source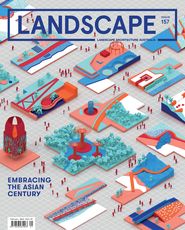 Practice
Published online: 13 Mar 2018
Words: Ricky Ray Ricardo
Images: Jong Oh Kim, Parkkim
Issue
Landscape Architecture Australia, February 2018
Related topics