In comparison to their European and North American counterparts, Australian landscape architects have been relatively slow in getting rooftop gardens off the ground. Until the last decade of the twentieth century, Australia's wide brown lands and sweeping plains had appeared adequate in accommodating the nation's comparatively small population's wish to live within the quarter-acre block suburban myth near public parks and gardens. The spike in the new millennium of an increasingly urbanized population, in particularly in Sydney and Melbourne (whose populations each reached 5 million in 2016 and 2018, respectively) necessitated an increase in design responses to ameliorate the deleterious effects of urbanization, not least in readdressing the decline in public open space. Over the past twenty years the incorporation of outdoor terraces and vertical gardens within building envelopes has gone through the roof, as private residences and community parklets continue to mushroom and components suitable for layperson construction have become readily available at Bunnings.
The healthcare sector has not been left behind, nor was it likely to have been, given the well-established therapeutic benefits achieved by exposing staff and patients to nature. Melbourne's Royal Children's Hospital (2011), Perth's Fiona Stanley Hospital (2014) and the Lady Cilento Children's Hospital in Brisbane (2014) are examples of recently built Australian public hospitals that include outdoor roof spaces in their design. The newest addition to this list is the Victorian Comprehensive Cancer Centre (VCCC), which opened in 2016 and is the jewel in the crown of the Melbourne Biomedical Precinct, a conglomeration of university and hospital research and care facilities clustered together at the top end of Melbourne CBD's Elizabeth Street.
Lacking the site advantage of the nearby Royal Children's Hospital whose setting was already permeated by naturally verdant vistas, the VCCC is sited in the congested urban medical precinct, which meant that outdoor natural environments had to rely on the efficacy of artificial design. Of the eight rooftop spaces designed by Rush Wright Associates (RWA) for the VCCC, the most generous is on the seventh floor adjacent a cafeteria – at 1,455 square metres, it's one of the larger public rooftop gardens in Australia. While the opportunity arose from a requirement for the VCCC's design to allow adequate setback to ensure flight-path safety of helicopters landing emergency patients on the adjacent Royal Melbourne Hospital (RMH), the design is a melange of botanical delights, despite the climatic and (more stringent) legal restrictions imposed on the site.
On this north-west facing terrace, RWA's director Michael Wright has brought his love of drought-tolerant dryland plants from around the world to bear fruit, with a quirky admixture of over a hundred hardy non-allergenic species brought together in a series of curvilinear concrete beds and metal petal-shaped planter boxes. Figs fruit near bulbous bottle trees (Brachychiton rupestris) with a variety of agave and aloes, while prostate banksias, sedges and succulents hug the surface of the planter boxes. The only uniformity (apart from the synthetic turfed area, ideal for lolling about on a warm sunny morning) are the rows of dwarf feather grass (Miscanthus oligostachyus 'Eileen Quinn') bordering the edges of the space, whose waving tufts were, at the time of visiting, lopped by overzealous maintenance. RWA has also created a series of giant metallic "wind flowers" here, with the aim of providing shade and support for climbers including mandevilla and madagascar jasmine (Stephanotis floribunda). Trailing groundcovers include grevillea, rosemary and thyme, which RWA intended would spill over the planters' edges, but that according to Wright, have been regularly cut back by maintenance staff.
The VCCC's other public roof space is nestled into the north side of the first floor, adjacent a wellbeing centre and shielded by a sky-bridge across Grattan Street that connects the building with the RMH (another double-storey sky-bridge joins directly to RMH's sixth and seventh floors). Although still exposed to the excesses of wind turbulence, this garden's rainforest-like qualities impart a sense of sereneness and tranquillity in contrast to the social hubbub encouraged on the seventh-floor space, with its city skyline alfresco dining and barbecue facilities. On the first floor, the vegetation's canopy effectively masks the VCCC membrane that towers around it, creating a genuine oasis for staff and patients to relax in.
Hoop pines (Araucaria cunninghamii) and thorny-trunked silk floss trees (Ceiba speciosa) dominate an understorey of palms, shrubs and groundcovers that includes flourishing examples of the rough tree fern (Cyathea australis) and umbrella plant (Schefflera actinophylla). The planter beds here incorporate curved timber seating and tables, adding warmth to the calming, meditative experience. In one of the planter beds largely comprised of giant timber bamboo (Bambusa oldhamii), a spindly silk floss tree sits in marked contrast to healthy specimens only metres away, indicating just how varied – and hence challenging – a small site can be in providing satisfactory conditions for growth. Neighbouring beds are subject to quite different watering regimes and shadowing from surrounding buildings.
The other rooftop spaces of the VCCC are not publicly accessible, ranging in size from small connecting walkways with potted plants to larger green roofs dedicated to staff amenity and a community garden complete with cumquats, kalamata olives and a "Nelly Kelly" passionfruit vine among an assortment of herbs, perennial and annual vegetables. This productive garden on the twelfth floor underlines RWA's acknowledgement of the importance of medical staff's health and happiness in administering good clinical care.
The biodiversity in RWA's planting palette reflects the cultural diversity of the staff and patients using the spaces, in addition to aiding and assuaging the gamut of human emotions experienced in what is often a very confronting medical environment. Within the two public rooftops of the VCCC, RWA has provided a variety of unique spaces for people to relax and sit quietly in, if they choose to move away from the bustle of more social areas. The VCCC rooftop gardens, with their heterogeneous collection of plants, not only act as open air laboratories, underlining Wright's assertion that gardening should become a key measure in a landscape architect's continuing professional development, but they are also thought-provoking reminders of the therapeutic value of including natural elements within the built environment.


Plant list (partial) - Level 1 Rainforest Terrace
Trees and palms: Araucaria columnaris (Cook pine), Archontophoenix alexandrae (bangalow palm), Ficus dammaropsis (kapiak), Elaeocarpus eumundii (smooth-leaved quandong), Schefflera actinophylla (umbrella tree)
Shrubs and large foliage plants: Crinum pedunculatum (swamp lily), Bambusa oldhamii (giant timber bamboo)
Small foliage plants: Asparagus densiflorus myersii (foxtail fern)
Small flowering plants: Dendrobium speciosum (rock orchid)
Groundcovers: Dianella tasmanica (Tasman flax-lily), Vinca minor 'Alba' (lesser periwinkle)
Climbers: Aphanopetalum resinosum (gum vine), Cissus antarctica (kangaroo vine), Ficus pumila 'Minima' (climbing fig)
Ferns: Nephrolepis cordifolia (fishbone fern), Pteris tremula (tender brakefern)


Plant list (partial) - Level 7 Rooftop Terrace
Trees: Brachychiton rupestris (Queensland bottle tree), Olea europaea (olive)
Large foliage plants: Aloidendron barberae (tree aloe), Chamaerops humilis (European dwarf fan palm), Dracaena draco (dragon tree)
Plants for accents and drama: Aloe arborescens 'Yellow Flower' (yellow flowering aloe), Aloe plicatilis (fan aloe), Beschorneria septentrionalis (Mexican lily), Furcraea bedinghausii, Kniphofia 'Winter Cheer' (red hot poker)
Small shrubs and trees to be grown as shrubs: Laurus nobilis (bay tree), Strelitzia juncea (narrow-leaved bird of paradise), Tibouchina 'Jules'
Flowering groundcovers: Banksia integrifolia 'Roller Coaster' (prostrate coast banksia), Convolvulus sabatius (ground morning glory), Gaura lindheimeri 'Passionate Blush' (butterfly bush), Limonium perezii (perennial statice), Zauschneria californica (California fuchsia)
Trailing groundcovers: Rosmarinus officinalis 'Prostratus' (creeping rosemary), Casuarina glauca prostrate (swamp oak), Lotus berthelotii (parrot-beak), Pelargonium australe (native geranium)
Succulent groundcovers: Aeonium arboreum 'Zwartkop' (black rose), Cotyledon orbiculata (pig's ear), Crassula multicava 'Purple Dragon' (purple dragon succulent), Euphorbia milii 'Lipstick' (crown of thorns), Kalanchoe luciae 'Flap Jacks,' Mesembryanthemum crystallinum (common ice plant), Rhoeo discolour (Moses-in-the-cradle), Senecio serpens (blue chalk sticks)
Grasses, sedges and iris: Iris germanica (bearded iris), Lomandra confertifolia 'Seascape' (mat rush), Miscanthus oligostachyus 'Eileen Quinn' (dwarf feather grass)
Climbers: Mandevilla 'Sun Parasol Giant Crimson'
Credits
Design practice

Rush\Wright Associates
Melbourne, Vic, Australia
Project Team

Michael Wright, Sarina Jessup, Teresa Koo, Jessica Livingstone, Tom Adolph, Chris Erskine, Richard Le
Landscape subcontractor

Landscape subcontractor

Consultants

Architect McBridge Charles Ryan, Silver Thomas Hanley, Design Inc Joint Venture
Builder Grocon PCL
Irrigation design and documentation Ten Buuren Irrigation Designs

Site Details

Location Melbourne, Vic, Australia
Site type Urban

Project Details

Status Built
Category Landscape / urban
Type Outdoor / gardens

Client

Client name Plenary Health
Website healthdesign.org

Source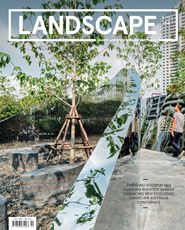 Issue
Landscape Architecture Australia, May 2019